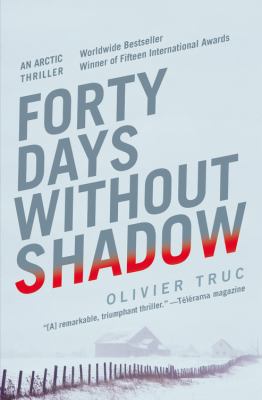 Forty Days Without Shadow: An Arctic Thriller
by Olivier Truc


Library Journal As much a fascinating anthropological study and travelog as a compelling police procedural, this debut crime novel immerses the reader in the barren lifestyle of the Sami reindeer herders in northern Lapland. A valuable Sami drum, which was headed to a major UN exhibition, is stolen from a local museum. At the same time one of the herders is murdered. Investigating are two members of the Reindeer Police, Nina Nansen from the south of Norway, and her more experienced Sami partner, Klemet Nango. The pair see a connection between the killing and the stolen drum, but the crime could stem from a border dispute among herders. VERDICT Short-listed for the Crime Writers' Association International Dagger 2014, this atmospheric thriller leaves a lasting impression with its depiction of an ancient culture under pressure from the modern world. Aficionados of the genre who enjoy intriguing settings in their mysteries and fans of Tony Hillerman, James Lee Burke, and Henning Mankell will delight in discovering this young French writer. Frances Thorsen, Chronicles of Crime Bookshop, Victoria, BC (c) Copyright 2014. Library Journals LLC, a wholly owned subsidiary of Media Source, Inc. No redistribution permitted.
(c) Copyright Library Journals LLC, a wholly owned subsidiary of Media Source, Inc. No redistribution permitted.
Publishers Weekly In French journalist Truc's gripping debut, which has been shortlisted for the CWA International Dagger award, two Norwegian police officers who cover reindeer-related crime, Klemet Nango and Nina Nansen, have to deal with a routine complaint that animals from one herder's stock have crossed the road and mingled with another herd. Shortly after the officers' visit, someone fatally stabs the first herder, Mattis Labba, and also severs and removes his ears. Klemet speculates that Mattis may have been killed in revenge for a theft, since reindeer thieves often cut off the marked ears of the animals they steal to prevent identification. The killing coincides with the theft of a valuable Sami drum from a local museum. Fascinating details, including the rift between the snowmobile lobby and the reindeer herders, enhance the fast-moving plot. Truc brings an obscure part of the world to vivid life. (Nov.) © Copyright PWxyz, LLC. All rights reserved.
(c) Copyright PWxyz, LLC. All rights reserved