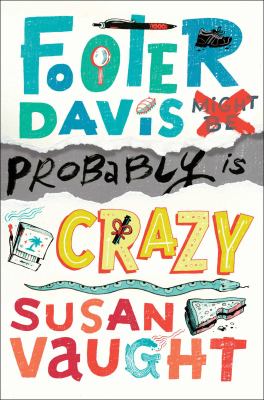 Footer Davis Probably Is Crazy
by Susan Vaught


Publishers Weekly Nine days after a neighbor is shot on his farm and the man's two grandchildren disappear, 11-year-old Fontana "Footer" Davis, her best friend Peavine, and his younger sister set out to find out what happened. Their investigation takes them to the farm, which burned down that same night, and their interviews with townsfolk appear throughout, along with Footer's amusing school assignments (Reinhardt provides doodles on Footer's behalf). Complicating the investigation are Footer's visions of the fire. Is it possible that she was there that night and has repressed the memory? Or is Footer following in the footsteps of her mother, who just been taken to a psychiatric ward? Vaught (Insanity) deftly portrays the pain of having a mentally ill parent, capturing Footer's simultaneous love for and resentment of her mother, as well as her fears for her own sanity. The unusual and entertaining residents of Footer's small Mississippi town bring moments of humor to a well-plotted mystery that effectively explores some serious themes. Ages 10-14. Author's agent: Erin Murphy, Erin Murphy Literary Agency. Illustrator's agent: Marietta Zacker, Nancy Gallt Literary Agency. (Mar.) © Copyright PWxyz, LLC. All rights reserved.
(c) Copyright PWxyz, LLC. All rights reserved
Book list As fifth-grader Footer Davis and her best friend, Peavine Jones, investigate the shooting of an elderly farmer and the disappearance of his grandchildren, Footer begins to wonder whether she is going crazy like her mother and, worse, if her bipolar mother is a murderer. This suspenseful story, set in a small Mississippi town, explores themes of domestic violence and mental illness in a way that highlights the support of caring parents, neighbors, and other adults. In the course of the second week after the fire that destroyed the Abrams' house and, perhaps, killed the children, Footer begins to experience what she first thinks are hallucinations and later decides are flashbacks to the night of the tragedy. Her first-person narrative is interrupted by entries from Peavine's investigative notebooks, Footer's school essays, and her changing theories. This tightly woven mystery also includes a tender friendship evolving into something more. That Peavine navigates on crutches is so matter-of-factly treated, readers may not even notice. For middle-graders, this is a sympathetic exploration of some difficult issues.--Isaacs, Kathleen Copyright 2015 Booklist
From Booklist, Copyright © American Library Association. Used with permission.
School Library Journal Gr 5-7-An average 10-year-old would likely pick up this book expecting a "Wimpy Kid" epigone-especially with the playful cover art. What Vaught has given readers instead is a highly didactic, heavy-handed approach to the topics of mental illness, genetics, Common Core, and gun control. This failure is compounded by the format: protagonist Footer's story is told through a combination of journal entries and school essays. Footer's mother, who is bipolar and through the course of the novel confined to a mental hospital, is one of several suspects in the murder of an elderly neighbor and the likely murder of his two grandchildren. Footer is not sure if she witnessed these events or has hallucinated them. At one point, social workers force Footer's dad to get rid of the guns in their house. Dad is less than pleased, believing that "guns don't kill people, people kill people." What mystery there is does not remain so for long. VERDICT Vaught's book lacks a realistic voice, adequate pacing, and sufficient drama.-Nina Sachs, Walker Memorial Library, Westbrook, ME (c) Copyright 2015. Library Journals LLC, a wholly owned subsidiary of Media Source, Inc. No redistribution permitted.
(c) Copyright Library Journals LLC, a wholly owned subsidiary of Media Source, Inc. No redistribution permitted.