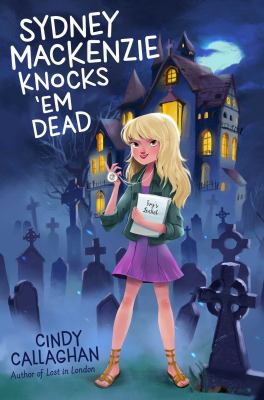 Sydney Mackenzie Knocks Em Dead
by Cindy Callaghan


Kirkus A haunted house helps Sydney make friends in a new community.Eighth grader Sydney Mackenzie, a white girl, arrives home from school one day to the horrifying news that her parents have decided to move across the country to Delaware. She is forced to leave her life in LA so that her parents can run a recently inherited family-owned cemetery business. After a cross-country drive, her family finally arrives in the small town of Buttermilk River Cove, population 800. Their home is something out of a scary movie: an old, weathered Victorian, with cemetery plots serving as the front lawn. Sydney decides she must do her best to communicate her California cool to the kids at her new school. She quickly learns that the local kids couldn't care less about her being from California and are more intrigued about her living at the town cemetery. After admitting to some new friends that she believes her house is haunted, Sydney has a sance to investigate. What comes next is an unveiling of a deeper story about the Underground Railroad. Callaghan creates two stories; what at first seems to be a "new city-girl in a small town" story slowly slips from Sydney's desperation to make friends into the haunting tale of the ghost of an enslaved girl that seems to communicate with Sydney. The story's ending feels more than a bit contrived, stumbling badly with a tragic attempt at humor that makes a mockery of slavery and undermines what is mostly a solid book. A deeply flawed story of hidden history literally buried within a small white town. (author's note, recipes) (Mystery. 9-13) Copyright Kirkus Reviews, used with permission.
Copyright © Kirkus Reviews, used with permission.
Horn Book Southern California snob Sydney is horrified when her family inherits a cemetery business in Delaware and moves into a house on the grounds. Her new local friends are fascinated by the rumored-to-be-haunted home, so Sydney reluctantly holds a siance and discovers a mystery involving a slave girl and the Underground Railroad. The middle-school mystery's forced tween humor melds awkwardly with its more serious issues. (c) Copyright 2018. The Horn Book, Inc., a wholly owned subsidiary of Media Source, Inc. No redistribution permitted.
(c) Copyright The Horn Book, Inc., a wholly owned subsidiary of Media Source, Inc. No redistribution permitted.