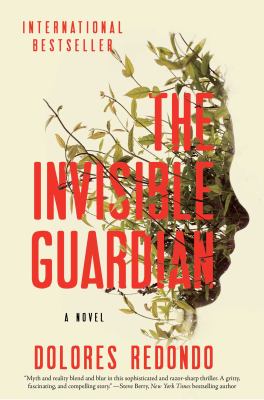 The Invisible Guardian: A Novel
by Dolores Redondo


Publishers Weekly Spanish author Redondo's assured first novel takes Insp. Amaia Salazar from Pamplona to Elizondo, in Basque country, where she grew up, to head a team investigating a serial killer. The killer strangles his young female victims, carefully arranges their hands and hair, and places a txantxigorri, a traditional cake of the region, on their torsos. Having been in Elizondo only 48 hours in the five years since her marriage, and already troubled by the horrors she has seen in her work, Amaia finds that returning to Elizondo has resurrected terrifying, long-repressed memories. She's further handicapped by an insubordinate colleague, Insp. Fermin Montes, who resents her being in charge. Despite deep skepticism, Amaia is forced to consider whether a basajaun, a small, human-like creature believed by the locals to live in the woods, may have been responsible for the murders rather than a ritual killer. Already an international bestseller, this engrossing psychological thriller will impress American readers as well. Agent: Anna Soler-Pont, Pontas Agency (Spain). (Mar.) © Copyright PWxyz, LLC. All rights reserved.
(c) Copyright PWxyz, LLC. All rights reserved
Library Journal An international best seller and short listed for the CWA International Dagger Awards, -Redondo's exciting first installment in the Baztán trilogy brings readers deep into Basque country in northern Spain. The novel opens with a suspected serial homicide case forcing Insp. Amaia Salazar to return to her hometown. The suspect is killing young women in a particularly bizarre fashion and leaving them posed in such a way that locals begin to tell tales of the mythological creature the basajaun, the invisible guardian, protector of the innocent. Working across superstition, tradition, and mythology, Amaia bumps up against her family's surprising connections to the victims as well as the deeply buried past determined to haunt her. Political complications mar the case, and Amaia isn't sure whom she can trust; her nightmares steadily increase as the body count picks up. VERDICT The Basque backdrop gives this thriller an especially intriguing layer of depth; the superstitions and mythologies passed down from the days of the Spanish Inquisition penetrate the mystery to such an extent that the reader is easily transported. The tenuously balanced level of sustained uncertainty is magnificently realized. The next two books in the series should be highly anticipated. [See Prepub Alert, 10/6/15.]-Julie Kane, Washingrton & Lee Lib., Lexington, VA © Copyright 2016. Library Journals LLC, a wholly owned subsidiary of Media Source, Inc. No redistribution permitted.
(c) Copyright Library Journals LLC, a wholly owned subsidiary of Media Source, Inc. No redistribution permitted.
Book list Published in her native Spain in 2013, this is the first of Redondo's Baztan Trilogy to be released in the U.S. A new case takes Inspector Amaia Salazar back to her childhood village of Elizondo in the Basque Pyrenees. Girls are being murdered and staged by the river for animals to feast on. Locals swear it's the work of a basajaun a bigfoot-like creature rumored to haunt the woods. Amaia's investigation is complicated by her family's connections to the crimes. Her brother-in-law knew one of the victims a little too well; her eldest sister's bakery makes pastries similar to the ones found near the victims; and her aunt sees relationships she's afraid to name in her tarot cards. At the core of Amaia's unease are her memories of the last time she saw evil in Elizondo the last time she looked her mother in the eye. Redondo's books have sold more than 300,000 copies in Spain and have been translated into 32 languages.--Keefe, Karen Copyright 2015 Booklist
From Booklist, Copyright © American Library Association. Used with permission.