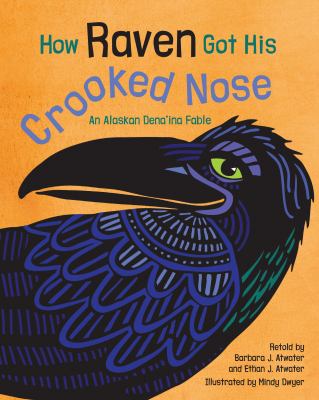 How Raven Got His Crooked Nose: An Alaskan Dena ina Fable.
by Mindy Dwyer


Horn Book When Granddaughter rushes and spills blueberries, Grandmother explains how trickster raven Chulyen's nose became bent because he hurried. After Chulyen loses his beak, an old woman uses it as a tool; Chulyen steals his nose back, but without noticing it's now worn and crooked. Sprightly comic-style art and the inclusion of Dena'ina words make this an engaging retelling from southern Alaska. Reading list. Glos. (c) Copyright 2019. The Horn Book, Inc., a wholly owned subsidiary of Media Source, Inc. No redistribution permitted.
(c) Copyright The Horn Book, Inc., a wholly owned subsidiary of Media Source, Inc. No redistribution permitted.
School Library Journal PreS-Gr 2-A grandmother shares a traditional Dena'ina tale about Raven, an oft-featured trickster deity in Alaskan Native mythology. The Dena'ina people live in Southcentral Alaska, part of the Athabascan language group and this tale was passed on from an elder to the authors (his niece and great nephew). In the book, the grandmother and child perform traditional activities (berry picking, salmon fishing, and cleaning) in a contemporary setting while she retells the story. (One quibble regarding the chronology of the artwork: the pair is first shown cleaning a fish and next they are shown catching one, which may confuse young readers.) The font and illustration style differ in the present narrative and the animal fable. The scenes of the retelling are visually strong; their bold style pays homage to traditional painting and mask styles. In comparison, the artwork accompanying the matriarch and her grandchild looks amateurish. Laced throughout are Dena'ina words with pronunciation guides. Back matter includes more information on Dena'ina storytelling and people, a glossary, and suggested further reading. These provide only the briefest glimpses into a complex culture, but will round out the story sufficiently for most readers and encourage the curious to seek more information. The conversational writing style and the clean layout design make this an easy read-aloud choice to share with a group. VERDICT A fine addition to nonfiction collections to highlight Dena'ina culture and traditional stories.-Elizabeth Nicolai, Anchorage Public Library, AK © Copyright 2018. Library Journals LLC, a wholly owned subsidiary of Media Source, Inc. No redistribution permitted.
(c) Copyright Library Journals LLC, a wholly owned subsidiary of Media Source, Inc. No redistribution permitted.
Kirkus A young Alaskan Dena'ina granddaughter rushes so much that her grandmother tells her about Chulyen, the raven.Chulyen's nose was once straight and beautiful. Being a trickster though, Chulyen often got into trouble. One day, he wakes without his nose (and is far too embarrassed ever to explain how it happened). Later, a Chida (old woman) finds Chulyen's missing nose and uses it as a tool until it becomes bent and worn. Chulyen decides he should use his powers to change into a human, then creates an army of sand people to scare the villagers away. He hurriedly searches Chida's house, finally finding his nose just as his magic is fading, and jams it back ononly later to discover that it's crooked and will stay that way. Both authorsa mother and sonare of Dena'ina heritage and grew up listening to community elders' stories. In this retelling, which is gently laced with Dena'ina vocabulary, readers learn not only a cautionary tale, but also facts about the culture, both as Chida uses Chulyen's nose in her work and in a closing note and glossary. Dwyer's illustrations range from soft tones when depicting the modern-day human characters to stark contrasting colors and bold patterns with Chulyen, the trickster raven.Both entertaining and instructive, a refreshing breath of air from the far north. (further reading) (Picture book/folktale. 4-8) Copyright Kirkus Reviews, used with permission.
Copyright © Kirkus Reviews, used with permission.
Publishers Weekly In a visually striking yet rather muddied retelling of a native Alaskan myth, a grandmother recites a story to her granddaughter about Chulyen, or Raven, to demonstrate how "it is always best to take our time and do things right." Working in graphic novel-style panels, Dwyer introduces Chulyen, who is boldly depicted with patterned black and purple plumage and lime-green eyes. After losing his beak in an unidentified accident, the bird fastens on a replacement beak made from white bark and goes to find his old one ("When he really thought about it, Chulyen did know where his nose was"). An elderly woman has found it on the shore and is using it as a household tool. In an especially surreal interlude, Raven changes himself into humanesque form, standing on long, black legs and wearing a feathery blue-black beard. Stealing into the woman's home, he finds his beak, but "because of his rush, he jammed it back on without care," causing it to be forever crooked. Dwyer's use of strong contrasting colors brings a fresh, modern sensibility to this tale, while patterns and motifs are suggestive of traditional Dena'ina art. Ages 5-8. (Apr.) © Copyright PWxyz, LLC. All rights reserved.
(c) Copyright PWxyz, LLC. All rights reserved