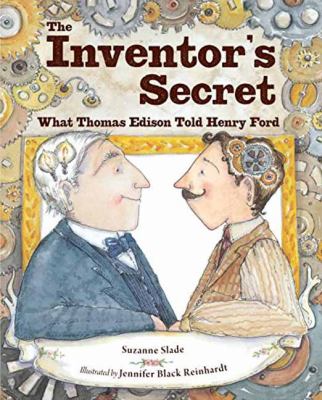 The Inventors Secret: What Thomas Edison Told Henry Ford
by by Suzanne Slade


Book list This dual picture-book biography of how Thomas Edison inspired Henry Ford succeeds in showing the emotional side of the life of an inventor: success requires more than just one or two or even two dozen attempts. Reinhardt's soft, amiable watercolor, ink, and colored-pencil artwork provides a lot of visual detail about both Edison's and Ford's passions, while Slade's text explains each man's inspiration and the way his inventions fundamentally changed the world. Ample source notes and a comprehensive dual time line help explain some of Slade and Reinhardt's depictions of Ford and Edison, and photo-illustrated notes about each inventor's most memorable creations provide substantial information to get kids started on research projects. While there are abundant compilations for kids about inventions and inventors, Slade and Reinhardt keep the focus solidly on the human element of frustration, persistence, and the power of a mentor. It's an unusual angle and well executed, which makes it a good fit for STEM-oriented programs as well as storytimes about the benefit of good friendships.--Goldsmith, Francisca Copyright 2015 Booklist
From Booklist, Copyright © American Library Association. Used with permission.
Publishers Weekly "What's his secret?" That's the question dogging Henry Ford as he watches Thomas Edison's phonograph and incandescent bulb take off, while his own attempts to create steam and gas engines sputter. Slade shifts between the developing careers of both men until, while discussing engines with Edison at a dinner in 1896, Ford gets his answer: "Keep at it!" Edison shouts encouragingly. Reinhardt's mixed-media artwork includes several lighthearted moments (parallel scenes featuring Edison and Ford as children highlight the explosive results of early failed experiments). Extensive endnotes discuss Slade's and Reinhardt's processes and several of the inventions mentioned, along with a time line and source notes. It's a rewarding look at the importance of persistence, as well as the friendship that developed between these prominent inventors. Ages 6-9. Illustrator's agent: Marietta Zacker, Nancy Gallt Literary Agency. (Sept.) © Copyright PWxyz, LLC. All rights reserved.
(c) Copyright PWxyz, LLC. All rights reserved
School Library Journal Gr 3-6-Emphasizing the power of perseverance, this cheery picture book alternates between the lives of two inventors, beginning with Thomas Edison, who was 16 years Henry Ford's senior. Many of Edison's major inventions are touched on, and young Ford is portrayed as curious as to the secret of Edison's success. Ford continues to work on developing engines and designing cars and finally seizes the opportunity to meet Edison in person. The two go over Ford's designs, and Edison urges the younger man to "keep at it!" With that, Ford discovers that "he'd known Thomas's secret all along!"-a realization illustrated with a light bulb over Ford's head. The rest of the story focuses on Ford's work on creating a car for all Americans, which resulted in the Model-T. Fanciful watercolor sketches depict Edison and Ford dreaming, inventing, and working, with a variety of expressions on their faces. The drawings are framed on the page, providing an old-fashioned feel. Inset images provide details and information on their inventions. The front and endpapers are filled with sketches of various light bulbs and gears in muted brown tones. The early lives and activities of these men are covered briefly. The factual text emphasizes how both started as dreamers who took action. Back matter includes a section on Edison and Ford's friendship, more material about the inventions, author and illustrator notes, and extensive source notes with citations for dialogue and other facts. VERDICT A suitable addition for those seeking biographies of inventors.-Tamara Saarinen, Pierce County Library, WA © Copyright 2015. Library Journals LLC, a wholly owned subsidiary of Media Source, Inc. No redistribution permitted.
(c) Copyright Library Journals LLC, a wholly owned subsidiary of Media Source, Inc. No redistribution permitted.