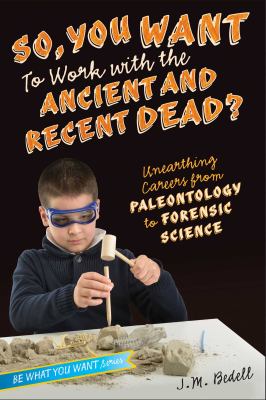 So, You Want to Work with the Ancient and Recent Dead?
by J. M. Bedell


School Library Journal Gr 6-10-Hooking readers with references to the macabre, this title offers glimpses into a wide spectrum of fields. Profiles of different individuals (a mortician, a taxidermist, a federal government archaeologist) provide perspective on training and other requirements, job expectations, and related points of interest. A funeral director who blogs about her work and speaks frankly about her battle with depression is particularly insightful. Some of the profiles examine students with a passion for a given field, such as a 12-year-old bug collector, offering both an entry point for readers and a view of hobbies that may lead to a career choice later on. Frequent sidebars break up the text and add context about, for example, cremation and burial customs. The variety of subjects tends to the quirky; there's a profile of an actor who portrays dead characters, a look at "interesting animals of taxidermy," and a lengthy discussion of various methods for radiocarbon dating. Career profiles are presented in a formal questionnaire format, and some are unfocused and overly long. Though there are some ink drawings, there are no photographs. The volume concludes with nearly 30 pages of resources, including web addresses for professional organizations, an extensive glossary, and listings of books and journal articles outlining many of the professions. VERDICT While this title probably won't serve as narrative reading, it's a strong career reference for younger teens.-Bob Hassett, Luther Jackson Middle School, Falls Church, VA © Copyright 2015. Library Journals LLC, a wholly owned subsidiary of Media Source, Inc. No redistribution permitted.
(c) Copyright Library Journals LLC, a wholly owned subsidiary of Media Source, Inc. No redistribution permitted.
Book list The latest in the Be What You Want series takes the mystique out of jobs relating to mortuary science and forensics. Bedell asserts that these jobs, rather than being reserved for people who are fascinated with blood and gore, are actually perfect for those who love to help others, make scientific discoveries, and study the way that people in the past lived. The focus is truly interdisciplinary, exploring careers in both the sciences, social services, and humanities. Cutting-edge technology careers involving advanced techniques in cryonics are described alongside the jobs of those who explore cultural and historical differences in the ways groups of people deal with death. Interviews with real working professionals discuss job conditions and educational requirements, while activities that introduce readers to methodologies in certain jobs are both fun and easily executed. A detailed list of additional resources is included in the end matter, arranged by topic. Using humor and straightforward descriptions, Bedell manages to make jobs dealing with death seem like perfectly natural career choices.--Anderson, Erin Copyright 2015 Booklist
From Booklist, Copyright © American Library Association. Used with permission.