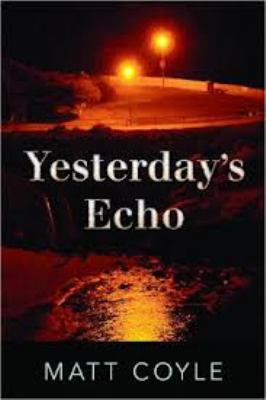 Yesterdays Echo
by Matt Coyle


Library Journal "The first time I saw her, she made me remember and she made me forget." This delectable opening line sets the tone for Coyle's hard-boiled crime series debut, which introduces Rick Cahill, a former cop whose wife was brutally murdered eight years ago. Rick was accused of the crime but never convicted. Unable to fight the media maelstrom, he retreats to La Jolla, CA, to help run a restaurant with his best (and only) friend. It isn't much of an existence but Rick is slowly regaining control of his life. Fate arrives in the figure of Melody, a gorgeous Filipina who embroils Rick in a lethal entanglement. Before too long, the protagonist finds himself back in the crosshairs of the media and the police, who remember all too well the cop that got away with murder. VERDICT Coyle does a superb job of drawing the reader in and keeps a steady pace of action along with solid character development. This celebration of the crime noir novels of old with a modern sensibility in Rick Cahill as hero will strongly appeal to fans of classic hard-boiled PI novels.-Amy Nolan, St. Joseph, MI (c) Copyright 2013. Library Journals LLC, a wholly owned subsidiary of Media Source, Inc. No redistribution permitted.
(c) Copyright 2010. Library Journals LLC, a wholly owned subsidiary of Media Source, Inc. No redistribution permitted.
Publishers Weekly Coyle's promising debut introduces ex-cop Rick Cahill, a tarnished knight who battles internal and external demons. Cahill now ekes out a living in La Jolla, Calif., managing Muldoon's Steak House, but has lots of baggage. His police officer father was kicked off the La Jolla force in disgrace 25 years earlier, and eight years ago Cahill was arrested for his wife's murder. One night at Muldoon's, he rescues a damsel in distress, TV reporter Melody Malana, from a guy who was about to assault her. For her safety, Cahill takes the captivating Melody home to his place, where they make love. When Melody later disappears, a pair of thugs beat Cahill up because they think he knows her whereabouts. Coyle breaks no new ground, but Cahill turns out to be both tough and resourceful when forced to confront his past. Readers can hope his future will be brighter. (May) (c) Copyright PWxyz, LLC. All rights reserved.
(c) Copyright PWxyz, LLC. All rights reserved