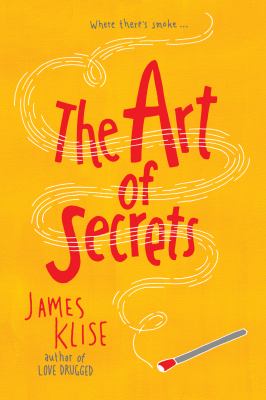 The art of secrets
by by James Klise


School Library Journal Gr 6-10-A suspicious fire, possibly a hate crime, destroys Saba Khan and her family's apartment and possessions. The Khans rely on the generosity of their neighbors and donations from Saba's school, a prestigious private school near downtown Chicago. Siblings Kendra and Kevin Spoon, two of the teen's classmates, decide an auction would be a great way to raise money to help the Pakistani American family. Soon the Spoons find a unique piece of artwork for the auction, and the event becomes big news that everyone wants in on. The art goes missing, and anyone involved in the auction is a suspect. This novel is told in variety of formats, including journal entries, email, text messages, newspaper stories, and police reports. Ten different characters share their points of view, leaving readers to work out exactly what happened and who might be guilty. Keeping up with all the different perspectives can be daunting, and some entries don't always contribute to the momentum. For fans of realistic fiction with plot twists, mysteries, and epistolary-type novels.-Natalie Struecker, Rock Island Public Library, IL (c) Copyright 2014. Library Journals LLC, a wholly owned subsidiary of Media Source, Inc. No redistribution permitted.
(c) Copyright Library Journals LLC, a wholly owned subsidiary of Media Source, Inc. No redistribution permitted.
Book list *Starred Review* After her family's apartment goes up in flames, Saba Khan's Chicago high school organizes a benefit auction for her family. When a book by the famous outsider artist Henry Darger turns up among the items that have been gathered for sale, it raises a number of perplexing questions: How did such a unique piece go missing for so long? Shouldn't the financially floundering school get a cut of the profits? Instead of bringing everyone together, the discovery further marginalizes the school's outsiders. The story is told through documents, interviews, journal entries, and text messages from Saba, her father, teachers at her school, and her classmates as their suspicions about the art and the origin of the fire grow, and fingers are pointed in every direction. Klise lets loose a chorus of genuine voices as the disturbing truth emerges, and people's secrets grow too large to hide. This art mystery is that rare book that will be passed around by teens as well as teachers in the faculty lounge, discussed and dissected and immediately reread to scour for hidden clues and motivations. The incidents at Highsmith School will stay on readers' minds long after the last page.--Howerton, Erin Downey Copyright 2014 Booklist
From Booklist, Copyright © American Library Association. Used with permission.
Publishers Weekly In his intriguing second book, Klise (Love Drugged) tells the story of a Pakistani family rebuilding their lives after their apartment is destroyed in a fire set by an arsonist. Coming to their aid, students from sophomore Saba Khan's prestigious Chicago high school plan a community fundraiser to help replace what her family lost. But when one of the items in the auction is reported missing-a collection of drawings supposedly painted by reclusive (real-life) outsider artist Henry Darger, worth half a million dollars-fingers are pointed and rumors circulate about who might have stolen it. Through emails, texts, journal entries, interview transcripts, newspaper clips, and official documents that pull in the perspectives of students, teachers, and others, Klise simultaneously reveals details about what might have transpired while allowing characters' darker motives-prejudice, envy, greed-to emerge. Astute readers may solve the whodunits early on, but the question of "how far would [people] be willing to go to make [their] dreams come true" propels the book forward to its scandalous conclusion. Ages 12-up. Agent: Jennifer Laughran, Andrea Brown Literary Agency. (Apr.) (c) Copyright PWxyz, LLC. All rights reserved.
(c) Copyright PWxyz, LLC. All rights reserved