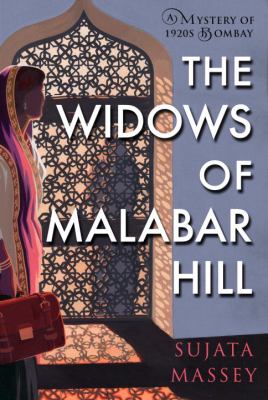 The Widows of Malabar Hill
by Sujata Massey


Library Journal This new series set in 1920s India introduces Perveen Mistry, the first woman to practice law in that country. The story alternates between 1916, when Perveen is a starry-eyed bride living in her husband's family home in Calcutta, and 1921, when she is working alongside her father in the family law firm in Bombay. Tasked with executing the will of Omar Farid, Perveen notices that Faisal Mukri, the guardian appointed by the husband, has persuaded Farid's three widows to donate their inheritance to charity. Since the women live in purdah, total seclusion from the world, Perveen wants to ensure that they understand the full ramifications of giving away their inheritance. An infuriated Mukri fires Perveen for her interference, but then a short time later, Perveen discovers his dead body. Did a family member kill Mukri to protect their inheritance? Massey, who wrote about contemporary Japan in her "Rei Shimura" mysteries, does a wonderful job of taking life in India at the beginning of the 20th century. She gives enough cultural details without overwhelming readers with facts. The two plotlines wonderfully depict the development of the main character and the mystery as it unfolds. VERDICT Massey's fans and historical fiction lovers will enjoy this fresh and original outing. [See Prepub Alert, 7/3/17; "Editors' Fall Picks," p. 35.]-Julie Ciccarelli, Tacoma P.L., WA © Copyright 2017. Library Journals LLC, a wholly owned subsidiary of Media Source, Inc. No redistribution permitted.
(c) Copyright Library Journals LLC, a wholly owned subsidiary of Media Source, Inc. No redistribution permitted.
Book list *Starred Review* Massey, author of the Rei Shimura mysteries and the stand-alone The Sleeping Dictionary (2013), debuts a new series featuring a female lawyer in India. In partnership with her father, Perveen Mistry mainly processes paperwork, since in 1920s Bombay, women are disallowed from presenting in court. Her chance to meet actual clients finally arrives when she questions the disposition of an inheritance to three Muslim widows living in full purdah (seclusion), which prohibits their talking to men. Each widow has signed over her only ongoing source of income to charity. Perveen is determined to ask them why, and inadvertently sets off a chain of violence and recrimination. In addition to getting an unusual perspective on women's rights and relationships, readers are treated to a full view of historical downtown Bombay the shops and offices, the docks and old fort, and the huge variety of conveyances, characters, and religions in an unforgettable olio that provides the perfect backdrop to the plot and subplots. Each of the many characters is uniquely described, flaws and all, which is the key to understanding their surprising roles in the well-constructed puzzle. Readers might also enjoy Shona Patel's Flame Tree Road (2015) and Shauna Singh Baldwin's What the Body Remembers (1999) for additional fictional perspectives on women's experience in India.--Baker, Jen Copyright 2017 Booklist
From Booklist, Copyright © American Library Association. Used with permission.
Publishers Weekly Set in India in 1921, this outstanding series launch from Agatha-winner Massey (The Kizuna Coast and 10 other Rei Shimura mysteries) introduces Perveen Mistry, Bombay's first female solicitor, who works for her father's law firm, handling contracts and estate work. Faisal Mukri, the trustee of the estate of recently deceased textile-mill owner Omar Farid, writes to the Mistry firm to request changes in the estate settlement, claiming that Farid's three widows want to donate all their assets to a charitable foundation that would benefit the needy while paying them an annuity. The paperwork documenting the widows' intentions appears suspect, and Perveen's visit to their home and her conversation with Mukri only strengthen her conviction that something irregular is at work. Her due diligence in insuring that the widows' interests are protected eventually enmeshes her in a murder investigation. The period detail and thoughtful characterizations, especially of the capable, fiercely independent lead, bode well for future installments. Agent: Vicky Bijur, Vicky Bijur Literary Agency. (Jan.) © Copyright PWxyz, LLC. All rights reserved.
(c) Copyright PWxyz, LLC. All rights reserved