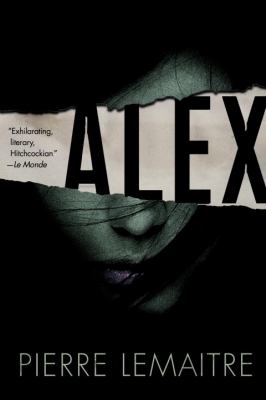 Alex
by Pierre Lemaitre


Book list During the reign of Louis XVI, a cage was designed to inflict maximum torture. It was built so that the person in it could barely move his or her limbs. Muscles would atrophy, totally crippling the inhabitant. In this horror-film-like French suspense story, this type of cage has been updated and suspended from the ceiling of an abandoned warehouse filled with rats. After a young woman is forced into a van off a Paris street, police know their time is very limited to find the victim before she's murdered. Police Commandant Camille Verhoeven, whose own wife was kidnapped and killed, is forced into taking on the case, which moves, quickly, from kidnap to hostage drama. The details concerning the woman in the cage are reminiscent of Poe's The Pit and the Pendulum in their mounting despair. What the police uncover about the young woman sets them off in another, equally disturbing direction. Verhoeven's knowledge of kidnapping how it's a special crime, marked by a great deal of planning and with a demanding time line is fascinating. Filled with many twists and turns of plot, along with a huge surprise.--Fletcher, Connie Copyright 2010 Booklist
From Booklist, Copyright ę American Library Association. Used with permission.
Publishers Weekly At the outset of French author Lemaitre's impressive American debut, the first in a trilogy, attractive 30-year-old Alex Prevost is shopping for wigs in a Paris shop when she spots a man waiting on the street who's clearly been following her. Perhaps he's just an admirer who wants to meet her, she thinks. That night, after dining alone at a restaurant, Alex is accosted on the sidewalk by a man who, after discarding the wig he initially grabbed and seizing her by her real hair, throws her into a white van. Soon Alex finds herself trapped inside a wooden crate suspended from the ceiling of an abandoned warehouse. Meanwhile, Commandant Camille Verhoeven throws himself into the kidnapping investigation as a way to deal with his grief over his wife's death, but he and his detectives have few clues to aid them in identifying Alex's abductor. An irritant to his superiors but respected by his subordinates, Verhoeven uses his diminutive stature to unsettle witnesses and suspects while surprising them with his intelligence and wit. Some unexpected plot twists will keep readers turning the pages. 150,000-copy first printing. (Sept.) (c) Copyright PWxyz, LLC. All rights reserved.
(c) Copyright PWxyz, LLC. All rights reserved
Library Journal A Paris detective with a past and a hostage with a history will shape each other in this sinister crime thriller.┼Police commandant Camille Verhoeven is a skilled detective struggling to cope with the brutal kidnapping and murder of his wife and unborn son. Alex Prevost is a beautiful young woman snatched off the street mere blocks from her apartment. She is next seen in a series of gruesome photographs-naked, filthy, and trapped in a wooden cage hung six feet above the ground in an abandoned warehouse. As Camille and his team race against the clock to rescue Alex, events occur that lead them to question whether she is truly a damsel in distress. This kicks off a series of plot twists that propel the reader toward an unsettling conclusion. Brutal, dark, and gory, this crime thriller, a best seller in Europe, will keep readers turning the pages until well past bedtime-with all the lights on, of course. VERDICT Celebrated French mystery author Lemaitre makes his U.S. debut with this tense work of detective fiction that is intended to be the first volume in a trilogy but functions equally well as a stand-alone novel. Fans of John Connolly, John Lutz, and Kevin O'Brien are apt to enjoy Lemaitre's graphic prose and contemporary noir style. The diminutive and complex Camille, standing at just under five feet, is a memorable sleuth, but for readers searching for a strong female protagonist, Alex Prevost remains a puzzle at novel's end. [Previewed in "A World of New Titles: Editors' Picks, LJ 7/13.-Ed.]-Liv Hanson, Chicago (c) Copyright 2013. Library Journals LLC, a wholly owned subsidiary of Media Source, Inc. No redistribution permitted.
(c) Copyright Library Journals LLC, a wholly owned subsidiary of Media Source, Inc. No redistribution permitted.