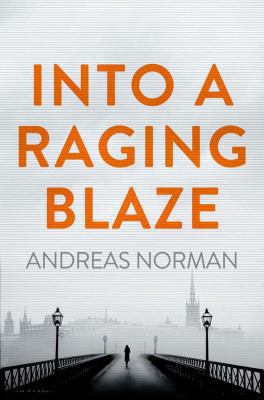 Into a Raging Blaze
by Andreas Norman


Library Journal Starred Review. At a meeting abroad, Carina Dymek, a Swedish civil servant, is approached by a stranger who gives her a USB memory stick containing a secret, very disturbing European Union Commission report. When Carina sends the report on to her boss, she finds herself suddenly suspended from her job. The authorities don't believe her when she tells how she got the document. In no time at all, Carina and her Egyptian Swedish lover are the objects of a full-strength antiterrorism operation. Enter a Swedish spy catcher who goes along with the hunt at first but gradually becomes suspicious. SAPO agent Bente Jensen suspects Sweden's partners in espionage, Britain's MI6 and America's CIA, are gaming her government. For their own reasons, the agencies don't want anyone to find out about this document. How can Carina derail the juggernaut they have unleashed? VERDICT Norman, a former diplomat in Sweden's Ministry of Foreign Affairs, has written a first-rate debut thriller that asks: Who watches the watchers if they don't choose to be seen? The narrative starts slow but doesn't take long to build up speed. From then on, watch out!-David Keymer, Modesto, CA (c) Copyright 2014. Library Journals LLC, a wholly owned subsidiary of Media Source, Inc. No redistribution permitted.
(c) Copyright Library Journals LLC, a wholly owned subsidiary of Media Source, Inc. No redistribution permitted.
Publishers Weekly Norman, a former diplomat in the Swedish Ministry of Foreign Affairs, brings his expertise to his intermittently compelling first novel, a spy thriller. At a routine conference in Brussels, an E.U. Commission staffer leaks information to Carina Dymek, a midlevel Swedish bureaucrat, about a plan to create the European Intelligence Service, a kind of CIA for Europe. Carinas choice to tell her boss of this plan lands her in a world of trouble, which is compounded by the possible connection of her boyfriend, Jamal Badawi, an Egyptian-born Swedish citizen, to the Muslim Brotherhood. Swedish intelligence, in the person of the tenacious Bente Jensen, is charged with discovering exactly what Carina and Jamal are up to-including the possibility that theyre involved in an imminent terrorist attack. Repetitive and often polemical detail may put off some readers (the author clearly thinks the EIS is a bad idea), but the action and tradecraft are good, and the book generates some real momentum. (Nov.) (c) Copyright PWxyz, LLC. All rights reserved.
(c) Copyright PWxyz, LLC. All rights reserved
Book list *Starred Review* At a European Union committee meeting, Swedish diplomat Carina Dymek passionately condemns racist undertones in border-security proposals, capturing the attention of a mysterious EU representative who praises her conscience and secretively slips her a USB drive. The drive's contents are unsettling and dangerous: top-secret EU proposals to create a common espionage unit without knowledge of representative countries' elected officials. Carina dutifully passes it along to her superiors and her boyfriend, Jamal Badawi, an attorney at the Ministry of Justice. Within hours, she's plunged into a maelstrom of high-stakes espionage, fleeing from Säpo, the Swedish security service, with the document. Bente Jensen, head of Sweden's covert counterespionage unit, evaluates MI6 intelligence that Carina is a terrorist, recruited by Jamal on orders from his uncle, who is linked to a violent faction of the Muslim Brotherhood. Bente is skeptical about the allegations, and she carefully sidesteps the official mission and investigates Carina's role, racing to discover what's really behind MI6's allegations before either of them is killed. Norman weaves EU politics, the dark reality of diplomacy, and modern espionage techniques together with a classic thriller story, creating a detailed, thoughtful exploration of ethics and sacrifices in the era of the War on Terror and WikiLeaks. Fully dimensional characters humanize this thriller, and readers will be intrigued by the European perspective on international power, which blurs the role of the U.S. as the good guy.--Tran, Christine Copyright 2014 Booklist
From Booklist, Copyright © American Library Association. Used with permission.