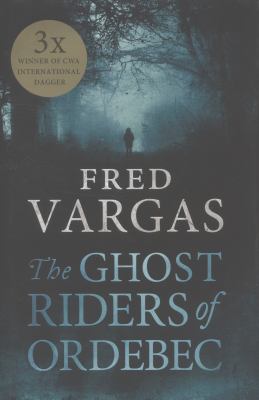 The Ghost Riders of Ordebec
by Fred Vargas


Library Journal Commissaire Adamsberg is a quirky Parisian chief of police with a team of dedicated colleagues, each with unique skills and idiosyncrasies. In this seventh series entry (after An Uncertain Place), Adamsberg leaves a pending case to go to the Norman town of Ordebec where recent events recall the Norman legend of Hellequin's Horde of Ghost Riders. Searching for answers and fighting for justice on two fronts, the commissaire employs unorthodox methods to ensure that truth, not politics, prevails. Making new acquaintances in town, including the Comte d'Ordebec, Adamsberg relies upon these new allies as well as his own team to settle matters far more complex than initially presented. VERDICT Although this novel can stand alone, readers might appreciate gaining insight and growing attached to the characters if they become part of the team from the start. Personality traits are best appreciated by intimates, and picking up the seventh book in the series felt a little like an outsider transferring into the department. Vargas is a three-time CWA International Dagger Award winner and her tale of this quirky-but-qualified band of misfits makes for a page-turning summer read.-Laura Cifelli, Fort Myers-Lee Cty. P.L., FL (c) Copyright 2013. Library Journals LLC, a wholly owned subsidiary of Media Source, Inc. No redistribution permitted.
(c) Copyright Library Journals LLC, a wholly owned subsidiary of Media Source, Inc. No redistribution permitted.
Publishers Weekly As shown in Vargas's exquisite seventh Commissaire Adamsberg mystery (after 2011's An Uncertain Place), only Christopher Fowler's Peculiar Crimes Unit can compare with the Paris policeman's eccentric colleagues in the Serious Crime Squad, who include a narcoleptic, a walking encyclopedia, and a naturalist. Valentine Vendermot, a widow who lives in the Normandy town of Ordebec, seeks out Adamsberg to report the disappearance of neighbor Michel Herbier, an unpleasant retiree who likes to hunt pregnant animals. Vendermot is concerned because one night her grown-up daughter, Lina, saw the legendary Ghost Riders of the title carrying Herbier and three others, two of whom Lina recognized. This vision, according to Vendermot, foretells disaster. Although the case is out of his jurisdiction, Adamsberg follows his instincts to Normandy, where he ends up investigating multiple murders. Vargas's combination of humor and fair-play plotting, reminiscent of John Dickson Carr, has never been better. (July) (c) Copyright PWxyz, LLC. All rights reserved.
(c) Copyright PWxyz, LLC. All rights reserved