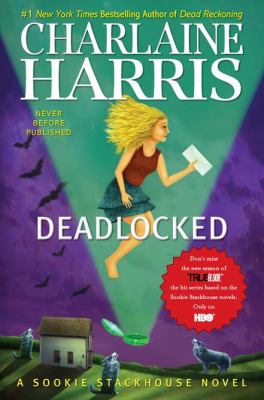 Deadlocked: A Sookie Stackhouse Novel
by Charlaine Harris


Publishers Weekly The events of Dead Reckoning-particularly the death of the despicable but powerful vampire Victor-have consequences for Sookie Stackhouse and her supernatural gang in Harris's intriguing 13th and penultimate series installment. When Sookie's vampire husband, Eric Northman, summons her to his Shreveport home to welcome the visiting king, Felipe de Castro, and his entourage, she's shocked to find Eric feeding on another woman while the king and his underlings ravage their own humans downstairs. The woman Eric fed from turns up dead on his front lawn and someone calls the police, putting Eric and Felipe's entourage under suspicion. With the help of ex-boyfriend Bill Compton, Sookie grudgingly sets out to clear Eric's name while trying to keep the local fae under control after her kin, Claude and Niall, return to the land of Faery. As loyalties realign and betrayals are unmasked, Harris ably sets the stage for the ensemble's last hurrah. Agent: Joshua Bilmes, JABberwocky Literary Agency. (May) (c) Copyright PWxyz, LLC. All rights reserved.
(c) Copyright PWxyz, LLC. All rights reserved
Book list With her psychic bond to Eric broken (Dead Reckoning, 2011), Sookie Stackhouse is at last on her own and able to make her own decisions without the vampires knowing everything. But the lack of a bond goes both ways; Eric is being courted by a vampire queen and is keeping secrets from Sookie. Of course, things are a little different for everyone in Harris' vampire-strewn world: Area 5 is currently hosting an official representative from the Vampire King of Louisiana, who is looking into peculiar recent deaths (Dead in the Family, 2010), and Eric is being blamed for the death of a young woman whose corpse was found on his front lawn (leaving Sookie to find the real killer). The local fae are upset, too, especially after Sookie's cousin Claude is summoned by Grandfather Niall. If that wasn't enough, Sookie is sure that someone is after the cluviel dor, the powerful fairy relic. With lots of developments that move ahead the larger series plot, this is essential reading for fans but not a good place to start for new readers. HIGH-DEMAND BACKSTORY: Fans of this long-running series jump from book to the TV series True Blood with reckless abandon, anything to feed their craving.--Moyer, Jessica Copyright 2010 Booklist
From Booklist, Copyright © American Library Association. Used with permission.