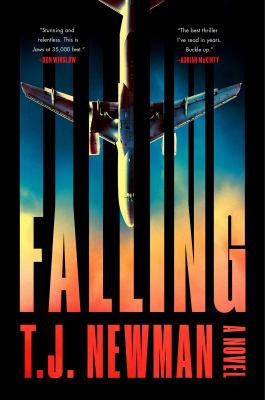 Falling
by T.J. Newman


Publishers Weekly Soon after Coastal Airways captain Bill Hoffman, the hero of former flight attendant Newman's superlative debut, is airborne on a flight from Los Angeles to JFK Airport, he gets a blank email from his wife, Carrie. The attached photo shows her and their 10-year-old son, Scott, standing in their living room, their faces covered with hoods and bombs strapped to their bodies. Then he gets a FaceTime call from Saman Khani, who presents the pilot with a choice: Bill must crash the plane, or the terrorist will kill Carrie, Scott, and Elise, the Hoffmans' baby. Telling anyone of the situation or sending anyone to the house will ensure their deaths. Determined to avoid choosing between the lives of his loved ones and those of his crewmates and the 144 passengers on the flight, Bill must use all his experience and smarts to achieve that impossible goal by trying to get help to his family via a crew member who has a trusted relative in the FBI and by taking the flight attendants into his confidence. Newman makes buy-in to the setup easy by ensuring every character, including Khani, is multidimensional. This tense, convincing thriller marks the arrival of an assured new talent. Agent: Shane Salerno, Story Factory. (July)
(c) Copyright PWxyz, LLC. All rights reserved
Library Journal DEBUT An airline pilot faces a no-win situation in Newman's debut thriller. Bill Hoffman has taken flight with his crew and almost 150 passengers when he receives a message informing him that his wife and two children are being held hostage; their kidnapper has chosen Bill for a task. Expecting a ransom demand, Bill is surprised to learn instead that he must crash the plane for his family to live. If he alerts the authorities or anyone on board, his family will be killed, and someone has been planted on the flight to make sure he follows through with the crash. Bill has not hope that he'll see his family again. Falling is scary as hell and will make readers want to avoid flying anytime soon. The author's background as a flight attendant provides insight into Bill's world and adds realism to the scenario. VERDICT Newman keeps up an extreme pace from the first page—a near-impossible task, considering that the hero is locked in a cockpit, unable to take action himself. This novel is like the films Die Hard and Speed on steroids, creating one of the year's best thrillers.—Jeff Ayers, formerly with Seattle P.L.
(c) Copyright Library Journals LLC, a wholly owned subsidiary of Media Source, Inc. No redistribution permitted.
Book list A man takes a mother and her two children hostage in their home. He offers the woman's husband an impossible choice: the lives of his family, or the lives of 149 innocent people. As if that weren't an interesting enough way to start a novel, there's this: the husband is an airline pilot, at cruising altitude en route to New York City, and the choice he's given is to crash his plane, killing everyone aboard, or save the lives of his passengers and watch his family die. The husband's response is to tell the man who holds the lives of his family in his hand that he won't crash the plane, and he won't let the man kill his family. Newman, who spent a decade as a flight attendant before switching gears to writing (she apparently wrote much of this book on a plane), gives this incredibly suspenseful thriller a great sense of verisimilitude. The cockpit dialogue sounds just right; the mechanics of flying a plane, ditto. And the story? Brilliant. You read the book and think: How has no one thought of this scenario before? And how the hell is pilot Bill Hoffman going to keep his passengers and his family alive? With abundantly human characters, natural dialogue, and a plot that unleashes one surprise after another, this could be the novel that everyone is talking about this summer.
From Booklist, Copyright © American Library Association. Used with permission.