by Margot Lee Shetterly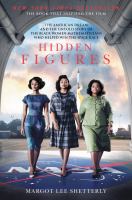 Library Journal
(c) Copyright Library Journals LLC, a wholly owned subsidiary of Media Source, Inc. No redistribution permitted.

In this debut, Shetterly shines a much-needed light on the bright, talented, and wholly underappreciated geniuses of the institution that would become NASA. Called upon during the labor shortage of World War II, these women were asked to serve their country and put their previously overlooked skills to work-all while being segregated from their white coworkers. The author tells the compelling stories of Dorothy Vaughan, Mary Jackson, Katherine Johnson, and Christine Darden as they navigated mathematical equations, the space race, and the civil rights movement over three decades of brilliant computing and discoveries. The professional and private lives of the ladies of Langley Research Center are documented through an impassioned and clearly well-researched narrative. Readers will learn how integral these women were to American aeronautics and be saddened by the racism and sexism that kept them from deserved recognition. VERDICT Shetterly's highly recommended work offers up a crucial history that had previously and unforgivably been lost. We'd do well to put this book into the hands of young women who have long since been told that there's no room for them at the scientific table. [See Prepub Alert, 3/21/16; "Editors' Fall Picks," p. 27.]-Kate DiGirolomo, Library Journal © Copyright 2016. Library Journals LLC, a wholly owned subsidiary of Media Source, Inc. No redistribution permitted.
---
Book list
From Booklist, Copyright © American Library Association. Used with permission.

*Starred Review* On a trip home to Hampton, Virginia, Shetterly stumbled upon an overlooked aspect of American history that is almost mythic in scope. As the daughter of an engineer who became a highly respected scientist, she was aware of the town's close ties to NASA's nearby Langley Research Center and also of the high number of African Americans, like him, who worked there. What she did not know was that many of the women, particularly African American women, were employed not as secretaries but as computers: individuals capable of making accurate mathematical calculations at staggering speed who ultimately contributed to the agency's aerodynamic and space projects on an impressive scale. Shetterly does an outstanding job of weaving the nearly unbelievable stories of these women into the saga of NASA's history (as well as its WWII-era precursor) while simultaneously keeping an eye on the battle for civil rights that swirled around them. This is an incredibly powerful and complex story, and Shetterly has it down cold. The breadth of her well-documented research is immense, and her narrative compels on every level. With a major movie due out in January, this book-club natural will be in demand.--Mondor, Colleen Copyright 2016 Booklist
---
School Library Journal
(c) Copyright Library Journals LLC, a wholly owned subsidiary of Media Source, Inc. No redistribution permitted.

In popular culture, Rosie the Riveter symbolized the thousands of women who worked assembly line jobs during World War II; her image lives on as an iconic poster for women's rights. Shetterly tells a companion story: starting in 1945, about 50 college-educated African American female mathematicians were among the approximately 1,000 women quietly hired by Langley Memorial Aeronautical Laboratory as entry-level "computers"- their job title before the actual machine was invented. The author focuses on four black women who worked alongside engineers-that more prestigious title went to white men-to run tests, produce calculations, and tweak theories, pushing America into the modern aviation age. Their work ethic, smarts, and loyalty also gave them something else: earning power. Proudly securing a place in the middle class for their families, they could afford their own homes and college educations for their children. In exchange, they agreed to fit in-enduring, for example, the daily humiliation of the company's segregated cafeteria. Even the few who simply ate at their desks agreed, implicitly, to keep politics out of the workplace. As an insider, Shetterly, whose father was an African American career scientist at Langley, pieces this history together lovingly and carefully, with more than 250 footnotes. Now a mainstream movie, this is an inspiring account that is not so much hidden as it is untold. VERDICT Spotlighting pioneering black women who made their mark as mathematicians during segregation, this is a must for history collections.-Georgia Christgau, Middle College High School, Long Island City, NY © Copyright 2017. Library Journals LLC, a wholly owned subsidiary of Media Source, Inc. No redistribution permitted.
---
Kirkus
Copyright © Kirkus Reviews, used with permission.

An inside look at the World War IIera black female mathematicians who assisted greatly in the United States aeronautics industry.Shetterlys father, a 40-year veteran of what became Langley Research Center, used to tell her the stories of the black female computers who were hired in 1943 to work in the computing pool. The first female computing pool, begun in the mid-1930s, had caused an uproar; the men in the lab couldnt believe a female mind could process the rigorous math and work the expensive calculating machine. In 1941, Franklin Roosevelt signed Executive Order 8802, desegregating the defense industry and paving the way for Dorothy Vaughan, Mary Jackson, Katherine Johnson, and others to begin work in 1943. The author never fully explains what machine they were using, but it was likely more advanced than the comptometer. What is perfectly clear is that the women who were hired were crack mathematicians, either already holding masters degrees or destined to gain one. It was hard enough to be a woman in the industry at that time, but the black women who worked at Langley also had to be strong, sharp, and sufficiently self-possessed to be able to question their superiorsand that is just what they did. They sought information, offered suggestions, caught errors, and authored research reports. The stories are amazing not because the women were extremely smart, but because they fought for and won recognition and devotedly supported each others work. Their work outside the officeas Scout leaders, public speakers, and leaders of seminars to promote science and engineeringwas even more impressive. They were there from the beginning, perfecting World War II planes and proving to be invaluable to the nascent space program. Much of the work will be confusing to the mathematically disinclined, but their story is inspiring and enlightening. Copyright Kirkus Reviews, used with permission.