by C. E. Morgan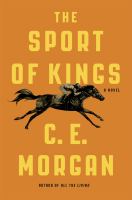 Publishers Weekly
(c) Copyright PWxyz, LLC. All rights reserved

Morgan's enjoyable if overwritten novel about horse racing is, at heart, a story about parents and children. In 1965, Henry Forge, scion of a powerful white Kentucky dynasty, defies his tyrannical father's wishes by turning their corn farm into a horse farm, where he hopes to turn out thoroughbred racers. Set around the year 2007, Henry's equally headstrong daughter, Henrietta, defies her father by hiring a black ex-con named Allmon Shaughnessy to work in the stables. Raised in Cincinnati by a well-meaning single mother suffering from Lupus, Allmon drifted into petty crime at an early age. Now he is trying to make a new start at Forge Run Farm, where Henry and Henrietta have pinned all their hopes on Hellsmouth, a thoroughbred filly from an historic bloodline. Henry, having inherited his father's belief in the inferiority of the black race, does everything possible to stop the growing attraction between Allmon and his daughter, but fate has a shocking destiny in store for them. The novel starts strong out of the gate, with Henry, Henrietta, and Allmon each getting nearly 100 pages for his or her own immersive backstory, then blows it in the backstretch with a series of melodramatic incidents that undermines the care with which Morgan (All the Living) has created these larger-than-life characters. However, fans of Jane Smiley's Horse Heaven and Jaimy Gordon's Lord of Misrule will appreciate the novel's authentically pungent shed-row atmosphere, as ultimately satisfying as a mint julep on Derby Day. (May) © Copyright PWxyz, LLC. All rights reserved.
---
Book list
From Booklist, Copyright © American Library Association. Used with permission.

*Starred Review* Morgan returns to Kentucky for her second novel, following All the Living (2009), but this is a very different, far more ambitious book, an epic of Faulknerian dimension that tells multiple stories across many generations. The central thread follows the Forge family, especially Henry, who converts the family's corn-raising business into a horse farm, breeding Thoroughbreds in the hope of producing the next Secretariat. With the help of his daughter, Henrietta, he is well on his way to doing just that with the birth of Hellsmouth, poised for a run at the Triple Crown in 2006. There are demons in the Forge family barn, however; despite the break with his father, Henry carries the legacy of racism and sexism deep in his marrow, and when Henrietta hires and quickly falls in love with a young African American groom, Allmon Shaughnessy, the pieces are in place for an inevitable conflagration. But Morgan has much more on her mind than the Forges. She jumps from their story to backtrack through generations of Allmon's family and to attempt to throw her arms around the history of southern racism with the same fervor that she tackles the region's white family dynasties. And to a great extent, she succeeds. There are passages of absolutely stunning prose in this book again, thoroughly Faulknerian in the way they ride an oceanic tide of words to a distant shore but there are also times when many readers will feel lost amid the tempestuous gush of words, plots, and ideas. Still, you can't land a white whale with a lyric poem for a harpoon, and Morgan deserves applause for the sheer audacity of this novel and for its scope, its intelligence, and its undeniable power.--Ott, Bill Copyright 2016 Booklist
---
Library Journal
(c) Copyright Library Journals LLC, a wholly owned subsidiary of Media Source, Inc. No redistribution permitted.

Underscoring the importance of place in fiction, Eudora Welty once wrote, "One place understood helps us understand all places better." For Morgan (All the Living), Kentucky is the place; she's a longtime resident and an alumna of Berea College. Here, Henry Forge, the heir to a legacy estate in the state, dedicates both his fortune and life to the sport of kings. At Forge Run Farm, Henrietta, Henry's daughter, tends to both her father's aspirations for Hellsmouth, their award-winning filly thoroughbred, and her growing sexual predilections. However, when her attention turns toward -Allmon, a black stable hand, Henrietta finds herself defying both her father's racial prejudice and his dynastic aspirations. Though set in the 21st century, the narrative establishes each character's backstory to reveal how the tendrils of the Bluegrass State's racial history continue to color and coil around the present. Morgan also employs the pastoral vistas and calcium-rich bluegrass of Kentucky to tell a universal tale in a very specific setting. VERDICT A dense meditation on the ugliness that undergirds much of the sublime we as humans strive for and admire in life. [See Prepub Alert, 11/9/15.]-Joshua Finnell, Los Alamos National Lab., NM © Copyright 2016. Library Journals LLC, a wholly owned subsidiary of Media Source, Inc. No redistribution permitted.
---
Kirkus
Copyright © Kirkus Reviews, used with permission.

Morgan follows up her slim, keening debut (All the Living, 2009) with an epic novel steeped in American history and geography. As a boy, Henry Forge determines to turn the land his aristocratic Kentucky family has planted with corn for generations into a farm for racehorses. Henry grows into an arrogant, hard man, imbued with the unthinking racism and sexism of his haughty father and unnaturally focused on his only child, Henrietta. Before she leaves him, wife Judith loudly voices the novel's seething strain of bitterness about the lot of women in this world, but her anger is nothing compared to the rage of Allmon Shaughnessy, an African-American man who enters the story in the early 2000s, when Henrietta and he are both in their 20s. Backtracking to trace Allmon's past, Morgan's gothic tale of Southern decadence deepens into a searing investigation of racism's enduring legacy. Allmon's ailing, hard-pressed mother and her father, a storefront preacher and veteran civil rights activist, are notable among the teeming cast of brilliantly drawn secondary characters who populate the bleak saga of an intelligent, sensitive boy with zero prospects; by the time he's 17, Allmon is in jail, where he discovers the knack with horses that gets him hired on the Forges' farm. A few years go by, Henrietta and Allmon become lovers, but there's little hope of a happy future for such damaged people. A series of five brilliant riffs called Interludes anchor this modern tale in a vast sweep of geological time and the grim particulars of Allmon's ancestor, a runaway slave named Scipio. The consequences of the Forges' brutality and pride come home to roost in an apocalyptic climax just after their extraordinary filly Hellsmouth runs the 2006 Kentucky Derby; it's entirely appropriate to Morgan's dark vision that it's not the guiltiest who pay the highest price. Vaultingly ambitious, thrillingly well-written, charged with moral fervor and rueful compassion. How will this dazzling writer astonish us next time? Copyright Kirkus Reviews, used with permission.