by Patrick Phillips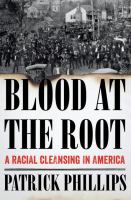 Library Journal
(c) Copyright Library Journals LLC, a wholly owned subsidiary of Media Source, Inc. No redistribution permitted.

In gripping and devastating detail, writer and poet Phillips (Elegy for a Broken Machine) uncovers a history of lynching, racial violence, terrorism, and white supremacy that marked the history of Forsyth County, GA, for a century and made it the "whitest" place in the United States. The story is both personal and pertinent, as the author digs into a forgotten past of his hometown and asks probing questions about the persistence of racism and the tenacity of hatred. The book focuses on the lynching of two black teenagers for the murder of a young white girl in 1912. The subsequent "racial cleansing" of the county involved angry mobs and night riders driving blacks out of the area and cheating them of their property. There were many and varied efforts to keep the county a "white man's country" even in the face of a modernizing South and civil rights activism. This was balanced with the posturing of public officials wanting to gain respect and business investment from "outsiders" while supporting their constituents' demands for racial cleansing. VERDICT There are few heroes in this accounting, which stands as a sobering reminder that the racial fantasies and fears that have ruled so much of our history only continue to haunt the present.-Randall M. Miller, St. Joseph's Univ., Philadelphia © Copyright 2016. Library Journals LLC, a wholly owned subsidiary of Media Source, Inc. No redistribution permitted.
---
Book list
From Booklist, Copyright © American Library Association. Used with permission.

*Starred Review* As current political discourse addresses controversial notions regarding immigrants and race relationships, the events Phillips describes in this harrowing chronicle of racial cleansing in Forsyth County, Georgia, in the early twentieth century feels eerily contemporary and all-too relevant. From murder to rape to robbery, virtually every crime committed in this rural Atlanta farming community in 1912 was attributed to marauding black men. The fact that there was no credible evidence to support these beliefs was secondary; white townspeople rushed to judgment, assigning guilt and sentencing to death the black men they deemed responsible. Lynchings were commonplace; night-riding arsonists burned and bombed black families out of their homes, turning Forsyth County into a whites-only enclave, segregation that would endure for decades. The child of parents who were part of a small cadre of white homeowners brave enough to challenge the status quo, Phillips, nonetheless, subjugates his personal connections in pursuit of the larger story of ethnic profiling and its elaborate cover-up. Although he is an award-winning poet, translator, and professor, Phillips brings a journalist's crisp perspective to this precise and disquieting account of a reprehensible and underreported chapter in America's racial history.--Haggas, Carol Copyright 2016 Booklist
---
Publishers Weekly
(c) Copyright PWxyz, LLC. All rights reserved

Poet and translator Phillips (Elegy for a Broken Machine) employs his considerable writing skills to chronicle the racism that held Forsyth County, Ga., in its grip for three quarters of the 20th century. In 1912, an unknown person or persons raped two white women in Forsyth County, one of whom died of her injuries. As a result, a black man was beaten to death by a white mob, and two other black men, their guilt unclear, were convicted of the crime and hanged in a public execution. Forsyth's white residents decided the executions were not sufficient retribution, and they subjected the county's 1,100 African-American residents to a reign of terror that forced all of them to abandon their homes. The deeply embedded racism of a county functionally immune from law was sufficiently powerful to keep Forsyth County completely white for 75 years. On Jan. 17, 1987, a civil rights march 20,000 strong in the county seat, Cumming, brought the scourge of unmitigated white power to national attention, forcing the beginnings of integration. Phillips enhances his exposť of this violent and shameful history through interviews with descendants of the white families who brazenly exiled the county's black community as well as the descendants of those forced to leave. This is a gripping, timely, and important examination of American racism, and Phillips tells it with rare clarity and power. Agent: Don Fehr, Trident Media. (Sept.) © Copyright PWxyz, LLC. All rights reserved.