by Ayobami Adebayo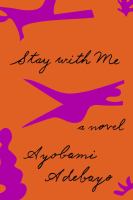 Kirkus
Copyright © Kirkus Reviews, used with permission.

A couple struggles with fertilityand fidelityas Nigeria falls apart around them.Yejide is furious when her husband, Akin, brings Funmi, a second wife, home to their house in Ilesa. Pressured by his mother, and by the constraints of Nigerian masculinity, to conceive a son, Akin seeks a solution to their marriage's childlessnesseven if it means hurting Yejide in the process. In alternating chapters, Yejide and Akin tell a desperate story of hope and deceit, grief and forgiveness. "I simply had to get pregnant, as soon as possible, and before Funmi did," explains Yejide. "It was the only way I could be sure I would stay in Akin's life." Yejide's path to motherhood is marked by operatic tragedy, with the requisite affair and multiple deaths. Although Adebayo wields misfortune to shed light on the pressures of marriage, melodrama, at times, crowds out sympathy for the human-sized grief of her characters. Still, in the moments when Yejide confronts the fear and uncertainty of raising children with sickle cell anemia, Adebayo's writing shines. Set against a backdrop of student protests, a presidential assassination, and a military coup, Adebayo's novel captures how the turmoil of Nigerian life in the 1980s and '90s seeps into the most personal of decisionsto fight for, and protect, one's family. Adebayo's debut marks the emergence of a fine young writer. Copyright Kirkus Reviews, used with permission.
---
Book list
From Booklist, Copyright © American Library Association. Used with permission.

*Starred Review* When Yejide and Akin fall in love, they decide not to have a polygamous relationship. This surprises their Nigerian families, especially when, four years into their marriage, Yejide still hasn't become pregnant. Although everyone recognizes how hard Yejide is trying to conceive, the family secretly brings in a second wife. Yejide is furious, and desperate to save her marriage. Adebayo's debut novel expands beyond the second wife's arrival to explore the darkest moments of life and marriage. The story alternates between the late 1980s and a funeral in 2008, setting Akin and Yejide's marriage against a period of political instability in Nigeria. Telling the story from both Akin's and Yejide's perspectives, Adebayo describes parenthood and love with heartbreaking prose. She deftly reveals secrets and the decisions that set life-altering events in motion. The story's fast pace brings surprising twists to Akin, Yejide, and their families' lives while delving into their history, as a couple and as individuals. Readers of Stay with Me will eagerly await Adebayo's next book.--Chanoux, Laura Copyright 2017 Booklist
---
Library Journal
(c) Copyright Library Journals LLC, a wholly owned subsidiary of Media Source, Inc. No redistribution permitted.

DEBUT Magazine editor and short story writer Adebayo gifts readers with an emotionally powerful first novel that relies less on literary artifice and more on old-fashioned storytelling. She plumbs the depths of the loving marriage of Akin and Yejide, a couple complete in themselves, until Akin's family sows division by excoriating Yejide for failing to produce children. When her beloved mother-in-law introduces a second wife to the household, Yejide's anguish results in a cruel psychosis, a phantom pregnancy. Akin, meanwhile, without telling his wife, devises a duplicitous solution to the parenthood problem that will cause insurmountable troubles down the road. In alternating he said/she said chapters, each character reveals the best and worst of humanity, a generosity of spirit offset by a penchant for vitriol. Set against a backdrop of political unrest, Adebayo's novel explores the rifts between generations and exposes the devastating effects of sickle-cell disease on a full quarter of Nigeria's population. Verdict Recently short-listed for the 2017 Baileys Women's Prize for Fiction, Adebayo's work makes a blazing entry onto the list of young, talented writers from Nigeria. Readers who pick up this debut novel will not put it down until they've finished. Talk it up. [See Prepub Alert, 2/13/17.]-Sally Bissell, formerly with Lee Cty. Lib. Syst., Fort Myers, FL © Copyright 2017. Library Journals LLC, a wholly owned subsidiary of Media Source, Inc. No redistribution permitted.
---
Publishers Weekly
(c) Copyright PWxyz, LLC. All rights reserved

Adebayo explores the toll the intense pressure to have children exacts on one Nigerian couple across two decades. Akin's large family disrupts his and Yejide's happy but childless marriage by forcing him into a polygamous marriage without his wife's knowledge. This betrayal and a last-ditch visit to a holy man convince Yejide that she is pregnant and she begins a year-long psychosomatic pregnancy. Just when she finally accepts that there will be no child, Akin's brother Dotun seduces and impregnates her. The child is eagerly welcomed as Akin's own, especially by his imposing mother. The happiness ends abruptly with the seemingly accidental death of Akin's second wife. As subsequent traumas multiply between the couple, Adebayo slowly reveals their unspoken shame by having both narrate chapters covering the same events. Yejide's strong ache to be a mother and her frustration with traditional Yoruba culture make her a complex character. Adebayo shows great promise in her debut novel. Her methodical exposure of her characters' secrets forces the reader into continual reevaluations and culminates in a tender, satisfying conclusion. (Aug.) © Copyright PWxyz, LLC. All rights reserved.