by Max Brallier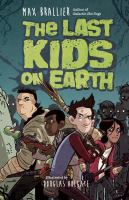 School Library Journal
(c) Copyright Library Journals LLC, a wholly owned subsidiary of Media Source, Inc. No redistribution permitted.

Gr 3-6-An apocalyptic monster attack has destroyed the town of Wakefield, leaving gigantic, slime-filled creatures in its wake. It appears that the entire population has been turned into zombies, except for 13-year-old Jack Sullivan. Jack is an abandoned foster kid trying to survive the catastrophe while living in a tricked-out tree house. In his daily fight for survival, which includes hand-to-hand combat using makeshift weapons, he locates two of his fellow students. One's a science geek, and the other's an oversize school bully. They unite to form a small army and set off to rescue a classmate they believe is trapped in their decimated school. The chapter book/graphic novel hybrid is fast moving and action packed. Loaded with outrageous devices such as a rolling ball of zombies, a revenge-filled creature with bad eyesight called BLARGH, and a monster-dog name Rover, this book provides loads of laughs. The characters are fully developed and honest in their adolescent interactions. Yet what sets this story apart from the typical gross-out fare is how these modern-day action heroes work through their emotions, which include love, loss, and extreme fear. Dynamic pencil sketches add to the hilarity. For readers looking to make the transition from chapter books to graphic novels, this is a foolproof initiation. VERDICT A gross-out good time with surprisingly nuanced character development.-Sada Mozer, Los Angeles Public Library © Copyright 2015. Library Journals LLC, a wholly owned subsidiary of Media Source, Inc. No redistribution permitted.
---
Publishers Weekly
(c) Copyright PWxyz, LLC. All rights reserved

Thirteen-year-old Jack Sullivan may be the world's last survivor in this terrifically funny illustrated novel from Brallier (Galactic Hot Dogs) and Holgate (the Case File 13 series). When a "Monster Apocalypse" comes to the town of Wakefield, some escape, others are "zombified," and still others-Jack hopes-are in hiding. As a foster child, Jack has had his share of hard knocks, so he tries to take his situation in stride and with wisecracking humor. With a tree house refuge "that's better-defended than Fort Knox, Stark Tower, and the X-Mansion combined," Jack searches for sustenance, other living people-especially his best friend Quint and his dream girl June-and weapons to fight hideous monsters and undead neighbors. Holgate's b&w cartoons (not all seen by PW) mix splatter-and-slime-heavy action sequences with humorous character profiles (a portrait of a "winged wretch" points out the creature's "huge, hooked talons like a freaking velociraptor"), all playing into Jack's gamified take on post-apocalyptic life. Snarky end-of-the-world fun. Ages 8-12. Author's agent: Daniel Lazar, Writers House. Illustrator's agency: Shannon Associates. (Oct.) © Copyright PWxyz, LLC. All rights reserved.
---
Kirkus
Copyright © Kirkus Reviews, used with permission.

It's been 42 days since the Monster Apocalypse began, and 13-year-old Jack Sullivan, a self-proclaimed "zombie-fighting, monster-slaying tornado of cool" is on a quest to find and rescue his not-so-secret crush, June Del Toro, whether she needs it, wants it, or not. Jack cobbles together an unlikely but endearing crew, including his scientist best friend, Quint Baker; Dirk Savage, Parker Middle School's biggest bully; and a pet monster named Rover, to help him save the damsel in distress and complete the "ULTIMATE Feat of Apocalyptic Success." Middle-grade readers, particularly boys, will find Jack's pitch-perfect mix of humor, bravado, and self-professed geekiness impossible to resist. His sidekicks are equally entertaining, and it doesn't hurt that there are also plenty of oozing, drooling, sharp-toothed monsters and zombies and a host of gizmos and gadgets to hook readers and keep them cheering with every turn of the page. Holgate's illustrations play an integral role in the novel's success. They not only bring Brallier's characters to life, but also add depth and detail to the story, making plain just exactly how big Rover is and giving the lie to Jack's "killer driving." The marriage of text and illustration serves as a perfect example of what an illustrated novel can and should be. Classic action-packed, monster-fighting fun. (Horror. 8-12) Copyright Kirkus Reviews, used with permission.
---
Horn Book
(c) Copyright The Horn Book, Inc., a wholly owned subsidiary of Media Source, Inc. No redistribution permitted.

Before the monster apocalypse, Jack Sullivan was an ordinary thirteen-year-old orphan. Now he's a butt-kicking hero with a tricked-out tree fort. But Jack learns that he'll need more than razor Frisbees to beat the big baddie Blarg--he'll need friendship. Fast-paced plotting and humor work in tandem with the comic bookstyle illustrations on almost every page. (c) Copyright 2016. The Horn Book, Inc., a wholly owned subsidiary of Media Source, Inc. No redistribution permitted.
---
Book list
From Booklist, Copyright © American Library Association. Used with permission.

It's been 42 days since the onset of Monster Apocalypse, and because his foster family abandoned him once the vicious zombies, sentient vines, and grotesque beasts arrived, Jack has been relying on his wits and gumption to survive. To keep himself going, he outfits his tree house into an impenetrable fortress of power and assigns himself video-game-style Feats of Apocalyptic Success, such as steal the hats off five different zombies, and the greatest feat of all, Find and rescue love interest, June Del Toro. Eventually, he reunites with his genius best friend, Quint, and former bully Dirk, and along with their pet monster, Rover, they set off to the middle school to rescue June who so doesn't need it. Jack's snappy, upbeat first-person narration is well matched by Holgate's comic-book-style artwork, which takes over the narrative in little bursts. The video-game-like plotting, gross-out humor, frequent pop-culture references, and quippy dialogue make this a great fit for reluctant readers. Recommend to Wimpy Kid fans looking for a horror-lite adventure.--Scanlon, Donna Copyright 2015 Booklist