by Barry Wittenstein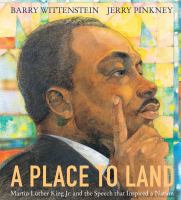 Kirkus
Copyright © Kirkus Reviews, used with permission.

The backstory of a renowned address is revealed.Martin Luther King Jr.'s "I Have a Dream Speech" is one of the most famous ever given, yet with this book, Wittenstein and Pinkney give young readers new insights into both the speech and the man behind it. When Dr. King arrived in Washington, D.C., for the 1963 March on Washington, the speech was not yet finished. He turned to his fellow civil rights leaders for advice, and after hours of listening, he returned to his room to compose, fine-tuning even the day of the march. He went on to deliver a powerful speech, but as he closed, he moved away from the prepared text and into a stirring sermon. "Martin was done circling. / The lecture was over. / He was going to church, / his place to land, / and taking a congregation / of two hundred and fifty thousand / along for the ride." Although much hard work still lay ahead, the impact of Dr. King's dramatic words and delivery elevated that important moment in the struggle for equal rights. Wittenstein's free-verse narrative perfectly captures the tension leading up to the speech as each adviser urged his own ideas while remaining a supportive community. Pinkney's trademark illustrations dramatize this and the speech, adding power and further illuminating the sense of historical importance.Gives readers a fresh and thrilling sense of what it took to make history. (author's note, lists of advisers and speakers, bibliography, source notes) (Informational picture book. 7-10) Copyright Kirkus Reviews, used with permission.
---
School Library Journal
(c) Copyright Library Journals LLC, a wholly owned subsidiary of Media Source, Inc. No redistribution permitted.

Gr 2–5—Martin Luther King Jr.'s "I Have a Dream" speech has been etched into the public consciousness. Yet King's actual speech was an in-the-moment response to the audience climate during the March on Washington. A bolt of encouragement from gospel singer Mahalia Jackson prompts King to "Tell them about the dream," igniting the raw passion that his pre-rehearsed words had been missing. Wittenstein's straightforward, informative text conveys both the urgency of King's words and the weight of his responsibility as a social justice icon, but does not compromise the sobering reality of the country's racial unrest in 1963. Pinkney's warm illustrations are reminiscent of courtroom sketches, transporting readers into the historic moment. He explains that he chose to use collage as "a way to reinforce place." Key figures, such as Senator John Lewis and diplomat Andrew Young, are labeled. One powerful double-page spread features the headshots of fallen social justice heroes to present a visual reminder of the blood, sweat, and pain extracted on the road to justice. Figures who were struck down by the brutal violence of white supremacy, like Emmett Till and Medgar Evans, have been drawn with their eyes closed. VERDICT Wittenstein and Pinkney's collaboration is an evocative study in King's speechwriting process. A work that takes a familiar topic and shapes it into a moving portrait of undeterred determination and conviction. Highly recommended for public and school libraries.—Vanessa Willoughby, School Library Journal
---
Book list
From Booklist, Copyright © American Library Association. Used with permission.

The civil rights movement is magnified through the intimate lens of Martin Luther King Jr.'s momentous I Have a Dream speech, as in the Willard Hotel before the March on Washington he wrestles with what to say. Thoughtful, humble, vulnerable, and strong, Dr. King weighs his advisers' guidance. As he bends over a legal pad, pencil in hand, the faces of those for whom he fights sit on his shoulders. Martin saw Rosa, / Fannie Lou, / Emmett, / . . . and so many others / . . . arrested, beaten, shot, and hung. Several important African American figures are honored past, present, and future all whose fates intersect in the moment when the reverend takes the pulpit. Dr. King leaves uncertainty behind as he abandons the agonized-over speech in favor of improvisation, summoning the passion of a Sunday morning sermon. Wittenstein's free verse, beautifully subdued, flows crisp and clear, leaving room for Pinkney to shine. Collage artwork gives the impression of torn fabric a striking metaphor with holes being patched by old photographs of hymnals, maps, marchers, and flags, adding texture and tension to the expressive pencil and watercolor renderings. Back matter includes notes from author and artist, sources, bibliography, and further information on peripheral figures. Pair with Kadir Nelson's I Have a Dream (2012) for discussions on the power of words and how, as this book reminds us, those battles continue to be fought today.--Ronny Khuri Copyright 2019 Booklist
---
Publishers Weekly
(c) Copyright PWxyz, LLC. All rights reserved

This deep dive by Wittenstein (Sonny's Bridge) into the speech that galvanized the 1963 March on Washington stars not only Martin Luther King Jr. but also the colleagues whose support was crucial to him. Caldecott Medalist Pinkney captures King in a huddle with nine black pastors and organizers the night before the speech, their figures bursting with energy and life. "You have to preach," Reverend Ralph Abernathy says; Wyatt Tee Walker suggests skipping "I have a dream"; "You have used it too many times already." King works late into the night with pastor Andrew Young by his side; the next day, he's still revising. A moving long view shows throngs of demonstrators—250,000 of them—converging on the Lincoln Memorial. The speech is good, but "Martin wanted more" until a shout from singer Mahalia Jackson ("Tell them about the dream, Martin!") inspires "the passion of a Sunday morning sermon." Wittenstein's riveting story shows that historical moments—and movements—are not inevitable; they're shaped and changed by many hands and voices. In emphatic phrases and art alternatingly warm and tense, the creators' moving portrait of the civil rights leader in consultation with others is an invaluable addition to the shelf of King biographies. A wealth of resources includes notes from the makers, short biographies of King's colleagues, a bibliography, and more. Ages 7–10. Illustrator's agent: Sheldon Fogelman, the Sheldon Fogelman Agency. (Sept.)