by Ruth Franklin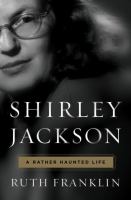 Publishers Weekly
(c) Copyright PWxyz, LLC. All rights reserved

Literary critic Franklin (A Thousand Darknesses) renders a gripping and graceful portrait of the mind, life, and work of groundbreaking American author Shirley Jackson (1916-1965). Though Jackson is today largely known for the chilling novel The Haunting of Hill House and the supremely upsetting short parable "The Lottery," Franklin brings forth her full oeuvre for careful study, including a prodigious number of short stories, books for young adults and children, and-perhaps improbably for a horror writer-two bestselling memoirs about life with her four children, Life Among the Savages and Raising Demons. Franklin's adept readings of Jackson's influences, formative relationships, and major works interweave the obsessions, fears, and life experiences that charge her writing with such wicked intensity. Treating her subject with a generous eye and gorgeous prose, Franklin describes one of Jackson's chief themes, a "preoccupation with the roles that women play at home and the forces that conspire to keep them there," as a product of her cultural moment, identifying Jackson's "insistence on telling unpleasant truths" about women's experience and her ability "to draw back the curtain on the darkness within the human psyche" as the elements that make Jackson a writer of lasting relevance who can still give today's readers an impressive shiver. 60 illus. (Sept.) © Copyright PWxyz, LLC. All rights reserved.
---
Library Journal
(c) Copyright Library Journals LLC, a wholly owned subsidiary of Media Source, Inc. No redistribution permitted.

Despite battles with anxiety, oppressive societal expectations, and a fraught relationship with husband, literary critic Stanley Edgar Hyman, Shirley Jackson (1916-65) wrote six novels, a collection of short fiction, and a handful of nonfiction and children's books. Even though her promise as a writer of supernatural suspense reached fruition with The Haunting of Hill House, the author's most infamous work was the short story "The Lottery." The story-Jackson claimed to have written it in a single day-generated unprecedented buzz, confusion, antipathy, and even hate mail. Yet as Franklin (A Thousand Darknesses) points out in her engaging portrait, Jackson is far from a one-hit wonder. Franklin writes that "[her] brand of literary suspense is part of a vibrant and distinguished tradition that can be traced back to the American Gothic work of Nathaniel Hawthorne, Edgar Allan Poe, and Henry James." Drawing on a trove of research-including previously unpublished letters and interviews-and her own astute analysis of Jackson's fiction, Franklin gives her subject her much-deserved due and sets the standard for future literary biographers wrestling with the legacy and the unwarranted inattention of a major figure in 20th-century American literature. VERDICT Highly recommended for readers of Jackson's fiction as well as those interested in the connection between the inner lives of authors and their work. [See Prepub Alert, 3/28/16.]-Patrick A. Smith, -Bainbridge State Coll., GA © Copyright 2016. Library Journals LLC, a wholly owned subsidiary of Media Source, Inc. No redistribution permitted.
---
Book list
From Booklist, Copyright © American Library Association. Used with permission.

*Starred Review* When Shirley Jackson's The Lottery was published in the New Yorker in 1948, the response was a pen-paper-postage equivalent of going viral. Although Jackson wrote many more works of arresting literary suspense concerned with cruelty and alienation, as well as, improbably enough, best-selling true-life domestic comedy (the forerunner, as critic Franklin notes, of today's mommy blogs), she is generally remembered only for that singular tale. In her engrossing and enlightening foundational biography, Franklin redresses this unjust diminishing of Jackson's extraordinary accomplishments, the final insult in a too-brief life poisoned by the selfishness of those closest to her her harshly critical mother and her philandering husband, the literary critic Stanley Hyman. Franklin seamlessly combines the bitterly ironic story of Jackson's demanding, self-destructive life in which she strived for literary breakthroughs while supporting herself, Hyman, and their four children and running their hectic households, primarily in Vermont with astute analysis of Jackson's disquieting, darkly funny, profoundly subversive writings. With unprecedented access to private papers, Franklin traces the evolution of Jackson's sensibility as a writer, building toward an ever-more nuanced understanding of the covert ways she deftly paired the horrific with the mundane to both express her own anger and pain while also illuminating the fears, anxiety, anti-Semitism, racism, and sexism of the conformity-obsessed Cold War era. A precise, revelatory, and moving reclamation of an American literary master.--Seaman, Donna Copyright 2016 Booklist