by Susan Faludi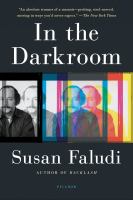 Kirkus
Copyright © Kirkus Reviews, used with permission.

A Pulitzer Prize-winning journalist investigates the "fluidity and binaries" of "modern transsexuality."In 2004, after hardly any contact with her father for 25 years, Faludi (The Terror Dream: Fear and Fantasy in Post-9/11 America, 2007, etc.) received an email from her, announcing that she had undergone a sex change operation in Thailand. Steven Faludi was now Stefnie. "I have decided that I have had enough of impersonating a macho aggressive man that I have never been inside," she explained. Aggression is what her daughter remembered: she had been an "imperious patriarch, overbearing and autocratic" during the author's childhood. Now she reached out to her, inviting the author to write her story. The author's discoveries about her elusive, mysterious, dissembling father are central to this gripping exploration of sexual, national, and ethnic identity. Steven grew up in Hungary in a wealthy Jewish family that owned two apartment houses. After World War I, when the nation lost more than half of its population and landmass in a peace agreement, anti-Semitism surged, intensifying during World War II. To save her parents from extermination, Steven impersonated a member of the violent Arrow Cross and led them to safety. Moving to Brazil and later to the United States, she married and had two children. She was roiled when his wife sued for divorce. "As both European Jew and American Dad," the author writes, "my father's manhood had been doubted, distorted, and besmirched." "Now, as a woman, women like me more," she said. A professional photographer deft at manipulating images, Stefnie proved just as deft in revising her biography, challenging Faludi to ferret out truths from her many lies. The writer communicated with relatives, her father's few friends, and surgeon; transgender females, in interviews and memoirs, share their often disturbing life stories. A moving and penetrating inquiry into manifold struggles for identity, community, and authenticity. Copyright Kirkus Reviews, used with permission.
---
Library Journal
(c) Copyright Library Journals LLC, a wholly owned subsidiary of Media Source, Inc. No redistribution permitted.

Faludi, a Pulitzer Prize-winning journalist (Backlash) presents the story of her father, who, after 25 years of estrangement, informed the author in 2004 that she had undergone a sex change operation in Thailand, changing her name from Steven to Stefanie. To say that her father is mercurial is an understatement. Yet, Faludi tries to tease out the reasons for Stefanie's drastic decision and also reconcile this new person with the man she knew as a child: temperamental, masculine, obfuscating, and violent. The author is obliged to acknowledge and repeatedly check her own bias as a prominent feminist, since her father seems intent on defining womanhood in decidedly retro terms. Faludi's attempts to grasp the various experiences that led her father down this path include an exploration of the history of modern transsexuality as well as Stefanie's dark childhood as a Jew growing up in Nazi-occupied Hungary and assuming other identities in order to survive. Faludi delves into the complicated politics of Hungarian nationalism, anti-Semitism, and evolving gender concepts. Despite her fraught relationship with her father, Faludi regards Stefanie's choices with nuance and compassion. VERDICT An incomparable memoir that is sure to provoke discussion. Highly recommended for all readers.-Barrie Olmstead, Sacramento P.L. © Copyright 2016. Library Journals LLC, a wholly owned subsidiary of Media Source, Inc. No redistribution permitted.
---
Publishers Weekly
(c) Copyright PWxyz, LLC. All rights reserved

Pulitzer-winning journalist and feminist author Faludi's wrought and multi-layered memoir focuses on the life of her father, who came out as transgender and took the name Stefánie at the age of 76. In 2004, after nearly 25 years of estrangement, Faludi ((Backlash) and Stefánie reunite in Hungary following Stefánie's transition to explore her past and reconnect. Faludi dives into Stefánie's enigmatic past with a journalist's dogged lust for truth. During a decade of visits to Hungary, where her father relocated after a contentious divorce, Faludi examines Stefánie's complex psyche in the context of centuries of Hungarian history, with an emphasis on the war years when Stefánie was an adolescent Jewish urchin on the streets of Budapest. Through research, conversation, and relentless probing, Faludi paints a vivid picture of the war and the tormented lives-and deaths-of Hungarian Jews. (In one dramatic scene, Stefánie, disguised with a pilfered Arrow Cross armband and cap, rescues her own parents from the Nazis). The author also sheds light on the dangerous climate of prejudice and racism that persists in Hungary. This is a powerful and absorbing memoir of a parent/child relationship. (June) © Copyright PWxyz, LLC. All rights reserved.