by Patricia McCormick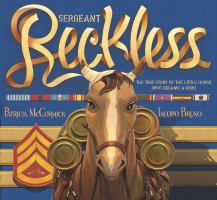 Publishers Weekly
(c) Copyright PWxyz, LLC. All rights reserved

Bruno's stylized realism vividly brings to life the story of Sergeant Reckless, the only animal to officially hold military rank in the United States. Starving and abandoned during the Korean War, the former racehorse was discovered by U.S. Marines serving overseas and pressed into service to carry ammunition for a cannon dubbed the "reckless" rifle. More than a pack animal, the small mare who would eat anything (chocolate, Coca-Cola, blankets, poker chips) made herself at home among her new family: "After she figured out which bunk belonged to the cook, she'd clip-clop into his tent at daybreak and lick his face until he woke up and served her breakfast." Spreads heavy with green and brown camouflage hues depict the Marines training and doting on their charge, while poignant close-ups show Reckless nuzzling soldiers' faces, training, and performing bravely in battle. In an author's note, McCormick (The Plot to Kill Hitler) rounds out the story with details of Reckless's life in Korea both before the conflict and post "retirement." This endearing story of wartime camaraderie won't soon be forgotten. Ages 6-10. Author's agent: Heather Schroder, Compass Talent. (Sept.) © Copyright PWxyz, LLC. All rights reserved.
---
Kirkus
Copyright © Kirkus Reviews, used with permission.

U.S. Marines reluctantly adopt a small mare to carry ammunition in battle during the Korean War, believing she will be too weak for the job. They soon realize their mistake! Digitally colored pencil drawings capture the spirited mare and her military world in a khaki-tinted palette, while the straightforward, informative text is presented framed by various relevant documents and objects, lending the art a collagelike feel. Nicknamed Reckless, the mare has a passion for foodshe loves chocolate and Coke, regularly joins the men for scrambled eggs, and even nibbles on poker chips. But it's Reckless' hard work that truly makes her a beloved member of the team, and after learning to cope with the noise of battle, she carries ammunition to the men through shellfire and flares, saving lives and helping win a battle that changes the course of the war. The only nonhuman to be awarded military rankshe's promoted to sergeant and receives two Purple HeartsReckless is eventually brought to the States through the efforts of the soldiers who loved her. This intriguing historical tale of an underdog highlights the connection between animals and humans, provides a view of the dangers of the battlefield, and has a subtle feminist slant. A warm human (and horse) interest story that feels fresh off a newsreel. (Informational picture book. 6-10) Copyright Kirkus Reviews, used with permission.
---
School Library Journal
(c) Copyright Library Journals LLC, a wholly owned subsidiary of Media Source, Inc. No redistribution permitted.

Gr 1-5-At the height of the Korean conflict, a young racehorse was abandoned and left hungry at a racetrack. Around the same time, a nearby U.S. Marine unit was exhausted from lugging heavy ammunition uphill during their battles. While a mule would have been preferable, Sergeant Pederson trained that once-abandoned horse to carry the ammunition for the Marines-and what followed is a remarkable story. Named Reckless, she carried herself with aplomb under the roughest of combat conditions, in one battle she made 51 trips and carried 9,000-pounds of ammunition. Meanwhile she ate everything and anything, waking up the company cook to get her breakfast. Reckless would eventually attain the rank of Staff Sergeant in the U.S. Marine Corps. McCormick's narrative is excellent and Brunos's bold illustrations contribute to the story as much as the text. The work concludes with a synopsis of Reckless's retirement in the United States. While Melissa Higgins's Sgt. Reckless the War Horse: Korean War Hero is a suitable title, McCormick's is more exciting. VERDICT This well-illustrated war story will appeal to many, especially fans of Michael Morpurgo's War Horse. A strong -selection.-Margaret Nunes, Gwinnett County Public Library, GA © Copyright 2017. Library Journals LLC, a wholly owned subsidiary of Media Source, Inc. No redistribution permitted.
---
Book list
From Booklist, Copyright © American Library Association. Used with permission.

*Starred Review* With every war comes stories of heroism, and often those heroes are animals. In this case, it's a little sorrel mare used to haul heavy ammunition by U.S. soldiers during the Korean War. The ammo, for the new reckless rifle, proved too heavy for soldiers, so Lt. Eric Pedersen set out to find a mule and instead found a small, hungry horse. Though the marines had doubts about her ability to haul the heavy loads, they dubbed her Private Reckless and began her training. It quickly became apparent that not only did Reckless have a large heart, she'd also consume anything including chocolate, Coca-Cola, and poker chips. Fears that Reckless would prove skittish in battle proved unfounded, and she soon became a valuable soldier, persevering in battles that would determine the course of the war. Eventually, Reckless was promoted to sergeant, making her the only animal to hold military rank, and was granted two Purple Hearts at the end of the war. McCormick (The Plot to Kill Hitler, 2016) offers up her first picture book, and it's a rousing success; the Korean War is covered less frequently than its Vietnam and World War counterparts, and there's plenty of fascinating information here. If that weren't enough, Bruno's bold pencil illustrations range from endearing depictions of the inquisitive (and perpetually hungry) Reckless to somber battle scenes. An engaging slice of history.--Reagan, Maggie Copyright 2017 Booklist