by Ruth Sanderson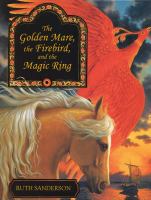 Horn Book
(c) Copyright The Horn Book, Inc., a wholly owned subsidiary of Media Source, Inc. No redistribution permitted.

In this rich mixture of story elements from several traditional Russian tales, Alexi, a young and honorable huntsman, wins the hand of Yelena the Fair and becomes the Tsar with the help of the Golden Mare and the Firebird. Sanderson's complex yet smooth text and her sumptuously elegant and atmospheric oil paintings create an entrTe into a world where realism and magic co-exist. (c) Copyright 2010. The Horn Book, Inc., a wholly owned subsidiary of Media Source, Inc. No redistribution permitted. All rights reserved.
---
Kirkus
Copyright © Kirkus Reviews, used with permission.

Sanderson has combined motifs from several Russian fairytales and illustrated them with sumptuous oils likewise full of Russian themes, splendid colors and textures, and wonderful figures that might be portraits in their verisimilitude. Alexi is looking for work?and for adventure?when he finds a golden mare with a silver mane that speaks to him, and he spares her life. The horse takes him to the Tsar, who accepts Alexi into his service but resents that the golden mare will have no other rider. When Alexi finds a bright gold feather in the forest, the mare insists it will bring him danger, but he ignores that and presents the feather to the Tsar. He, of course, wants the whole firebird, so off go Alexi and the mare to capture and cage it. The Tsar sends Alexi to fetch the beautiful Yelena, too, and she comes but doesn?t wish to marry the Tsar. Alexi once again is sent on a dangerous mission, to retrieve Yelena?s grandmother?s magic wedding ring. The ring, a bit of magic, and a Tsar who gets what he wished for but not in the way he expects bring the story to ?happy ever after? and freedom for both the golden mare and the firebird. Architecture, forest and river vistas, rich interiors, and the fabulous orange-gold firebird are brilliantly painted, and despite some strain in the plot, the story holds together well. (Picture book/folktale. 8-11)
---
Publishers Weekly
(c) Copyright PWxyz, LLC. All rights reserved

Sanderson (The Crystal Mountain) draws from several Russian fairy tales to fashion a clever story about a well-intentioned young horseman, his magical mare and a greedy czar. The sumptuous oil paintings take immediate command of the double-page spreads, the sometimes breathtaking scenes distinguished by lustrous hues and intricate particulars. On a quest to seek his fortune "and perhaps to find an adventure or two as well," Alexi encounters a magnificent mare who pledges to serve the lad if he spares her life. The horse leads her new master to the palace of the czar, who hires Alexi as his horseman, yet is bitter that he cannot claim Alexi's imposing horse as his own. Disgruntled, the czar demands of the lad seemingly impossible tasks, among them capturing the elusive firebird and fetching a maiden from "a distant eastern land" to be the ruler's bride. The wise equine is the true hero of the story, valiantly coming to Alexi's rescue in each episode end eventually bringing about the not unexpected happy-ever-after dnouement. Sanderson's narrative has a lush, lyrical quality, and her renderings of lavish architectural detail, elaborate period dress and an unsullied natural world will bring youngsters back for repeat readings. Her dramatically lit firebird is nothing short of resplendent. Ages 8-up. (Apr.) (c) Copyright PWxyz, LLC. All rights reserved
---
Book list
From Booklist, Copyright © American Library Association. Used with permission.

Gr. 3-5, younger for reading aloud. Sanderson includes elements from several Russian fairy tales in this colorful picture book for older readers. Alexi, a worthy young man, befriends the magical golden mare, who helps him meet the czar's increasingly unreasonable demands. Together they capture the elusive firebird, bring Yelena the Fair to the palace, and retrieve her magic ring. Alexi then helps Yelena work a bit of magic on the czar, who jumps into a cauldron of boiling water with the hope of becoming young again. He emerges as a baby, to be adopted by the new czar, Alexi, and his bride, Yelena. The pace never flags in this romantic adventure. Its mix of several traditional elements leads to an episodic structure and a rather long text; however, the story will hold readers' attention, though each folkloric element loses some of its dramatic force in this blended version. Rich in color and decorative detail, the oil paintings have a distinctly narrative quality that enhances the book .--Carolyn Phelan
---
School Library Journal
(c) Copyright Library Journals LLC, a wholly owned subsidiary of Media Source, Inc. No redistribution permitted.

Gr 1-4-Drawing on elements from several Russian fairy tales, Sanderson has written and illustrated, in her characteristic lush style, the story of Alexi, a young huntsman who sets off to seek his fortune. After he spares the life of a beautiful talking mare, she allows him to ride her to the palace of the local Tsar, an unpleasant old man who covets her. Alexi finds the feather of a Firebird, and, against the mare's advice, shows it to the ruler, who then vents his simmering dislike for the handsome young man by ordering him to find the firebird. Like the wise animals in the old Russian tales, the Golden Mare continually gives Alexi good advice, which he constantly disregards. Ever faithful, she helps him succeed in a series of impossible quests. Eventually he brings a beautiful princess to be the Tsar's bride, but with the help of her magic ring, the old man is gently removed from power, and everyone lives happily ever after. Sanderson's illustrations, rendered in oil on canvas and recalling the painterly style of the old masters, revel in the rich decoration of traditional Russian architecture and costume. The perspectives vary from open landscapes to close-ups of the characters that reveal emotions through expression and gesture. This handsome addition to fairy-tale shelves could be used as an introduction to Alexsandr Afanas?v's classic collection of Russian folktales, as well as to Imperial Russian culture.-Margaret A. Chang, Massachusetts College of Liberal Arts, North Adams (c) Copyright 2010. Library Journals LLC, a wholly owned subsidiary of Media Source, Inc. No redistribution permitted.