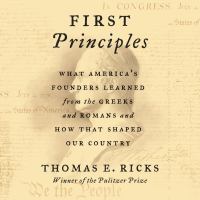 Publishers Weekly
(c) Copyright PWxyz, LLC. All rights reserved

Pulitzer Prize winner Ricks (Churchill and Orwell) delivers an immersive and enlightening look at how the classical educations of the first four U.S. presidents (George Washington, John Adams, Thomas Jefferson, and James Madison) influenced their thinking and the shape of American democracy. According to Ricks, the evolution of Washington's military strategy during the Revolutionary War drew from Roman general Fabius's defeat of Hannibal in 203 BCE. Ricks also documents classical antecedents in the construction of the Constitution and Thomas Jefferson's architectural plans for government buildings in Washington, D.C., and analyzes 18th-century opinions on the ancient world expressed in Robert Dodsley's textbook The Preceptor ("a blueprint for the Declaration of Independence") and Joseph Addison's play Cato (which inspired Patrick Henry's famous line "Give me liberty—or give me death"). The Amphictyonic League, a confederation of early Greek cities, is partly responsible for the U.S. Senate's equalized representation regardless of state size, Ricks points out. The book closes with suggested steps for returning America "to the course intended by the Revolutionary generation," including "don't panic," "re-focus on the public good," and "wake up Congress." With incisive selections from primary sources and astute cultural and political analysis, this lucid and entertaining account is a valuable take on American history. (Nov.)
---
Library Journal
(c) Copyright Library Journals LLC, a wholly owned subsidiary of Media Source, Inc. No redistribution permitted.

Ricks (Churchill and Orwell) does something quite remarkable: he takes a seemingly academic topic—the Greco-Roman education of the Founding Fathers—and makes it resonate with grand relevance. Readers get to meet young Jefferson, the Epicurean romantic; James Madison, a free-thinking student at Princeton; and John Adams, the Ciceronian. The education of the Founders, so often relegated to a sentence or two, is the theme of this book, which makes it unique among the plethora of works on them. The Roman Republic, and the lessons of its fall, were prime themes in the student lives of the Founding Fathers. Colonial collegiate politics, including the divergence between radical Princeton and conservative King's College (Columbia) is discussed. Scotland's contribution to the American Revolution is also highlighted. Ricks further explores the descent of classicism in the new republic, and explains Aristotle's thoughts on the concept of "natural slavery." The author comments on current politics in the beginning and end of the work, which, on the one hand, apply to classical principles discussed within, but on the other may date this edition in a few years. VERDICT Offering a look at the Founders rarely glimpsed, Ricks successfully argues that America needs to rediscover its classical roots.—Jeffrey Meyer, Mt. Pleasant P.L., IA
---
Kirkus
Copyright © Kirkus Reviews, used with permission.

An exploration of the major influences of America's first four presidents. "What just happened?" That was the question that Pulitzer Prize winner Ricks—along with tens of millions of Americans—asked after the 2016 presidential election. The author also asked, "What kind of nation do we now have? Is this what was designed or intended by the nation's founders?" He proceeded to study their writings, which turned out to pay some attention to the British Constitution and French Enlightenment but more to the ancients. According to Ricks, George Washington soaked up classic Roman values of honor, self-control, and, above all, "virtue," by which the Romans "meant public-mindedness." John Adams considered himself a modern Cicero, raging against tyranny. Jefferson preferred the Greeks, a more philosophical culture but also (unlike Rome) a fractious confederation during its golden age. This may explain why he, unlike his colleagues, felt no great need for the Constitution. The scholarly Madison spent years in a methodical study of ancient political systems, enabling him to steer the Constitutional Convention through sheer expertise. Ricks admits that by the time Washington assumed office in 1789, the classical model was running out of steam. Both he and Adams raged against "faction," an evil during the Roman Republic. Jefferson was angry, as well, but proceeded to found the first political party. No one foresaw the Industrial Revolution, the arrival of democracy ("mob rule" to the Founding Fathers), or a civil war, but the U.S. adapted. However, Ricks emphasizes that the Founders' reluctance to confront slavery embedded a racism that continues to poison the American political system. The author reassures readers that the durable Constitutional order can handle a Donald Trump, and he concludes with 10 strategies for putting the nation back on course. All are admirable, although several—e.g., campaign finance reform, congressional reform, mutual tolerance—regularly fail in practice. Penetrating history with a modest dollop of optimism. Copyright © Kirkus Reviews, used with permission.
---
Library Journal
(c) Copyright Library Journals LLC, a wholly owned subsidiary of Media Source, Inc. No redistribution permitted.

After the 2016 election, Pulitzer Prize-winning journalist and Pulitzer Prize finalist and No. 1 New York Times best-selling author Ricks (Fiasco) sought to understand what the Founding Fathers really had in mind. So he looked at their main reading materials, which comprised not so much the political thinkers of the era but the classics, from Xenophon and Aristotle to Cicero and the Epicureans. With a 150,000-copy first printing.