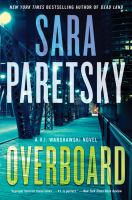 Publishers Weekly
(c) Copyright PWxyz, LLC. All rights reserved

In MWA Grand Master Paretsky's timely, propulsive 21st V.I. Warshawski novel (after 2020's Dead Land), the private investigator's dogs get loose during a walk and lead her to an unconscious teenage girl on Chicago's lakefront. She has no identification, but wakes long enough to whisper the word nagyi before EMTs take her away. The local news interviews Vic about the rescue, and shortly thereafter, two sets of cops—one from Homan Square, the Chicago PD's enhanced interrogation facility—start harassing her for information about Jane Doe and any personal effects Vic may have found at the scene. When the girl later vanishes from the hospital and a possible witness is murdered, Vic resolves to find and protect her from further harm. Subplots involving hate crimes perpetrated against a Jewish Orthodox synagogue and a family of hustlers from Vic's old neighborhood add to this thorny tale of corruption and greed. Paretsky's dizzyingly complex plot strains credulity, but the tale's relentless pacing, sky-high stakes, and strong social justice advocacy should keep readers invested in the expertly crafted characters' fates. Series fans will get their money's worth. Agent: Dominick Abel, Dominick Abel Literary. (May)
---
Book list
From Booklist, Copyright © American Library Association. Used with permission.

V. I. Warshawski's twenty-second episode kicks off with the Chicago gumshoe's dogs sniffing out a battered, nearly dead teen wedged between a park's boulders. Vic's follow-up on the girl's recovery raises red flags; the still-unidentified teen inexplicably fled the hospital after a visit from a Chicago PD detective. After CPD's Lieutenant Coney turns violent while interrogating Vic about the girl's whereabouts, Vic becomes certain that Coney's interest goes beyond clearing a missing-persons case. Then the teenage son of Vic's childhood nemesis, Donny Litvak, begs for Vic's help to sort out an extortion threat that's linked to his father's bad-boy past. Before she knows it, Vic is hiding both teens and trying to sort out how they, a crumbling shoreline mansion, and a missing drone prototype have caught the no-holds-barred interest of both cops and the underworld. Interwoven COVID protocols highlight the pandemic's impacts on detecting, but Paretsky's clever plotting and storytelling crusades against corruption remain unchanged in this particularly evocative visit to Vic's world. HIGH-DEMAND BACKSTORY: Paretsky's long-running series has retained its popularity for 40 years, and her latest will do nothing to diminish V. I. Warshawski's enormous fan base.
---
Library Journal
(c) Copyright Library Journals LLC, a wholly owned subsidiary of Media Source, Inc. No redistribution permitted.

In a series starter from the ever-popular Armstrong, homicide detective Mallory is in 2019 Edinburgh when she experiences A Rip Through Time and winds up in one of the city's alleyways in 1869, inhabiting the body of strangled-if-not-quite-dead housemaid Catriona Thomson and soon hunting for a killer (50,000-copy first printing). In Atherton's Aunt Dimity and the Enchanted Cottage, the redoubtable sleuth and her English-village neighbors fail in their attempt to befriend standoffish newcomer Crispin Windle until they discover the ruins of a Victorian woolen mill—and the graves of children who worked there, whom they seek to identify (30,000-copy first printing; originally scheduled for July 2021). In Nonna Maria and the Case of the Missing Bride, crusty but beloved widow Nonna Maria—who lives on the isle of Ischia in the Gulf of Naples and was inspired by the No. 1 New York Times best-selling Carcaterra's grandmother—intervenes when a young bride-to-be declares that she's afraid of her fiancé. In Haines's Lady of Bones, Mississippi-based Sarah Booth Delaney of the Delaney Detective Agency is attending a party alit with jack-o-lanterns when she's approached by a woman seeking her vanished daughter, who has been investigating the disappearance of young women in New Orleans every Halloween for the last five years (40,000-copy first printing). The internationally best-selling author of the "Dark Iceland" and "Hulda" series, Jónasson sets his new standalone during an Icelandic blizzard, with four frantic friends sheltering in an abandoned hunting lodge and facing a reignited tragedy that likely makes them wish they were all Outside (50,000-copy first printing). In Klingborg's Wild Prey, Inspector Lu Fei of the Chinese Police travels to a remote region of Myanmar to find a missing 15-year-old girl in a case involving the illegal trafficking of exotic animals (50,000-copy first printing). In Robert B. Parker's Revenge Tour, Lupica assigns PI Sunny Randall the thankless task of investigating actress friend Melanie Joan Hall when Melanie's manager turns up dead, her bank account looks to be wiped out, and details of her past suddenly seem more imagined than real. In Paretsky's Overboard, a seriously injured teenage girl discovered by V.I. Warshawski on Lake Michigan's rocky shore subsequently vanishes from the hospital, and the iconic detective must chase down a monstrous conspiracy with pandemic-ridden Chicago as backdrop (100,000-copy first printing). Pursuing a massive drugs-and-weapons shipment being shepherded across the U.S.-Mexican border by former cops with the warning "You talk, you die" written on their bodies, Patterson/Paetro stalwart Sgt. Lindsay Boxer suddenly has 22 Seconds to decide what her fate will be. Second in the new series from librarian Weaver, who launched her writing career with the delightful Amory Ames mysteries, The Key to Deceit has breaker-and-enterer Ellie McDonnell again approached by stuffed-shirt good-guy Major Ramsey in World War II London: he wants her to discover which side the female spy found bobbing in the Thames was on (40,000-copy first printing).
---
Kirkus
Copyright © Kirkus Reviews, used with permission.

V.I. Warshawski returns to confront a list of felonies as long as your arm, even if your arm is holding a rifle. A quiet walk with the dogs she shares with her 92-year-old neighbor, Sal Contreras, turns eventful when one of them slips the leash and takes off to nose out what turns out to be an unconscious young woman, beaten and burned. Thankfully, the Jane Doe, who murmurs only one semi-intelligible word, nagyi, is still alive, but Sgt. Lenora Pizzello, of the Chicago PD, has lots of questions for Vic, beginning with why her dog was unleashed. Thoroughly rattled by the experience, Vic has trouble pivoting to the elderly members of Congregation Shaamar Hashomayim when their synagogue is vandalized. A possible savior to the problems of the impoverished community seems to emerge, but in fact Brendan "Corky" Ranaghan, senior partner in Klondike Financial Services, is merely interested in becoming a silent partner by purchasing their building and doesn't mind throwing out vague threats to help them make up their minds. Back at the hospital from which the Jane Doe has managed to escape wearing the clothes of Ariadne Blanchard, her roommate, Hungarian-born janitor Jan Kadar, who overheard her in conversation with an unidentified visitor, is found murdered, followed shortly by Ariadne. Meantime, Brad (ne Branwell) Litvak, the son of Vic's old friend Donny, has approached her with more halting suspicions, and she runs repeatedly and unprofitably into Lt. Scott Coney, who seems determined to add her to his long list of excessive-force complainants. Paretsky ties this rapidly expanding bolus together with such an assured sense of inevitability that fans may overlook the relative lack of surprise. Not just murder, but adultery, hate crime, fraud, elder abuse, police misconduct, and dysfunctional families. Enjoy. Copyright © Kirkus Reviews, used with permission.