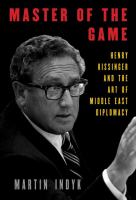 Library Journal
(c) Copyright Library Journals LLC, a wholly owned subsidiary of Media Source, Inc. No redistribution permitted.

A former U.S. ambassador to Israel and special envoy to the 2013 Israeli-Palestinian negotiations, Indyk considers America's ongoing and ever challenging participation in Middle East diplomacy by returning to the politician who launched the process: Henry Kissinger. Indyk draws on interviews with Kissinger, newly available documents from American and Israeli archives, and his own experiences with key players to help us understand what happened and how—and how not—to make peace.
---
Kirkus
Copyright © Kirkus Reviews, used with permission.

An exhaustive study of Henry Kissinger's "shuttle diplomacy" efforts to bring about peace—or, better, stability—in the world's most reliable tinderbox. "If diplomacy is the art of moving political leaders to places they are reluctant to go, then Kissinger was a master of the game," writes Indyk, a former Clinton administration National Security Council adviser and, later, two-time ambassador to Israel. The author casts an appreciative but not uncritical eye on Kissinger and his "Machiavellian ability to deploy the levers of influence bestowed upon him by immense American power." That power allowed him to maneuver Israel and its Middle Eastern antagonists into concessions that stepped outside the usual give-and-get mindset and instead focused on establishing a balance of powers, more or less. Indyk argues that Kissinger's fundamental aim wasn't peace per se, but order—order in the sense of the absence of chaos that war and enmity can bring about. Indeed, "he did not believe in peace as an achievable or even desirable objective." Kissinger's model, pressed not just by him, but also by many successors up until the utter failure of the Trump administration, saw some unusual advances: For one thing, Egypt no longer goes to war with Israel every few years. That model was time-bound to some degree, for it was also calculated to outmaneuver the Soviet Union while at the same time allowing it a role in that order. We should remember, Indyk observes, that Kissinger was able to persuade Israel to pull back settlements in occupied territories, something unimaginable today, and defanged an intransigent Syria. Yet, writes the author, Kissinger's approach was not wholly successful: He failed to engage Jordan in the process, because, in the matter of its ruler, "he liked the king but he didn't value him." Flaws or not, Kissinger's work, incomplete as it remains, was more effective than anything done in recent years and a project worthy of Indyk's painstaking, always lucid analysis. Of considerable interest to students of geopolitics, realpolitik, and the state of the world today. Copyright © Kirkus Reviews, used with permission.
---
Publishers Weekly
(c) Copyright PWxyz, LLC. All rights reserved

U.S. Secretary of State Henry Kissinger gave a "virtuoso" performance during and after the 1973 Yom Kippur War, according to this sweeping history. Indyk (Innocent Abroad), a former U.S. ambassador to Israel and President Obama's special envoy for Israeli-Palestinian negotiations, recreates Kissinger's high-wire success in ending the conflict between Israel and the alliance of Egypt and Syria while balancing contradictory goals: he wanted America's ally Israel to win, but also to restrain Israel enough to make Arab countries dump their Soviet sponsors and accept the U.S. as the region's power broker. Indyk recaps two years of Kissinger's shuttle diplomacy as he negotiated incremental agreements that pulled Israeli forces back from some conquered territory, a canny approach, Indyk argues, that promoted regional stability and Israel's later peace treaty with Egypt. Drawing on his firsthand acquaintance with Middle East diplomacy and many of the principals, including Israeli prime minister Yitzhak Rabin and Jordan's King Hussein, Indyk paints a vivid portrait of Kissinger as visionary statesman, Machiavellian operator, and occasional bumbler as he cajoles, arm-twists, and haggles over demarcation lines and diplomatic phraseology. This fascinating study illuminates both the cold logic of Kissingerian statecraft and the human factors that muddled it. Photos. (Oct.)
---
Library Journal
(c) Copyright Library Journals LLC, a wholly owned subsidiary of Media Source, Inc. No redistribution permitted.

Indyk (Innocent Abroad; Bending History) reflects on Henry Kissinger's diplomacy during the pivotal years (1973–77) of U.S.-led Middle East negotiations, which sought the absence of war rather than the mirage of peace. The study is enhanced by the author's own Middle East credentials, as U.S. ambassador to Israel under Bill Clinton and envoy for Israeli-Palestinian negotiations under Barack Obama. He describes Kissinger's strategic shuttle diplomacy among all the countries with stakes in the Middle East, and tells how the largely successful Kissinger constructed a delicate diplomatic path to equilibrium centered on legitimacy more than justice (in the manner achieved by the Congress of Vienna). Based on interviews, Kissinger's papers, memoirs, and U.S. and Israeli archival documents, this study shows how the diplomat set a standard that motivated and mystified many of his successors. Indyk also frankly discusses the pros and cons of Kissinger's being the first Jewish U.S. secretary of state. Few other books address Kissinger's Middle East negotiations during these years, although Niall Ferguson's two-volume authorized biography Kissinger does that and more VERDICT Indyk's reflective review of Kissinger's Realpolitik negotiations can be a model for understanding how to subdue rather than settle international negotiations. Essential reading.—Frederick J. Augustyn Jr., Lib. of Congress, Washington, DC