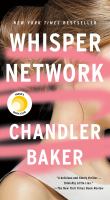 Book list
From Booklist, Copyright © American Library Association. Used with permission.

In her adult-fiction debut, YA author Baker deftly mixes mystery and the #MeToo movement. When the CEO of Dallas sportswear company Truviv drops dead from a heart attack, the in-house favorite to succeed him is General Counsel Ames Garrett. But at the same time, a spreadsheet called the BAD (Beware of Asshole Dallas Men) is circulating, and, after some thought, Truviv lawyer Sloane Glover, who'd had an affair with Garrett before she was married, adds him to the list, believing that he has designs on new hire Katherine Bell. Soon Glover and her close colleagues, divorced mom Ardie Valdez and new mom Grace Stanton, take action against the company as another unexpected death high in the company's ranks raises the question of murder or suicide. In the midst of a police investigation and meetings involving suits and countersuits, Baker works in succinct statements about the quandaries of modern women: torn between motherhood and work, plagued with guilt about nearly everything, suppressing their femininity while being undervalued because of their sex, and schooled in secrecy. These truths serve to bolster the plot, not distract from it, and the result is a compulsively readable mystery with a strong message. Don't miss it.--Michele Leber Copyright 2019 Booklist
---
Publishers Weekly
(c) Copyright PWxyz, LLC. All rights reserved

YA author Baker (Alive) makes her adult debut with an engrossing, bracingly funny thriller. For too long, fear of career suicide has kept the women of Truviv, a Dallas-based athletic apparel brand, quiet about Ames Garrett, the company's general counsel, known throughout the company as a sexual predator. With Ames's promotion to CEO imminent, three of Truviv's female attorneys-dynamo Sloane Glover; down-to-earth, recently divorced Ardie Valdez; and overwhelmed new mom Grace Stanton-inch toward finally taking action. Sloane starts by adding Ames's name to a high-visibility, supposedly anonymous online spreadsheet, the Beware of Asshole Dallas Men list. When a shaken Katherine Bell, the legal department's freshest hire, complains to the trio, also members of the department, that their boss has become sexually aggressive with her, Sloane persuades Ardie and Grace to join her in taking legal action. The women get more than they bargained for in the ensuing fireworks, which include a death and a lawsuit. Baker, a corporate lawyer and the mother of a toddler, clearly knows her protagonists' conflicting professional and personal worlds, though she goes a bit overboard with plot twists toward the end. This empowering novel is sure to resonate with many readers in the #MeToo era. Agent: Dan Lazar, Writers House. (July) © Copyright PWxyz, LLC. All rights reserved.
---
Kirkus
Copyright © Kirkus Reviews, used with permission.

Viciously funny and compulsively readable, Baker's first adult novel is a feminist thriller for the #MeToo era.In their years working in-house at Dallas sportswear company Truviv, Sloane, Grace, and Ardie, all three high-powered lawyers, have become not only friends, but a de facto support group, because they are, by their gender, perennial outsiders. Not that anyone would say as much, not explicitly. They are not oppressed; they are achieving. They have good degrees. Their husbands, if they have them, are nice and supportive. They blow-dry their hair. And yet theirs is an uphill battle, because they are perennial outsiders in a corporate culture built for men. They aren't all bad men. "But even the good onesespecially the good ones?pretended not to notice the lines: how much more deference they earned on the phone for having a male voice," explains Baker's Greek workplace chorus. "Or how their height and stature and morning stubble gave an authoritative weight to their ideas that ours never had." The bad onesthe ones who cross linesare discussed only in whispers; the stakes are too high to do anything else. Until the women catch wind of a spreadsheet that's circulating: The BAD Men List, shorthand for "Beware of Asshole Dallas Men," an anonymous document with male names and misdeeds, ranging from the uncomfortable to the predatory. When Truviv's CEO dies and their immediate good ol' boy boss, Ames Garrett, is put up for the job, Sloane can't sit by and do nothing, watching him do to other, younger associates what he once did to her. But when she adds his name to the list, she can't possibly anticipate what will come next. Deliciously campy, the novel is part whodunit and part revenge fantasy, and Baker's (This Is Not the End, 2017, etc.) fondness for over-the-top foreshadowing only serves to enhance the delightfully ominous mood. It's a breezy page-turner of a book, which is the brilliance of it: Under the froth is an unmistakable layer of justified rage.Over-the-top in all the right ways. Copyright Kirkus Reviews, used with permission.
---
Library Journal
(c) Copyright Library Journals LLC, a wholly owned subsidiary of Media Source, Inc. No redistribution permitted.

DEBUT The CEO of Truviv, a hot athletic apparel company, has suddenly died, and the firm's general counsel, Ames Garrett, looks to be the heir apparent. Sloane, Grace, Rosalita, and Ardie have worked for Ames for years, and each of the women has a different relationship with him. His reputation for sexual misconduct has long been whispered about among his reports, but no one has come forward to challenge him. However, with his likely takeover of the corporation, something must be done, so Sloane and her colleagues put their lawyerly heads together and file suit. What happens is horrific, very timely, and totally believable. VERDICT Attorney Baker's debut is a thriller, a murder mystery, and an anthem for any woman who has ever hit a glass ceiling, been the brunt of sexual innuendo, or felt harassed in the workplace. Smart, articulate, and witty, it will resonate with a huge audience. Highly recommended. [See Prepub Alert, 1/7/19.]—Susan Clifford Braun, Bainbridge Island, WA
---
Library Journal
(c) Copyright Library Journals LLC, a wholly owned subsidiary of Media Source, Inc. No redistribution permitted.

Narrator Almarie Guerra does justice to this offering by YA author Baker (This Is Not the End), the story of three professional women who are tired of subtle and not-so-subtle sexual harassment in the workplace and have decided to take a stand. Though Ames has a wife and small twin sons, women in the office have whispered about him for years. What is he really like? The women believe they know. Attorneys Ardie, Sloane, and Grace and cleaning staff member Rosalita, all friendly with one another, have all worked at Truviv, the same company, for years. Each of the women wonders if they should expose their boss, Ames, for the victimizer he is and file a lawsuit. Suddenly, their harasser is dead and their lives become infinitely more complicated. Was he murdered? Their lawsuit garners more attention in Dallas than they would like. And when the company slaps them with a countersuit, they fear loss of income and crippling debt. At the same time, Sloane's young daughter is being bullied at school, Ardie is divorced and uncomfortable sharing her son with his new stepmother, Grace is dealing with a newborn, and Rosalita is a single mother trying to get her son into a good school. VERDICT Listeners will have a hard time pressing pause on this one. In light of current events, this is a timely listen, recommended for just about everyone.—Cheryl Youse, Norman Park, GA