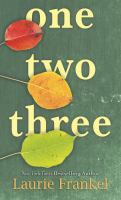 Publishers Weekly
(c) Copyright PWxyz, LLC. All rights reserved

In Frankel's tender-hearted latest (after This Is How It Always Is), old wounds are reopened in a small town ravaged by industrial pollution. Triplets Mab, Monday, and Mirabel Mitchell, 16, were born in the wake of a chemical spill in their hometown. Mab longs to do well on her SATs so she can get into college and move away; Monday is on the autism spectrum and hoards books; and wheelchair-using Mirabel suffers from birth defects, but lives a rich internal life. Their therapist mother, Nora, is still fighting as part of a class-action lawsuit against the chemical company responsible for the spill. One day, the three sisters are introduced to a new student at their high school, River Thornton, grandson of the chemical company owner. His disruptive presence, and news that the plant will soon reopen, create a schism in the town and among the three sisters, which Mab, Monday, and Mirabel resolve to rectify with a grand and desperate action. Frankel's sharp plotting—with several surprising reversals—and memorable characters reflect a deep imagination that adds texture and complexity to what would otherwise be a fairly familiar setup. Readers will be captivated by this story of adversity and resilience. (June)
---
Book list
From Booklist, Copyright © American Library Association. Used with permission.

The 16-year-old Mitchell triplets refer to each other as One, Two, and Three. One is Mab, who studies for the SATs so she can leave their hometown, Bourne, to go to college. Two is Monday, who's frustrated that everyone tells her to stop being so literal. Three is Mirabel, who speaks using a text-to-speech voice machine. Before they were born, the nearby Belsum Chemical plant poisoned the water and land, leaving Bourne's citizens devastated. The sisters' mother, Nora, has been working on a class-action lawsuit against Belsum Chemical for nearly 20 years when the CEO of Belsum Chemical moves to town with his own 16-year-old son, River, and a plan to reopen the plant. One Two Three is a coming-of-age story that examines intergenerational trauma, sisterhood, and agency. At times the story's pacing seems secondary to explorations of the main themes. Writing from each of the sisters' perspectives, Frankel (This Is How It Always Is, 2017) creates unique personalities for One, Two, and Three and builds a memorable world in Bourne.
---
Library Journal
(c) Copyright Library Journals LLC, a wholly owned subsidiary of Media Source, Inc. No redistribution permitted.

Triplet sisters Mab, Monday, and Mirabel Mitchell were born in Bourne 16 years ago, the same year a disaster at the local chemical plant left the town reeling. Mab describes herself as the "normal" sister; studious and social, she wonders if a "normal" future is possible for her outside of Bourne. Monday is on the autism spectrum, can't lie, and takes on the role of town librarian after the local library shuts down. Mirabel uses a wheelchair to move and assistive technology to speak, and is a sharp observer of Bourne's residents. Their mother, the town's therapist and bartender, is dedicated to bringing a lawsuit against the chemical plant owners. When a new kid, River Templeton, grandson of the plant's CEO, shows up at school, news spreads that the plant will reopen. The Mitchell sisters each play to their strengths to piece together what's happening at the plant, and learn more about themselves and their town along the way. VERDICT The residents of Bourne are scrappy, resilient, and unforgettable. Frankel's (This Is How It Always Is) novel is part Erin Brockovich, part coming-of-age novel, and sure to spark lively discussions at book club meetings.—Emily Hamstra, Seattle
---
School Library Journal
(c) Copyright Library Journals LLC, a wholly owned subsidiary of Media Source, Inc. No redistribution permitted.

Gr 9 Up—The bonds of sisterhood from Jenny Han's To All the Boys I've Loved Before meet the environmental sleuthing of Amy Allgeyer's Dig Too Deep in this beautiful, character-driven title. Mab, Monday, and Mirabel have the misfortune of being born in Bourne, a town ravaged by the Belsum chemical company owned by the Templetons, a family who is indifferent to the birth defects and untimely deaths the effluence from their factory have caused. Mab seems to have escaped the worst of it, but Monday is clearly neurodivergent, and Mirabel has a brilliant mind trapped in a body that does not allow her to speak, move, or breathe comfortably without support. Their mother, widowed prior to their birth, does triple duty keeping the tattered class action lawsuit alive, providing counseling by day to the few remaining town inhabitants and slinging beers at the local tavern at night. The sudden reappearance of the Templeton family brings their youngest heir, River, to a town that is openly hostile, even as his father begins a campaign to revive the business. Frankel imbues each of the triplets with a unique voice and packs what could be a maudlin cautionary tale with love and humor that transcends the abuse of economic power and privilege. The triplets are white; there is diversity within the town. VERDICT Readers will be reluctant to say goodbye to the residents of this story that will be popular with fans of Sara Dessen or Jodi Picoult.—Jodeana Kruse, R.A. Long H.S., Longview, WA
---
Kirkus
Copyright © Kirkus Reviews, used with permission.

In a town about to be ravaged for a second time by an evil chemical company, teenage triplets fight the power. One is typical, and her name has one syllable: Mab. Two is on the spectrum, and her name has two syllables: Monday. Three cannot eat, speak, or walk, has the full use of only one arm and hand, and is a genius: Mirabel. The Mitchell girls' father was one of many from the town of Bourne who died before the poisoning of the water supply became so severe that the factory producing it, the town's single employer, was shut down. Since then Bourne has been nearly evacuated; everyone left is disabled and/or unemployed; you still can't drink the water or even risk more than a few seconds in the shower. One of the only businesses left is the Do Not Shop (donuts with a typo); the high school has separate tracks for those who need "extra help with their bodies" and those who need extra help with their brains; the library is closed. What books were not sold off were rescued by Monday Mitchell and stored under beds and in the microwave, but she can find any one of them in a minute. The triplets' mother, Nora, has been trying unsuccessfully for years to mount a class action suit—and now the Templeton family, who owns the factory, is returning to town with plans to reopen! Despite the hotness of their teenage son, River—two out of three triplets fall in love with him—they must be stopped. After This Is How it Always Is (2017), about raising a transgender child, Frankel has given us another socially conscious 21st-century fable in a voice that is part pastor, part political speechwriter, and part Fannie Flagg. As she puts it (this is Mirabel talking), "There are two kinds of people in this world: the ones who split the world into two kinds of people, and the ones who know that's reductive and conversationally lazy." And the ones who will love this book and the ones who...oh forget, it. Clever, charming, and always on message. Copyright © Kirkus Reviews, used with permission.