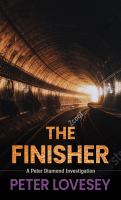 Publishers Weekly
(c) Copyright PWxyz, LLC. All rights reserved

MWA Grand Master Lovesey's masterly, atmospheric 19th investigation for Bath, England, Det. Supt. Peter Diamond (after 2019's Killing with Confetti) finds primary school teacher Maeve Kelly in training for a charity half-marathon that's months away. Her troubles begin when a school colleague gives her a Toby jug in return for a British Heart Foundation baseball cap she gave him. She doesn't like the jug, which she accidentally breaks on her way to donate it to a thrift shop. Wracked with guilt after discovering the jug's value, Maeve pledges sponsorship monies from the race to the BHF. In a later, more unsettling incident, she rescues runner Olga Ivanov from an apparent mugging. The day of the marathon, Diamond, who's in charge of crowd control, thinks he spots a killer known as the Finisher, a sexual predator he put away 12 years earlier. Diamond fears the worst after a runner goes missing. The tension rises as Diamond chases the Finisher into the underground labyrinthine quarries near the route of the marathon. Lovesey neatly ties together all the disparate threads as the plot twists and turns to its taut conclusion. On the 50th anniversary of the publication of his first novel, Lovesey is still going strong. Agent: Jane Gelfman, Gelfman Schneider/ICM Partners. (July)
---
Kirkus
Copyright © Kirkus Reviews, used with permission.

Detective Superintendent Peter Diamond finds an intricate web of mysteries swirling around, and beneath, the city of Bath's Other Half marathon. Just as Spiro, an enslaved worker from Albania, is escaping the gangmaster dubbed the Finisher—because no one ever finds the bodies he's responsible for—a complicated series of mischances makes schoolteacher Maeve Kelly resolve to enter the Other Half to raise sponsorship money she feels she owes the British Heart Foundation. Unlike Olga Ivanova, the burly Russian she recently rescued after a mugging, Maeve is no athlete, and her training regimen is tough. But not as tough as the challenge fellow runner Belinda Pye faces when, in the middle of the race, she's chatted up and groped by Olga's trainer, Tony Pinto, who's recently been released from prison after serving 12 years for slashing the face of Bryony Lancaster, a teenage ex-lover who warned another woman about him. Concerned because Belinda's disappeared after failing to finish the race, Diamond explores a nearby quarry—don't call it a mine shaft—that seems a likely place to have hidden a corpse and is seriously injured moments after glimpsing evidence that his hunch was correct. Nothing daunted, he summons the highhandedness that's made him a legend and assigns dozens of coppers to search the elaborate system of quarries beneath the city's surface in the hope of retracing his steps, setting himself up for an ugly confrontation with Assistant Chief Constable Georgina Dallymore when things don't go quite the way he expected. A witty, steadily absorbing procedural marked by Lovesey's customary inventiveness and an unguessable solution. Copyright © Kirkus Reviews, used with permission.
---
Book list
From Booklist, Copyright © American Library Association. Used with permission.

There are those among us who would read Lovesey if he took to writing on the backs of cereal boxes. Blessedly, that hasn't happened. Instead, we have the nineteenth novel featuring His Grumpiness, Detective Inspector Peter Diamond of the Bath Constabulary. All the signature elements of this acclaimed series are present: the gin-dry humor, the engaging characters, the ending that kills you before you know you're dead. It begins when Diamond, getting ready to work security at a charity marathon, glimpses a man he'd put away after looking in his eyes and seeing "something I never want to see again." The hook baited, Lovesey details preparations for the marathon, then examines the dismal lives of two victims of human trafficking. Slowly, but with relentless pacing and magical writing—a rusty hinge "groans like a soul in torment"—the plotlines converge. Surprises abound, like the corpse with a mind of its own. Lovesey likes to tease his detective, describing him "as out of a '40s film, a sleuth on the trail of Sidney Greenstreet." But the finale reminds us that Diamond is a relentless, hard-edged, strictly-business copper.