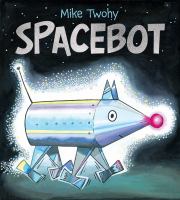 Kirkus
Copyright © Kirkus Reviews, used with permission.

Outtasight! An extraterrestrial lands in the night. Strange beeps and a blazing light awaken household appliances. The house glances skyward as does the family pup, who'd been snoozing in the doghouse. The light turns out to be a UFO, out of which strolls a metallic, robot dog with a glowing red nose. The dog instantly recognizes the newcomer as a kindred species and welcomes it with open paws, hoping the visitor will become a playmate. However, the creature ignores its Earthling counterpart and is heartily greeted by…the aforementioned appliances who cheer for "Spacebot" like it's a long-lost electronic relation. When it points its metallic paw upward, the devices take their cue: They soar into the sky and perform playful acrobatics, descending and returning home at the bot's direction. Meanwhile, the dog has been futilely attempting to fly as well but has remained earthbound. A surprise awaits, though. Before Spacebot departs, it tosses a glowing red ball to the pup. This "gift" fits right on pup's nose and bestows the gift of flight. Guess who flies to the moon at the end of the story? This silly, quirky tale's simple rhyme scheme reads and scans well; minimal text and lots of white space permit focus on characters and action. The cartoon illustrations are lively, energetic, and expressive, and readers should enjoy the escapades of both appliances and pup. Make space on shelves for this one. (Picture book. 4-7) Copyright © Kirkus Reviews, used with permission.
---
Publishers Weekly
(c) Copyright PWxyz, LLC. All rights reserved

When a UFO descends from an inky sky to land in a dog's backyard one night, the yellow pup believes it has found a new friend: the robot that trots out is canine-like, though its snout does feature a mysteriously glowing red ball. But the robot couldn't care less about its earthly counterpart (" 'Can we play?'/Walks away"); it's looking for the home's bevy of instantly familiar electronic appliances. "Spacebot's here!!!" exclaim the now fully animated blender, can opener, fridge, toaster, microwave, and vacuum cleaner, all wearing delighted expressions. As the only flesh-and-blood character looks on with a hangdog expression ("Pup's left out./ Starts to pout"), Spacebot supercharges the gadgets so they can fly around the sky like carefree daredevils ("Loopty-loop./ Beep-beep-boop!"). Twohy's (Stop, Go, Yes, No!) cheery, buoyant space oddity taps into fantasies of inanimate objects coming to life, while the couplet-based text offers emerging readers simple but rollicking rhymes that encourage word recognition. And even the doggy gets its zero-gravity day (or rather, night) thanks to a parting gift. Ages 4–8. (May)
---
Book list
From Booklist, Copyright © American Library Association. Used with permission.

Two dogs—one real, one robotic—star in this "visitor from outer space" frolic by Geisel Honor Book author Twohy. On a starry summer's night, a yellow canine sleeps half out of his doghouse. A bunch of round eyes can be seen in one of the human house's windows. The eyes belong to the Brave Little Toaster-esque kitchen appliances, all of them up because they sense something strange is coming. A distant light turns into a big yellow meteoroid that lands in the backyard. In classic '50s B movie–style, a UFO touches down, and a visitor descends the ramp. It's a very shiny robo-dog, who greets the appliances, ignoring the excited dog. Spacebot gives the appliances the power to soar into the sky, but the poor dog is still left out of the fun. Before Spacebot leaves, though, he tosses out a glowing red ball that enables the amazed, excited pup to fly. The focus here is on the dog's feelings: fright, joy, feeling left out and let down, and then more joy at finally being included. The rhyming text—with usually no more than four-to-six exclamatory words per double-page spread—and often-explosive action, boldly rendered in watercolor and felt pen, make this a great find for early readers. Rollicking and joyous.
---
School Library Journal
(c) Copyright Library Journals LLC, a wholly owned subsidiary of Media Source, Inc. No redistribution permitted.

K-Gr 3—What if a creature from outer space resembled one of our favorite pet animals? A distant light in the night sky, loudly beeping as it approaches Earth, brings a scary sight to a pup in his backyard doghouse in this fun and funny tale. Out from the landing UFO comes a space dog. He's called a spacebot here, but his robotic shape is also unmistakable. Pup races up the plank to greet the visitor. "You're like me!…Can we play?" Well, no. Pup isn't the only one noticing this strange intrusion. From within the house the electrical kitchen gadgets have been incited, and Spacebot leads them off to an aerial adventure. Twohy's comical drawings are both simple and richly expressive, beautifully expanding the economical rhyming text. Feeling very left out, Pup does eventually get his own special opportunity. VERDICT For general purchase, the book has many laugh-inducing pages for independent readers, listeners, and viewers. —Margaret Bush, Simmons College, Boston