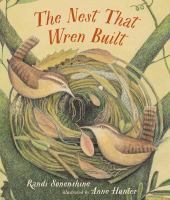 School Library Journal
(c) Copyright Library Journals LLC, a wholly owned subsidiary of Media Source, Inc. No redistribution permitted.

PreS-Gr 1—Crafted with care from materials found nearby, Mama and Papa Wren's nest is a cozy, safe place for their babies to thrive. Beginning with twigs and bark, the frame for the Wrens' nest nestles into the cradle of several tree branches. Bit by bit, more is added to the nest: leaves and pine needles for structure, a spider sac and snakeskin for protection. The baby birds hatch and grow in the nest, finally spreading their wings and learning to fly. Using the structure of "The House that Jack Built," this version features a lovely, singsong rhythm and structure that is ideally suited for young children. Within the short lines of text and the artfully crafted phrases, Sonenshine delivers a wealth of information about how wrens construct their nests and work together to raise their young. The accompanying illustrations incorporate a limited color palette that speaks to the earthy tones of the wren's natural environment. VERDICT This is an excellent informational picture book to read to kindergarten or first grade classes as a delightful, accessible introduction to the nest-building behavior of birds.—Mary Lanni, formerly at Denver Public Library
---
Book list
From Booklist, Copyright © American Library Association. Used with permission.

Two wrens build a nest using items such as twigs, pine needles, feathers, spider egg sacs, and a snakeskin. Soon the birds are minding their eggs in the nest. Next, they're feeding their young and, finally, encouraging their fledglings to "fly from the nest that Wren built." Fascinating appended notes clarify that snakeskins are often draped over their nests to scare predators, while the spider eggs are probably included so that the spiderlings will eat harmful mites. In structure, cadence, and readability, the graceful text is reminiscent of "The House That Jack Built" but without the nursery rhyme's cumulative element, which often becomes a bit unwieldy in a 32-page picture book. In contrast, here each verse includes three lines. The first two create a rhymed couplet, while the third ends with "the nest that Wren built." Hunter contributes a series of handsome ink-and-colored-pencil illustrations on cream-toned backgrounds. Warmed with muted colors, the precise, crosshatched drawings use natural forms and curving lines to create scenes with hidden details for children to discover. A beautiful picture book.
---
Kirkus
Copyright © Kirkus Reviews, used with permission.

A familiar cumulative rhyme pattern here describes the activities of a pair of wrens from nest construction through incubation and hatching of eggs to the fledging of their offspring. Nesting birds are a popular picture-book subject, but this appreciative account stands out both for its descriptive language and its evocative illustrations. Those reading aloud will appreciate the regular rhythm, intriguing vocabulary, and deft turns of phrase. Not only does Sonenshine smoothly introduce specific words for the growing chicks ("hatchlings," "nestlings," "fledglings," all clear in context and additionally defined in a glossary at the end), she also uses engaging adjectives: "reptilian charm," "persnickety burr," "mirthful song." There is interesting and appropriate imagery as well: "twigscradle the nest," which will be lined with "moss, softer than suede." Hunter uses ink and colored pencils on various shades of colored paper to illustrate the process. From vignettes to double-page spreads, these scenes focus on the wrens but also include other animals for observant readers to find; a final spread shows a mouse climbing into the now-empty nest. Following the pattern of the nursery rhyme, the author uses Wren as a proper noun in the repeated phrase "the nest that Wren built," but in a final page of appended facts she makes clear that both the male and the female are involved in the various steps of the nest-building process. All in all, a delightfully readable and informative wrendition. (Informational picture book. 4-8) Copyright Kirkus Reviews, used with permission.