by Michelle Obama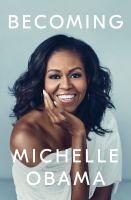 Library Journal
(c) Copyright Library Journals LLC, a wholly owned subsidiary of Media Source, Inc. No redistribution permitted.

Obama embodies the American dream, overcoming barriers of race, class, and gender to become one of the most influential leaders of our times. Though we stood witness to her husband's historic ascent to become the first black U.S. president, this memoir reveals surprising, intimate details that shaped news stories and public perception. We learn how Obama struggled with the same challenges many people of color or marginalized groups face, including self-doubt—at times asking, "Am I good enough?" Yet her courage, determination, and resolve—molded by her parents, extended family, and friends—lifted her to achieve: first as an undergraduate at Princeton University, then as a law student at Harvard University, followed by her professional career in corporate law, government, and the nonprofit sector. VERDICT The audiobook may seem daunting with 19 hours of listening, but Obama's narration moves the story quickly as it captivates. Her familiar voice personalizes the story and emotionally draws listeners deeper. The only negative for the audiobook is that it omits the photos in the print version.—Gladys Alcedo, Wallingford, CT © Copyright 2019. Library Journals LLC, a wholly owned subsidiary of Media Source, Inc. No redistribution permitted.
---
Publishers Weekly
(c) Copyright PWxyz, LLC. All rights reserved

The former first lady looks back on an unlikely rise to the top while navigating issues of race and gender in this warmhearted memoir. Obama's narrative is the story of an African-American striver, born to a working-class family in a Chicago ghetto, who got Princeton and Harvard degrees and prominent jobs in law and public relations, attended at every step by the nagging question, "Am I good enough?" ("Yes I am," she answers). It's also about her struggle to keep husband Barack's high-powered political career from subsuming her identity and the placid family life she preferred to the electoral frenzy-she disavows any desire for public office herself-while she weathered misgivings over work-life balance and marital strains that required couples' counseling. Becoming the first lady ratchets up the pressure as Obama endures the Secret Service security bubble, has every public utterance and outfit attacked by opponents, gets pilloried as a closet radical, and soldiers on with healthy-food initiatives. Obama surveys most of this with calm good humor-"infuriating" Republican obstructionism and Donald Trump's "misogyny" draw her ire-while painting an admiring, sometimes romantic portrait of Barack and evoking pathos over her parents' sacrifices for their children. There are no dramatic revelations and not much overt politics here, but fans of the Obamas will find an interesting, inspiring saga of quiet social revolutions. Photos. (Nov.) © Copyright PWxyz, LLC. All rights reserved.