by Lucy Foley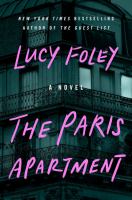 Library Journal
(c) Copyright Library Journals LLC, a wholly owned subsidiary of Media Source, Inc. No redistribution permitted.

After Jess has a run-in with the boss at the restaurant where she works, she retaliates by stealing money from the cash register and heading across the Channel to hide out with her brother Ben in Paris. When she arrives at the unexpectedly swanky building where he lives, Ben is nowhere to be found, despite having told her he'd be waiting up for her. Small details unsettle her: a cat that has what looks like blood on its fur; Ben's St. Christopher medal in a crack on the floor, even though he never took it off. When she approaches the building's other residents for help, they're all strangely reticent, and when Jess finds a hidden door in the living room wall that opens onto to a staircase with peepholes into every apartment in the building, her investigation into her brother's whereabouts ramps up. Foley's (The Guest List) latest is another well-paced, suspenseful locked-room mystery with shifting points of view, though the eventual solution to the puzzle is not as satisfying as in her earlier books. VERDICT Foley's fans, especially those willing to suspend their disbelief about some of the more unlikely plot twists, will enjoy.—Stephanie Klose
---
Publishers Weekly
(c) Copyright PWxyz, LLC. All rights reserved

Jess Hadley, the gutsy heroine of this well-paced mystery from bestseller Foley (The Guest List), arrives at the swanky Paris apartment building of her aspiring journalist half brother, Ben Daniels, after fleeing her latest unpleasant job in England. But Ben is not there and doesn't show up the next morning. When Jess asks the other tenants about her brother, all of them—including imperious penthouse dweller Sophie Meunier, a blackmail victim; timid 19-year-old Mimi, who's infatuated with Ben; and aggressive drunk Antoine, who suspects Ben has seduced his wife—deflect her questions. In her search for Ben, Jess learns the building's tenants are members of a single family with secrets to hide. After an editor Ben worked for takes Jess's worries about his disappearance seriously, the details of those secrets start to emerge, along with a credible portrait of a deeply damaged family. Amid plenty of red herrings and distinctive characters, each shifty in their own way, the relentlessly bleak plot builds to an uplifting twist ending that feels neither pat nor overly rosy. Foley reliably entertains. Agent: Alexandra Machinist, ICM Partners. (Feb.)
---
Book list
From Booklist, Copyright © American Library Association. Used with permission.

From the author of The Hunting Party (2019) and The Guest List (2020) comes this exceedingly clever new novel. Jess arrives at her brother Ben's apartment in Paris to find that Ben seems to have disappeared. She talks to the other residents of the small apartment building, but no one seems to know what might have happened to him, although we know, from chapters written from the residents' points of view, that something is not quite right. What's especially interesting about the novel, apart from the deft characterizations and the overall feeling of dread, is the way Foley is cagey about exactly what kind of story this is. Could it be a riff on the Agatha Christie abundance-of-suspects theme? Could it be a twist on the traditional locked-room mystery? Could it be a psychological thriller? Could we be dealing with an unreliable-narrator? Who, exactly, is Ben? What kind of man is he? What is he capable of? The author keeps Jess and the reader guessing right up to the end. A fine suspenser from a writer who consistently delivers the goods.
---
Library Journal
(c) Copyright Library Journals LLC, a wholly owned subsidiary of Media Source, Inc. No redistribution permitted.

Suddenly jobless, woefully penniless, and without many friends for support, Jess decides to start anew by abandoning England and heading to Paris, where half-brother Ben has grudgingly agreed to let her stay with him for a time. But when she arrives at his apartment, Ben has vanished, and the cold and creepy neighbors—from a socialite to an alcoholic to a troubled young woman—seem to know something they're not telling. Following the million-copy best-selling The Guest List, a Reese's Book Club pick; with a 300,000-copy first printing.