by James Patterson and Maxine Paetro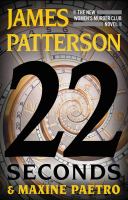 Library Journal
(c) Copyright Library Journals LLC, a wholly owned subsidiary of Media Source, Inc. No redistribution permitted.

In a series starter from the ever-popular Armstrong, homicide detective Mallory is in 2019 Edinburgh when she experiences A Rip Through Time and winds up in one of the city's alleyways in 1869, inhabiting the body of strangled-if-not-quite-dead housemaid Catriona Thomson and soon hunting for a killer (50,000-copy first printing). In Atherton's Aunt Dimity and the Enchanted Cottage, the redoubtable sleuth and her English-village neighbors fail in their attempt to befriend standoffish newcomer Crispin Windle until they discover the ruins of a Victorian woolen mill—and the graves of children who worked there, whom they seek to identify (30,000-copy first printing; originally scheduled for July 2021). In Nonna Maria and the Case of the Missing Bride, crusty but beloved widow Nonna Maria—who lives on the isle of Ischia in the Gulf of Naples and was inspired by the No. 1 New York Times best-selling Carcaterra's grandmother—intervenes when a young bride-to-be declares that she's afraid of her fiancé. In Haines's Lady of Bones, Mississippi-based Sarah Booth Delaney of the Delaney Detective Agency is attending a party alit with jack-o-lanterns when she's approached by a woman seeking her vanished daughter, who has been investigating the disappearance of young women in New Orleans every Halloween for the last five years (40,000-copy first printing). The internationally best-selling author of the "Dark Iceland" and "Hulda" series, Jónasson sets his new standalone during an Icelandic blizzard, with four frantic friends sheltering in an abandoned hunting lodge and facing a reignited tragedy that likely makes them wish they were all Outside (50,000-copy first printing). In Klingborg's Wild Prey, Inspector Lu Fei of the Chinese Police travels to a remote region of Myanmar to find a missing 15-year-old girl in a case involving the illegal trafficking of exotic animals (50,000-copy first printing). In Robert B. Parker's Revenge Tour, Lupica assigns PI Sunny Randall the thankless task of investigating actress friend Melanie Joan Hall when Melanie's manager turns up dead, her bank account looks to be wiped out, and details of her past suddenly seem more imagined than real. In Paretsky's Overboard, a seriously injured teenage girl discovered by V.I. Warshawski on Lake Michigan's rocky shore subsequently vanishes from the hospital, and the iconic detective must chase down a monstrous conspiracy with pandemic-ridden Chicago as backdrop (100,000-copy first printing). Pursuing a massive drugs-and-weapons shipment being shepherded across the U.S.-Mexican border by former cops with the warning "You talk, you die" written on their bodies, Patterson/Paetro stalwart Sgt. Lindsay Boxer suddenly has 22 Seconds to decide what her fate will be. Second in the new series from librarian Weaver, who launched her writing career with the delightful Amory Ames mysteries, The Key to Deceit has breaker-and-enterer Ellie McDonnell again approached by stuffed-shirt good-guy Major Ramsey in World War II London: he wants her to discover which side the female spy found bobbing in the Thames was on (40,000-copy first printing).
---
Kirkus
Copyright © Kirkus Reviews, used with permission.

Lindsay Boxer faces a ton of trouble in the latest entry in Patterson and Paetro's Women's Murder Club series. Senior crime reporter Cindy Thomas is writing a biography of Evan Burke, a notorious serial killer who sits in solitary confinement in San Quentin. She's kidnapped by thugs wanting her to talk about her best friend, Lindsay Boxer, who's an SFPD homicide detective and the story's main character. San Francisco has a restrictive new gun law, and gun-totin' folks everywhere have their boxer shorts in a twist. A national resistance movement has formed—Defenders of the Second—whose motto is "We will not comply." They find it outrageous that the new law makes it illegal to own a gun that can kill 50 people with a single clip. Meanwhile, lots of bodies show up: A young girl disappears and is later found dead in a ditch, and ex-cops are found dead with their lips stapled shut and "You talk, you die" written on their foreheads. An inmate is found hanged in prison. And "a massive but unspecified load of military-style weaponry was en route from Mexico to the City by the Bay." In a "frustrating, multipronged case," there's a harrowing shootout memorialized in a video showing "twenty-two of the scariest seconds" of Boxer's life. She's an appealing series hero with loving family and friends, but she may arrive at a crossroads where she has "to choose between my work and [my] baby girl." The formulaic story has unmemorable writing, but it's entertaining and well told. You probably won't have to worry about the main characters, who have thus far survived 21 adventures. Except for the little girl, you can expect people to get what they deserve. It's relatively mild as crime novels go, but the women characters are serious, strong, and admirable. Enjoyable storytelling by two masters of the craft. Copyright © Kirkus Reviews, used with permission.