by Elin Hilderbrand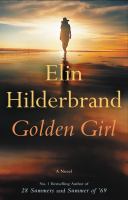 Book list
From Booklist, Copyright © American Library Association. Used with permission.

Just when best-selling author Vivi Howe achieves critical success, she's killed by a hit-and-run driver. Then she's whisked away to a boho-chic greenroom, where she can watch her family on Nantucket while she awaits the release of what is now her final novel, Golden Girl. Despite the supernatural twist, this is classic Hilderbrand. Multiple perspectives—those of each of Vivi's three young adult children (Willa, Carson, and Leo), her ex-husband, his girlfriend, the chief of police, and a Greek chorus of Nantucketers, to name a few—reveal inner turmoil and secrets, including the high-school boyfriend nobody knew about who inspired Howe's Golden Girl. The investigation seems to stall when evidence disappears, until a culprit who seems a little too likely appears. But, as always, the plot is secondary to the reading experience as Hilderbrand once again transports readers to Nantucket, from the Oystercatcher bar to the Field and Oar Club, and the Nickel and its mouthwatering sandwiches. The meta aspects of this novel about life and forgiveness read like Hilderbrand's swan song, but, hopefully, she has many more Nantucket tales in store.HIGH-DEMAND BACKSTORY: It's almost summer, which means Hilderbrand's legions of fans will be anxious for her latest.
---
Publishers Weekly
(c) Copyright PWxyz, LLC. All rights reserved

Hilderbrand (The Beach Club) expertly tugs at the heartstrings with this fantastical story of an unexpected death. After Nantucket novelist Vivi Howe is killed in a hit-and-run, her family and friends are left reeling, among them her pregnant daughter, Willa; her hard-partying daughter, Carson; her son, Leo; and feckless ex-husband, JP. An Hèrmes scarf–wearing guardian spirit named Martha allows Vivi the chance to watch over them until the end of the summer, and allows her three "nudges" to keep them from harm. As the summer progresses and her loved ones struggle, Vivi learns her children's secrets—and considers using a "nudge" to intervene on Carson's relationship with an older man. She also watches as her ex-husband finally accepts that taking on a mistress was an epic mistake, and, with Martha's help, begins to move on into the afterlife. Hilderbrand has a talent for creating characters that etch themselves onto readers' hearts, and delivers a big, well-earned surprise with the hit-and-run driver's identity. Strong supporting characters, notably a long-ago ex from Vivi's past, add texture. Hilderbrand's enchanting, emotional novel will delight her many fans. (June)
---
Library Journal
(c) Copyright Library Journals LLC, a wholly owned subsidiary of Media Source, Inc. No redistribution permitted.

In this new addition to the Regency-set "Westcott" series, recently widowed Lydia Tavernor wants Someone To Cherish but would rather have a lover than a husband after the numbing servitude of marriage to Rev. Isaiah Tavernor. In Brenner's Blush, college senior Sadie Bailey discovers that straitlaced Grandma Vivian once ran a book club devoted to scandalous women's fiction. To find respite from griefover her grandfather's death, Marisa Rosso travels to a seaside Cornish village, where she helps locals save their beloved bakery (well known to Colgan's fans) in Sunrise by the Sea (100,000-copy paperback and 30,000-copy hardcover first printing). On the Terminal Ward at the Glasgow Princess Royal Hospital, life-hungry 17-year-old Lenni joins forces with 83-year-old rebel Margot in debuter Cronin's The One Hundred Years of Lenni and Margot (150,000-copy paperback and 25,000-copy hardcover first printing). With The Paper Palace, Heller, HBO head of drama, turns in a first novel about a woman who makes a momentous and long-overdue decision one bright Cape Cod morning. Diagnosed with a terminal illness, newly married Lauren decides to leave her husband 12 letters to guide him through the first year without her in Higgins's Pack Up the Moon. Killed in a hit-and-run in Nantucket, novelist Vivi is given heavenly permission to spend a year watching over her children, her best friend, and her ex-husband in Hilderbrand's Golden Girl (750,000-copy first printing). In Phillips's When Stars Collide, opera diva Olivia Shore and Thaddeus Walker Bowman Owens, backup quarterback for the Chicago Stars, are paired on a nationwide tour promoting a luxury watch brand with tumultuous results (150,000-copy first printing). Debuter Ray's The Missing Treasures of Amy Ashton features a once-aspiring artist now running from a tragedy in her life by simply collecting beautiful objects—until the collection-conscious little boy whose family moves in next door makes her rethink things (100,000-copy first printing).
---
Kirkus
Copyright © Kirkus Reviews, used with permission.

From the greenroom of the afterlife—make that Benjamin Moore "Parsley Snips" green—a newly dead Nantucket novelist watches life unfold without her. In her 27th novel, Hilderbrand gives herself an alter ego—beloved beach-novel author Vivian Howe—sends her out for a morning jog, and immediately kills her off. A hit-and-run driver leaves Vivi dead by the side of the road, where her son's best friend discovers her body—or was he responsible for the accident? Vivi doesn't know, nor does she know yet that her daughter Willa is pregnant, or that her daughter Carson is having a terribly ill-advised affair, or that her son, Leo, has a gnawing secret, or that her ex is getting tired of the girl he dumped her for. She will discover all this and more as she watches one last summer on Nantucket play out under the tutelage of Martha, her "Person," who receives her in the boho-chic waiting room of the Beyond. Hermès-scarved Martha explains that Vivi will have three nudges—three chances to change the course of events on Earth and prevent her bereaved loved ones from making life-altering mistakes. She will also get to watch the publication of what will be her last novel, titled Golden Girl, natch, and learn the answers to two questions: Will the secret about her own life she buried in this novel come to light (who cares, really—she's dead now), and will it hit No. 1 on the New York Times bestseller list (now there's an interesting question). She'll also get to see that one of her biggest wrongs is posthumously righted and that her kids have learned her most important lesson. As Willa says to Carson, "You know how she treats the characters in her books? She gives them flaws, she portrays them doing horrible things—but the reader loves them anyway. Because Mom loves them. Because they're human." If novelists are auditioning to play God, Hilderbrand gets the part. Copyright © Kirkus Reviews, used with permission.