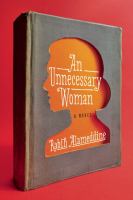 Library Journal
(c) Copyright Library Journals LLC, a wholly owned subsidiary of Media Source, Inc. No redistribution permitted.

Acclaimed author Alameddine (The Hakawati) here relates the internal struggles of a solitary, elderly woman with a passion for books. From her Beirut apartment, -Aaliya Sohbi devotes her time to translating works of literature from various languages into Arabic. She then stores her translations in boxes and crates in the so-called maid's room and shares them with no one. Aaliya also eavesdrops on the neighbors and remembers childhood days, her unhappy marriage, and the war years, when she defended her apartment with an AK-47. She has few of the usual consolations of old age and does not fit the traditional roles assigned to women. Aaliya's life may seem like a burden or even "unnecessary" to others since she is divorced and childless, but her humor and passion for literature bring tremendous richness to her day-to-day life-and to the reader's. VERDICT Though set in the Middle East, this book is refreshingly free of today's geopolitical hot-button issues. A delightful story for true bibliophiles, full of humanity and compassion. [See Prepub Alert, 8/12/13.]-Gwen -Vredevoogd, Marymount Univ. Libs., Arlington, VA (c) Copyright 2013. Library Journals LLC, a wholly owned subsidiary of Media Source, Inc. No redistribution permitted.
---
Publishers Weekly
(c) Copyright PWxyz, LLC. All rights reserved

Midway through Alameddine's new novel, the narrator thinks: "There should be a literary resolution: No more epiphanies. Enough. Have pity on readers who reach the end of a real-life conflict in confusion and don't experience a false sense of temporary enlightenment." Like his previous novel The Hakawati, An Unnecessary Woman is set in Beirut, and this time the beauties and horrors of the city are seen through the eyes of Aalyia Sohbi, a 72-year-old translator who was born there and remained through the war. The elements that make up Aalyia's chosen life are minimal: reading, translating, an apartment, and a single friend, dead long ago. Her habit of many years is to begin each new translation, according to a strict system, on the first day of the year. The solitude that allows for this work is precious, unusual, and precarious, and when it is threatened by the ongoing war and her patriarchal family, she answers with a machine gun. Alameddine's most glorious passages are those that simply relate Aalyia's thoughts, which read like tiny, wonderful essays. A central concern of the book is the nature of the desire of artistic creators for their work to matter, which the author treats with philosophical suspicion. In the end, Aalyia's epiphany is joyful and freeing. Agent: Nicole Aragi, Aragi Agency. (Feb.) (c) Copyright PWxyz, LLC. All rights reserved.
---
Kirkus
Copyright © Kirkus Reviews, used with permission.

A 72-year-old Beiruti woman considers her life through literature in an intimate, melancholy and superb tour de force. Alameddine has a predilection for highly literary conceits in his novels: I, the Divine (2001) is constructed out of the discarded first chapters of its heroine's memoir, while his 2008 breakthrough, The Hakawati, nests stories within stories lush with Arab lore. This book has a similarly artificial-seeming setup: Aaliya is an aging woman who for decades has begun the year translating one of her favorite books into Arabic. (Her tastes run toward the intellectual titans of 20th-century international literature, including W.G. Sebald, Roberto Bolano, Joseph Roth, Vladimir Nabokov and Fernando Pessoa.) Though, until its climax, there's little action in the course of the day in which the novel is set, Aaliya is an engagingly headstrong protagonist, and the book is rich with her memories and observations. She's suffered through war, a bad marriage and the death of a close friend, but most exasperating for her are her pestering mother and half brothers, who've been lusting after Aaliya's apartment. As she walks through the city, she considers these fractures in her life, bolstering her fatalism against quotes from writers and the tragic histories of her beloved composers. Her relatively static existence is enlivened by her no-nonsense attitude, particularly when it comes to contemporary literature. ("Most of the books published these days consist of a series of whines followed by an epiphany.") And though Aaliya's skeptical of redemption narratives, Alameddine finds a way to give the novel a climax without feeling contrived. Aaliya is an intense critic of the human condition, but she never feels embittered, and Alameddine's storytelling is rich with a bookish humor that's accessible without being condescending. A gemlike and surprisingly lively study of an interior life.]] Copyright Kirkus Reviews, used with permission.
---
Book list
From Booklist, Copyright © American Library Association. Used with permission.

*Starred Review* Seventy-two-year-old Beirut native Aaliya Sobhi, living a solitary life, has always felt herself unnecessary. The father who adored her died young, and her remarried mother focused attention on Aaliya's half brothers, leaving her to describe herself as my family's appendix, its unnecessary appendage, an attitude reinforced by her Lebanese culture. Divorced at 20 after a negligible marriage, she lived alone and began her life's work of translating the novels she most loved into Arabic from other translations, then simply storing them, unread, in her apartment. Sustained by her blind lust for the written word and surrounded by piles of books, she anticipates beginning a new translation project each year until disaster appears to upend her life. But these are just the bare bones of a plot. The richness here is in Aaliya's first-person narration, which veers from moments in her life to literature to the wars that have wracked her beloved native city during her lifetime. Studded with quotations and succinct observations, this remarkable novel by Alameddine (The Hakawati, 2008) is a paean to fiction, poetry, and female friendship. Dip into it, make a reading list from it, or simply bask in its sharp, smart prose.--Leber, Michele Copyright 2010 Booklist