by Stacy Dekeyser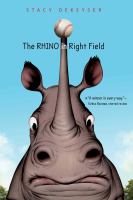 Kirkus
Copyright © Kirkus Reviews, used with permission.

Tank is a 2,580-pound rhinoceros living in the city zoo.Unfortunately, his domicile is just on the other side of the right-field fence at the park where 12-year-old Nick Spirakis and his friends play their own variation of baseball. When Nick misses a ball that his nemesis, Pete, drives into Tank's territory, Nick jumps in, grabs the ball, and makes it out just in time to avoid Tank's charge. Nick narrates the tale, set in 1948 in a Midwestern city patterned after Milwaukee, describing his friends and activities as if he is in direct conversation with readers. Every Saturday is spent working in his father's shop, wishing he could be playing ball instead. His father, a Greek immigrant, prizes hard work and ambition and is determined that Nick will own the shop someday. Everything changes when the new owner of the city's minor league baseball team shakes everything up. There are promotions to lure everyone into the ballpark. Nick and his pals join a batboy-for-a-day contest that takes place on Saturdays, causing him to invent some rather convoluted lies to explain his absences from the shop. Themes (rivalries, family dynamics, feminism) and historical details (radio announcers, frozen custard) combine with lots of mishaps and misadventures, including another very public encounter with Tank. The story assumes a white default.Laugh-out-loud fun with a wonderful cast of characters. A winner in every way. (acknowledgments, author's note) (Historical fiction. 8-12) Copyright Kirkus Reviews, used with permission.
---
Book list
From Booklist, Copyright © American Library Association. Used with permission.

It's not the first time Nick Spirakis has had to run away from a charging 2,580-pound rhinoceros while playing right field. It's 1948, and his neighborhood pickup game plays daily inside the city zoo. What is new is that the local professional team was just bought, and the new owner is holding a Mudpuppy for a Day batboy contest, where the winning boy will wear the official team uniform and join professional players on the field. Every boy in town is entering. When Nick's parents insist he work the day of the contest, Nick feels his rebellious side rear up for the first time. He would do anything to enter . . . but at what price? Inspired by her father's own story, DeKeyser's '40s-era baseball world is accessible, detailed, and charmingly genuine. In addition to being a sweet story, there is nice moral messaging, earnest inclusion of family values, terrific representation of the first-generation Greek-immigrant experience, and even shades of gender equality tucked inside. There's not quite enough conflict for it to be a page-turner, but it's still a solid home run.--Becca Worthington Copyright 2018 Booklist
---
School Library Journal
(c) Copyright Library Journals LLC, a wholly owned subsidiary of Media Source, Inc. No redistribution permitted.

Gr 3-5-Going to Greek school and working at his dad's store are part of 12-year-old Nick Spirakis's routine, but baseball is everything to him. Nick is excited to enter a competition to become "batboy-for-a-day" for the local adult minor league baseball team, the Mudpuppies, but it takes place on a weekend when Nick is supposed to help out in at the store. Complicating matters is Tank the Rhino, the 2,000-pound rhinoceros who lives in the city zoo adjacent to the field where Nick and his friends play ball. Nick is petrified of the creature. In order to enter the contest, Nick will have to lie and manipulate his friends and family. The details about Greek culture enrich the story. DeKeyser skillfully melds historical details of 1948 Milwaukee with fast-paced action and humor, giving readers a window into life in that era. Themes involving parental expectations, friendly competition among peers, and learning to find the right balance between family and social circles make this accessible and relatable. The author's note explains that Nick's story and historical era details are loosely based on DeKeyser's own father's life. VERDICT A recommended purchase for large middle grade collections. Hand to readers looking for historical fiction or baseball tales.-Eva Thaler-Sroussi, Needham Free Public Library, MA © Copyright 2018. Library Journals LLC, a wholly owned subsidiary of Media Source, Inc. No redistribution permitted.
---
Publishers Weekly
(c) Copyright PWxyz, LLC. All rights reserved

It's 1948, and 12-year-old Nick is chafing under his Greek immigrant parents' rule that he work at his father's shop on Saturdays. Instead, Nick wants to play baseball with his friends, even though their field butts up against the town zoo and fly balls can end up in Tank the rhino's pen, requiring the boys to hop the fence and outrun Tank to retrieve them. After the town's minor league baseball team is acquired by a new owner, who announces a contest for the opportunity to be batboy on opening day, Nick longs to enter and is bitterly disappointed to learn that the contest is on a Saturday. But when his arch-nemesis, Pete, taunts him about the contest, Nick is determined to find a way to realize his dream. Dekeyser (The Brixen Witch) based this funny and good-hearted story that warmly portrays life as the son of Greek immigrants on her father's childhood growing up in Milwaukee. Details such as the five-cent charge for new shoelaces bring the era to life, and the conclusion hits the story out of the park. Ages 8-12. (July) © Copyright PWxyz, LLC. All rights reserved.