by David Bowles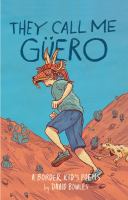 School Library Journal
(c) Copyright Library Journals LLC, a wholly owned subsidiary of Media Source, Inc. No redistribution permitted.

Gr 5-8-Güero is a Mexican American border kid with nerdy tastes, pale skin, and red hair. Wishing he had been born with a darker complexion so no one would question his Mexican American heritage, Güero's family tell him to be grateful for the advantages his lighter hair and skin afford him and to use it to open doors for the rest of his family. And what a family it is! While Güero's wise, resourceful, and often hilarious family provides a buoy through the turbulent waters of seventh grade, so too, do influential educators and "Los Bobbys," Güero's liked-minded, bookish friends. The tuned-in school librarian fuels Güero's passion for reading with his diverse literature collection, and his transformational English teacher helps him discover his voice through poetry. Güero's voice carries this novel through a playful array of poetic forms, from sonnets to raps, free verse to haiku. A Spanish-to-English glossary at the back of the book aids the non-Spanish reader's understanding of the text, while it simultaneously, and perhaps more significantly, communicates the beauty of the language and of Güero's heritage. Readers come away with two worthy takeaways: firstly, that life is challenging for a child of immigrants on the southern U.S. border, and, secondly-triumphantly-a deep appreciation for the richness of Güero's culture.  VERDICT Vibrant and unforgettable, this is a must-have for all middle grade collections. Pair with both fiction and nonfiction books on immigration, forced cultural assimilation, and stories about contemporary Mexican American life.-Melissa -Williams, Berwick Academy, ME © Copyright 2018. Library Journals LLC, a wholly owned subsidiary of Media Source, Inc. No redistribution permitted.
---
Book list
From Booklist, Copyright © American Library Association. Used with permission.

Redheaded, freckled-faced Güero lives near the border, regularly crossing over into Mexico to have breakfast with his dad and to visit his maternal grandparents. His family has worked hard to build their home, and he finds inspiration in his hardworking uncles; his papá, who helped to build so much of the border neighborhood where they live; and his abuela, who introduced him to the legends of their culture. As seventh grade begins, Güero is excited to join his friends to meet up in the library, exchange good books, play games, and read comics. As they begin the new school year, Güero discovers an English teacher who introduces them to the magic of poetry and of different cultures, and he begins to notice a tough girl named Joanna, who also loves superheroes and video games. Filled with Spanish dichos and terms, diverse cultures, and Mexican myths, this novel in poems is a clear lens into the life of a Mexican American boy with an identity tied to the struggles, legends, and rich heritage of his ancestors and family, who uses what he learns to move forward.--Selenia Paz Copyright 2019 Booklist
---
Kirkus
Copyright © Kirkus Reviews, used with permission.

Explore the life of a border kid in Bowles' spirited verse novel.For the 12-year-old Mexican-American narrator that everyone calls Gero, the borderlands (that "strip of frontier, / home of hardy plants") means more than home. On Saturdays, he crosses the border into Mexico with his dad and chats with the locals. He goes marketing in the boisterous pulga with Mom and listens to his abuela Mimi's scary folktales. Seventh grade soon begins, and Gero reunites with los Bobbys (or, as his sister Teresa calls them, "los DerdsDiverse Nerds") for some reading, mischief, and girls (a new interest). His English teacher even gets Gero interested in poetry! In this slim verse novel, Bowles splendidly translates border life via loosely connected vignettes in an eclectic mix of poetic forms. Gero's voice brims with humor, wit, and bits of slang, and a diverse cast of characters offers hints of other cultures. The author, however, does inject some complex themes and topics for rich discussion, touching on immigration, prejudice, and even the narrator's nickname, "gero," a term used to refer to light-skinned men and boys. Gero occasionally faces flak from a few schoolmates on account of his pale, freckled skin and copper hair, resulting in a revealing exchange with his dad: "M'ijo, pale folks catch all the breaks / here and in Mexico, too. Not your fault. / Not fair. Just the way it's been for years."A valuable, too-brief look at the borderlands. (glossary) (Verse fiction. 10-14) Copyright Kirkus Reviews, used with permission.
---
Horn Book
(c) Copyright The Horn Book, Inc., a wholly owned subsidiary of Media Source, Inc. No redistribution permitted.

The dynamic complexity of the Rio Grande borderlands pulses in the poetry of twelve-year-old G|ero. His forty-nine poems in diverse forms explore family, friendship, young love, and racism, with the dexterously rich linguistic tradition of Mexican cuentos and dichos always central. Bowles confidently intersperses the voices of G|ero's many family members, using Texas Spanglish colloquialisms with specificity. A welcome contribution to the bildungsroman corpus of Chicana/o literature. Glos. (c) Copyright 2019. The Horn Book, Inc., a wholly owned subsidiary of Media Source, Inc. No redistribution permitted.