by Jeffery C. Stewart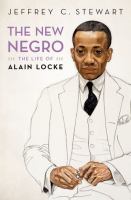 Kirkus
Copyright © Kirkus Reviews, used with permission.

A magisterial biography of the 20th-century philosopher, curator, and prime mover of the Harlem Renaissance.Alain Locke (1885-1954) is a criticaland complexfigure in any discussion of African-American intellectual history. In his youth, he was the quintessential black Victorian, impeccably dressed and mannered, as if comportment alone could conquer racism. That posturing made him blinkered at times; he tried to deny the prejudice he experienced as a Rhodes scholar and would later submit to a wealthy patron's condescending celebration of black "primitivism" for the sake of financial support. But Locke also wrote forcefully about the value of black artists and advocated strongly for writers like Jean Toomer and Langston Hughes. He edited the landmark 1925 issue of Survey Graphic, which put Harlem on the map as black America's artistic center, argued for black artists' central place in American culture in his selections for the book The New Negro, and curated African art exhibits that persuasively fitted that work within modernism. Stewart (Black Studies/Univ. of California, Santa Barbara; Paul Robeson: Artist and Citizen, 1998, etc.) often frames his subject's life as a series of one-on-one conflicts: with his mother, whose apron strings he found hard to untangle himself from; with more vocal black activists like W.E.B. Du Bois, who wanted more from a racial movement than Locke's oft-aloof aestheticism; with institutions like Howard University, which had a hot-and-cold relationship with him; and with the lovers the closeted gay, peripatetic Locke endlessly pursued, not to mention writers like Hughes who rejected his advances. This hefty, deeply researched book is sometimes overwhelming in its detail about Lockeevery letter he wrote seems to be quotedbut it brilliantly doubles as a history of the philosophical debates that girded black artistic triumphs early in the 20th century.A sweeping biography that gets deep into not just the man, but the movements he supported, resisted, and inspired. Copyright Kirkus Reviews, used with permission.