by Carole Boston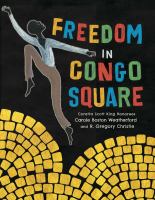 Horn Book
(c) Copyright The Horn Book, Inc., a wholly owned subsidiary of Media Source, Inc. No redistribution permitted.

In Louisiana, enslaved Africans were provided a half-day of rest each Sunday; in New Orleans, they gathered in Congo Square. Spare couplets, describing the labors and horrors of slavery, count down to Sunday. Weatherford sugarcoats nothing, but the text isn't mired in sadness or pain. Christie's illustrations, which recall Jacob Lawrence's work, add even more emotional depth. A foreword provides historical context. (c) Copyright 2016. The Horn Book, Inc., a wholly owned subsidiary of Media Source, Inc. No redistribution permitted.
---
Kirkus
Copyright © Kirkus Reviews, used with permission.

Count down the days until Sunday, a day for slaves in New Orleans to gather together and remember their African heritage. In rhyming couplets, Weatherford vividly describes each day of nonstop work under a "dreaded lash" until Sunday, when slaves and free blacks could assemble in Congo Square, now a part of New Orleans' Louis Armstrong Park and on the National Register of Historic Places. Musicians "drummed ancestral roots alive" on different traditional instruments, and men and women danced. They also exchanged information and sold wares. The poetry is powerful and evocative, providing a strong and emotional window into the world of the slave. Christie's full-bleed paintings are a moving accompaniment. His elongated figures toil in fields and in houses with bent backs under the watchful eyes of overseers with whips. Then on Sunday, they greet one another and dance with expressively charged spirits. One brilliant double-page spread portrays African masks and instruments with swirling lines of text; it is followed by another with four dancers moving beautifullyalmost ethereallyon a vibrant yellow collage background. As the author notes, jazz would soon follow from the music played in Congo Square. Weatherford and Christie dazzlingly salute African-Americans' drive to preserve their dignity and pride. (foreword, glossary, author's note) (Picture book. 5-9) Copyright Kirkus Reviews, used with permission.