by Billy Walters with Armen Keteyian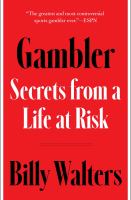 Kirkus
Copyright © Kirkus Reviews, used with permission.

Tales from the trenches of high-stakes wagering. In his first book, Walters brags about the hundreds of millions of dollars that have come into his hands. A master of the sports book and the stock market alike, he professes, "I'm a deal junkie and I'll take risks until I'm six feet under." This book is a mix of memoir and how-to manual. In the first, Walters chronicles his poverty-stricken upbringing and how he worked dead-end jobs while drinking and gambling late into the night; his addictions cost him a couple of marriages, and his daughter embezzled at least $2 million from him. The author also writes about how he was imprisoned for insider trading—ironically, at a time when he was "enjoying as clean and righteous an existence as I had known in my lifetime." Denied a pardon but granted a commuted sentence by the outgoing president, Donald Trump, Walters places a great deal of blame for his prison stint on golfer Phil Mickelson, who "refused to simply tell the truth when it could have meant the difference between prison and exoneration." He also pins Trump's decision on an archenemy, Las Vegas casino magnate Steve Wynn. Warranted or not, the sour grapes will be less interesting for most readers than Walters' tips on how to gamble, which amount to warnings that almost any approach will lead to losses unless a person is willing to make a full-time job of doing legwork and research, learning how to handicap and acquiring other skills. Yet, under most circumstances, he counsels, "even if you pick winners half the time after laying $110 to win $100, you will only get back 95.4 percent of your money." Know when to hold 'em and when to fold 'em: There's an education for would-be high rollers in these pages. Copyright © Kirkus Reviews, used with permission.