by William Kent Krueger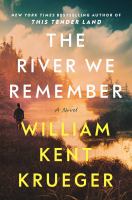 Kirkus
Copyright © Kirkus Reviews, used with permission.

Memorial Day (or Decoration Day, as it was still called in 1958) takes on new meaning for the residents of Jewel, Minnesota, when its wealthiest—and least-liked—citizen is murdered and a war veteran is suspected of the crime. The brutish victim, Jimmy Quinn, is found floating in the Alabaster River, shotgunned and chewed up by catfish. Suspicion immediately falls on Noah Bluestone, a veteran who is doubly persecuted for being a Dakota Sioux and married to Kyoko, a Japanese survivor of Nagasaki. The sheriff, Brody Dern, a highly decorated and traumatized war veteran who spent time in a Japanese prison camp, thinks about letting whomever killed Quinn, destroyer of people's lives, go free. Brody is having a dreamy affair with his brother's wife while entering into a romance with the proprietor of the local cafe, a war widow with a tainted past and a teenage son with a damaged heart. Also playing a recurring role is the riverside, where a woman's weeping voice can be heard. In the aptly named Black Earth County, stuffed as it is with current and past incidents of sexual abuse, suicides, racial discrimination, fatal diseases, and "complications of the heart," there is a lot to weep about. The latest stand-alone novel by the author of the acclaimed This Tender Land (2019) and the Cork O'Connor mysteries has so many people and subplots to keep track of it can't help losing sight of some of them, including one significant character. Fans of the die-hard Minnesotan author will appreciate his evocation of the landscape and people's connections to it. But in piercing the notion of an innocent small-town America in the 1950s, he goes way overboard. A grim portrait of lost souls. Copyright © Kirkus Reviews, used with permission.