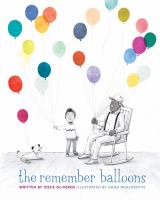 Publishers Weekly
(c) Copyright PWxyz, LLC. All rights reserved

Debut author Oliveros imagines that memories are small, brightly colored balloons tied to a person's wrist (and, in a dog's case, to its collar). The young narrator of this story has more balloons than his baby brother; his elderly grandfather has more than everyone in the family combined. But lately, Grandpa's balloons have been slipping from his wrist-a few at first, and then more, "faster and faster" until finally, Grandpa no longer recognizes the boy. The boy is confused, scared, and angry: "Why did you let it go?" he cries when a silver balloon that represents an idyllic day spent fishing together floats away. "That was our balloon!" But his parents tell the boy that memories can be shared; his time with his grandfather, and the stories Grandpa told him about his own life, have become new balloons on the boy's wrist. The metaphor might have worn out its welcome quickly, but the book's visual strategy works: Wulfekotte (Rabbit & Possum) makes the balloons the only color elements and depicts the story's action in softly textured black-and-white line drawings. This distinctive look, combined with the simple, plaintive prose, offers genuine poignancy. Ages 5-9. Author's agent: Michael Hoogland, Dystel, Goderich & Bourret. Illustrator's agent: Sean McCarthy, Sean McCarthy Literary Agency. (Aug.) © Copyright PWxyz, LLC. All rights reserved.
---
Book list
From Booklist, Copyright © American Library Association. Used with permission.

Young James and his family carry their memories in colorful balloons. James has a few, his parents have more, and Grandpa has the most of all. The boy enjoys asking Grandpa to share his special remembrances, but he also notices that the elder man's balloons are slowly drifting away. Alarmed, he learns that nothing can be done; however, the balloons James has gained from listening to Grandpa's recollections now allow him to recount those stories to the older man. Oliveros' gentle analogy, likening memories to helium-filled balloons, provides a concrete (and somewhat reassuring) framework for explaining memory loss to young children. Wulfekotte's mixed-media and digital illustrations are rendered mostly as black-and-white sketches, with color (often a single color wash) reserved for the balloons and the memories they hold. Oliveros never sugarcoats the difficulties of dementia, but young listeners are most likely to note this mixed-race family's gracious understanding of Grandpa's troubles, as well as the joy they take in retelling his tales.--Kay Weisman Copyright 2018 Booklist
---
Kirkus
Copyright © Kirkus Reviews, used with permission.

Every few years a new picture book takes on the subject of dementia and memory loss; this is that title for 2018. Not since Wilfrid Gordon McDonald Partridge, by Mem Fox and illustrated by Julie Vivas (1984), has the topic been handled with such gentle compassion, using the metaphor of memory-filled balloons to explore it. Explaining a confounding disease to young children is difficult, and the notion of the titular balloons is initially confusing. As the storyand the disease as it manifests in the narrator's grandfatherprogresses, the idea of storing memories in balloons is increasingly effective. Children understand the ephemeral nature of balloons. Gray-toned line drawings quietly convey James and Grandpa's loving relationship even as Grandpa is beginning to forget the details of his life. The brightly colored balloons stand out against the white background in stark contrast to Grandpa's fading memory. Placing the memory vignettes in full-page tinted balloons helps clarify their position in the story and makes this abstract metaphor more concrete for young readers. Both Grandpa and Dad have curly hair and dark skin, and Mom is white. Biracial James and Grandpa's shared heritage and stories of their loving family shine. What is clear is that their memories matterto them and ultimately to readers.A moving and meaningful way to talk about a situation many families will face. (Picture book. 4-8) Copyright Kirkus Reviews, used with permission.
---
Horn Book
(c) Copyright The Horn Book, Inc., a wholly owned subsidiary of Media Source, Inc. No redistribution permitted.

For James, balloons are allegorically each filled with a memory, hence it's worrisome when his grandfather--who "has more balloons than all of us together!"--starts "having trouble holding onto his" (repeating himself, losing the conversational thread). The ingeniousness of this introduction to memory loss extends to its illustrations: color is reserved for the balloons, which, when presented outsize, contain scenes from characters' reminiscences. (c) Copyright 2019. The Horn Book, Inc., a wholly owned subsidiary of Media Source, Inc. No redistribution permitted.