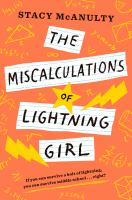 Book list
From Booklist, Copyright © American Library Association. Used with permission.

When Lucy, 12, was struck by lightning, she gained extraordinary math skills, and her grandmother, Nana, who raised Lucy after her parents' death, has homeschooled her ever since. Lucy is content to fill her hours with online college classes and chats on math forums where no one knows her real age, but Nana decides that Lucy needs to experience a world outside of a computer screen. If Lucy goes to middle school for one year, Nana promises, she'll be allowed to apply to college, and reluctantly, Lucy agrees. At first, her germophobia and mild obsessive behavior make a difficult situation more difficult, but eventually, she acquires two friends, finds useful work to do at an animal shelter, and has her life changed by a little dog she calls Pi. McAnulty captures the drama and trauma of middle school with well-rounded and believable characters and a convincing and appealing story. The math focus (for instance, McAnulty nicely weaves information about pi and Fibonacci numbers) adds a useful STEM component as well.--Scanlon, Donna Copyright 2018 Booklist
---
Publishers Weekly
(c) Copyright PWxyz, LLC. All rights reserved

When 12-year-old Lucy was struck by lightning at age eight, her brain was damaged, resulting in her acquired savant syndrome. She becomes a mathematical genius and develops obsessive-compulsive disorder; she's been homeschooled ever since. She feels safe at home with her uncle and grandmother, but Nana wants Lucy to become better integrated with her peers and enrolls her in seventh grade. Lucy hides her math abilities to blend in, and she's bullied by popular girl Maddie, but when she and another student, Windy, team up with classmate Levi for a community service project, a true friendship grows. The three help out at the Pet Hut, a no-kill shelter where Lucy, who has never liked animals, bonds with Cutie Pi. After Cutie Pi is diagnosed with cancer-which means that she will likely be transferred to a state shelter and put down-and Windy betrays Lucy by revealing a secret, Lucy must learn how to solve problems of the heart. McAnulty realistically portrays Lucy's OCD, and her struggles in middle school also ring true. Every character is fully formed, and Lucy's journey is beautifully authentic in this debut brimming with warmth, wisdom, and math. Ages 8-12. Agent: Lori Kilkelly, Rodeen Literary Management. (May) © Copyright PWxyz, LLC. All rights reserved.
---
School Library Journal
(c) Copyright Library Journals LLC, a wholly owned subsidiary of Media Source, Inc. No redistribution permitted.

Gr 4-6-McAnulty (Brave) makes a big splash with this standalone novel. Twelve-year-old Lucy, a.k.a. Lightning Girl, has been homeschooled by her grandmother since she was eight; she's been a math genius ever since she was hit by lightning and survived. She also lives with OCD and has rituals that revolve around the number three. If she does not perform them, the numbers of Pi string out in her brain. "It's like getting a song stuck in your head.... Incredibly annoying but beautiful." Since she can recite the numbers to the 314th decimal place, seeing them prevents her from concentrating on anything else. She mastered calculus and now wants to take college classes. Nana wants her to go to middle school for a year, make a new friend, try one new activity, and read a book that isn't about math-a tall order for the genius. Lucy is a unique and endearing character who readers will not soon forget. The school, social situations, and dialogue are spot on. Lucy's voice is distinct, and her intelligence and wry humor shine. Her love of math will be contagious even for math-phobes. Other characters, such as Nana, Uncle Paul, Windy, and Levi, are equally well drawn. Readers should be prepared to weep at a gut-punching turn of events near the end but will close the book with a satisfied sigh and a Lucy-sized place in their heart. VERDICT Prepare to fall in love. This outstanding story sensitively portrays a neuro-diverse main character and is not to be missed.-Brenda Kahn, Tenakill Middle School, Closter, NJ © Copyright 2018. Library Journals LLC, a wholly owned subsidiary of Media Source, Inc. No redistribution permitted.
---
Kirkus
Copyright © Kirkus Reviews, used with permission.

1 math genius + 1 year of middle school = problems even the most gifted mind can't anticipate.Four years ago, 12-year-old Lucy Callahan was struck by lightning. The strike left her with brain damage, resulting in acquired savant syndrome and a "supercomputer brain." Lucy can solve any equation, recall every number she's ever heard or seen, and recite pi to the 314th decimal place (she doesn't allow herself to go beyond that). Lucy has finished school online and is ready for college, but her grandmother has a few conditions for Lucy to meet before she'll allow her to move on to higher education. (Nana is her guardian, her mother being dead and her father having split.) The reclusive Lucy has to develop her "soft skills": She has to attend middle school for 1 year, make 1 friend, and join 1 activity. Math is comfortably predictable; every problem has an answer if you know how to find it. But Lucy quickly realizes no formula can calculate the perils and pitfalls of public school. The multidimensional, highly likable Lucy's first-person narration is direct and unrestrained. In her first novel for middle graders, McAnulty (Max Explains Everything, 2018, etc.) eschews stylistic convention: All numbers are represented as numerals to allow readers to see the world the way Lucy does. Lucy is white, but she does not subscribe to the white default, observing and describing skin color evenhandedly. Unique and utterly satisfying. (author's note) (Fiction. 8-13) Copyright Kirkus Reviews, used with permission.
---
Horn Book
(c) Copyright The Horn Book, Inc., a wholly owned subsidiary of Media Source, Inc. No redistribution permitted.

After being struck by lightning, Lucy became a mathematical genius. Now, four years later, she's a homeschooled recluse with OCD--and no friends, other than her online math pals. So Lucy's grandmother takes action and, much to the brainy twelve-year-old's dismay, enrolls her in middle school. McAnulty's preteen characters feel like the real deal here, as does the math-in-the-real-world content (such as optimizing shelter dog adoptions). (c) Copyright 2019. The Horn Book, Inc., a wholly owned subsidiary of Media Source, Inc. No redistribution permitted.