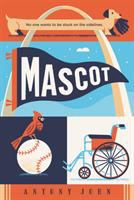 Kirkus
Copyright © Kirkus Reviews, used with permission.

Last April Noah was a Little League catcher on a strong teamfive months and one devastating car accident later, the seventh-grader's fatherless, bitter, and sidelined in a wheelchair.How do you relate to the teachers and kids who saw you as an athlete now that your spinal cord injury prevents you from controlling basic bodily functions? Former rival Logan, the coach's son and team's ace pitcher, now ridicules Noah. Only his friendship with Alyssa remains unchanged until new student Dee-Dub (short for Double-Wide) arrives. It's refreshing to hang with someone who knows him only post-accident, though Dee-Dub has issues; he's exceptionally bright but has a hard time with social cues (he presents as if he's on the spectrum, but no diagnosis is mentioned). Noah's resistance to physical therapy worries his mom. Her friendship with snarky fourth-grader Makayla's dad upsets Noah. Wise adults, including a neighbor estranged from his own children, and wise kids like Dynamo, a younger PT patient, help Noah move from "mascot" to active participant in life. (The book hints at ethnic markers in names and hairstyles but otherwise adheres to the white default.) The surfeit of plotlines and themes prevents in-depth treatment, and superprecocious Makayla and Dynamo are unconvincing, but droll, sympathetic Noah keeps it real. His dilemma is universal: the struggle to rebuild identity when what once defined us no longer exists.This funny, if flawed, baseball-infused tale highlights the challenges of adapting to puberty and sudden disability at the same time. (Fiction. 8-12) Copyright Kirkus Reviews, used with permission.
---
School Library Journal
(c) Copyright Library Journals LLC, a wholly owned subsidiary of Media Source, Inc. No redistribution permitted.

Gr 4-8-After a car crash kills his father and leaves Noah in a wheelchair, he is adjusting to the changes in his life and the way that those around him treat him differently. With the help of his longtime friend Alyssa and new friend Dee-Dub, Noah embarks on a series of hilarious challenges to beat the bully, drive away his mom's new love interest, and right other wrongs. This action-packed, humorous story contains well-developed, dynamic characters who are thoughtful and relatable. As Noah navigates his new reality, he encounters and eventually learns to manage both physical and emotional challenges. There are, however, some missteps in the depiction of daily life as a wheelchair user. For example, there are several scenes in which Noah's mom lifts his motorized wheelchair, a feat which would be nearly impossible, as motorized chairs are much too heavy for a single person to lift. Or, later, when he visits a multi-story house, no information is given in the text about how he navigates to the house or if and how he travels to the upper floors. The vocabulary and themes suggest this book is suited for upper elementary and middle school readers. It contains many relevant coming-of-age themes, such as dealing with bullies, loss, disability, first love, and forgiveness. VERDICT A solid purchase for medium and large collections.-Jenifer Pickens, Holmes Middle School, Alexandria, VA © Copyright 2018. Library Journals LLC, a wholly owned subsidiary of Media Source, Inc. No redistribution permitted.
---
Book list
From Booklist, Copyright © American Library Association. Used with permission.

After a car accident killed his father and left him paralyzed, Noah Savino has been struggling. Physical therapy isn't helping. He can no longer play baseball. Plus, his mom is getting friendly with the single father next door. Things brighten when Alyssa, an old friend, rekindles their friendship, and a new student, Dee-Dub, arrives. Together, the three try to take down the class bully, who thinks girls can't play baseball, all while trying to expose Noah's mom's beau as a liar when he claims to be the mascot of the local pro team. Although Noah and his friends at times seem much wiser than 12, it is nevertheless heartening to see young characters who don't hesitate at their differences or care what other people think, especially Dee-Dub, an unusually tall and stocky middle-schooler, who proudly owns his nickname, short for ""Double Wide."" As snarky Noah gradually comes to terms with his life-changing accident in this refreshingly fast-paced novel, readers will have an easy time cheering him on as he moves toward recovery.--Lindsey Tomsu Copyright 2018 Booklist