by Jennifer Niven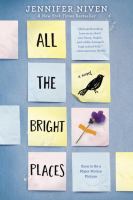 Publishers Weekly
(c) Copyright PWxyz, LLC. All rights reserved

Seniors Theodore Finch and Violet Markey run into each other on their school bell tower, contemplating what it would be like to jump. It's more dark-cute than meet-cute, which also describes the book. Finch thinks about suicide every day; Violet was happy until her sister died in a car crash. While Finch, aka "Theodore Freak," is a marginal presence in their high school, he's smart and handsome-a musician who, readers gradually realize, suffers from undiagnosed manic depression. Violet is equally smart, and as they traverse Indiana for a geography project, looking for "wonders," they flirt, argue, admit dark secrets, and fall in love. In her YA debut, adult author Niven (Velva Jean Learns to Drive) creates a romance so fresh and funny that it seems like it could save Finch; she also makes something she foreshadows from the first line surprising. The journey to, through, and past tragedy is romantic and heartbreaking, as characters and readers confront darkness, joy, and the possibilities-and limits-of love in the face of mental illness. Ages 14-up. Agent: Kerry Sparks, Levine Greenberg Rostan Literary Agency. (Jan.) © Copyright PWxyz, LLC. All rights reserved.
---
School Library Journal
(c) Copyright Library Journals LLC, a wholly owned subsidiary of Media Source, Inc. No redistribution permitted.

Gr 10 Up-Violet Markey is on the ledge of her school's bell tower, six stories up, and frozen in terror. Theodore Finch, the Freak, stands on the ledge nearby. Before she can panic, he calms her down and gets her back on solid ground. He even lets everyone think she's the one who talked him out of jumping. Violet, until recently, was a popular cheerleader and Finch has a well-earned reputation for being manic, violent, and unpredictable. But Finch won't let their encounter rest. He's suddenly everywhere Violet goes and even signs her up as his partner on a "Wander the State" school project. As the two drive around Indiana, Violet begins to see the lame tourist attractions through Finch's eyes, and each spot becomes something unique and special. He pushes and challenges the protagonist, and seems to understand the effect her sister's death made on her. But though Violet begins to recover from the devastating grief that has cocooned her for almost a year, Finch's demons refuse to let go. The writing in this heartrending novel is fluid, despite the difficult topics, as Niven relays the complex thought processes of the two teens. Finch and Violet, with their emotional turmoil and insecurities, will ring true to teens. Finch in particular will linger in readers' minds long after the last page is turned. Give this to fans of Rainbow Rowell's Eleanor & Park (St. Martin's Pr., 2013), John Green's The Fault in Our Stars (Dutton, 2012), or Jennifer Hubbard's The Secret Year (Viking, 2010).-Heather Miller Cover, Homewood Public Library, AL (c) Copyright 2014. Library Journals LLC, a wholly owned subsidiary of Media Source, Inc. No redistribution permitted.
---
Horn Book
(c) Copyright The Horn Book, Inc., a wholly owned subsidiary of Media Source, Inc. No redistribution permitted.

Theodore Finch, a moody "freak," and Violet Markey, mourning her sister's death, meet on their school's bell tower, both flirting with jumping. When they partner on a project to discover the wonders of Indiana, a tentative relationship begins. Told in distinct alternating voices, this novel will affect readers as much with its charming romance as with its heartbreaking portrayal of mental illness. (c) Copyright 2016. The Horn Book, Inc., a wholly owned subsidiary of Media Source, Inc. No redistribution permitted.
---
Kirkus
Copyright © Kirkus Reviews, used with permission.

Two struggling teens develop an unlikely relationship in a moving exploration of grief, suicide and young love. Violet, a writer and member of the popular crowd, has withdrawn from her friends and from school activities since her sister died in a car accident nine months earlier. Finch, known to his classmates as "Theodore Freak," is famously impulsive and eccentric. Following their meeting in the school bell tower, Finch makes it his mission to re-engage Violet with the world, partially through a school project that sends them to offbeat Indiana landmarks and partially through simple persistence. (Violet and Finch live, fortunately for all involved, in the sort of romantic universe where his throwing rocks at her window in the middle of the night comes off more charming than stalker-esque.) The teens alternate narration chapter by chapter, each in a unique and well-realized voice. Finch's self-destructive streak and suicidal impulses are never far from the surface, and the chapters he narrates are interspersed with facts about suicide methods and quotations from Virginia Woolf and poet Cesare Pavese. When the story inevitably turns tragic, a cast of carefully drawn side characters brings to life both the pain of loss and the possibility of moving forward, though some notes of hope are more believable than others. Many teen novels touch on similar themes, but few do it so memorably. (Fiction. 14 up) Copyright Kirkus Reviews, used with permission.
---
Book list
From Booklist, Copyright © American Library Association. Used with permission.

Violet and Finch meet on the ledge of their school's clock tower, both thinking about jumping. For frenetic Finch, who constantly alters his appearance, suicide is often on his mind, and the barrage of bullying he receives, from his classmates and his own father, doesn't help matters. Violet, on the other hand, is in a daze after the untimely death of her sister. They don't jump, but their chance meeting leads to a partnership on a geography project visiting Indiana roadside oddities. Their friendship grows into a sweet romance, and Violet feels invigorated she starts feeling engaged with her life and even takes up writing again, something she gave up after her sister died. Despite Finch's desperate desire, their burgeoning love is not enough to solve his wild, emotional ups and downs, behavior that's not called what it is bipolar disorder until very late in the novel. Niven's first novel for teens tackles a big topic with sensitivity (suicide-prevention resources are included), and teens will likely swoon over Finch and Violet's doomed oddball romance. HIGH-DEMAND BACKSTORY: With an author tour, a major promotional campaign, and a film adaptation already in the works, publishers are banking on Niven's YA debut to be a hit.--Hunter, Sarah Copyright 2014 Booklist
---
Publishers Weekly
(c) Copyright PWxyz, LLC. All rights reserved

Voice actors Heyborne and Meyers team up for the audio edition of Niven's teen love story. Last spring, Violet survived the car accident that killed her sister. She has been barely getting by, and now, on the first day of the new term, she has climbed the bell tower at school and is thinking of throwing herself off. It is here that Violet encounters Theodore Finch, better known as "Freak" around school, who manages to talk her down. Saving Violet seems to have given Finch a new lease on life. He woos her, gets assigned to be her partner for a class project, and slowly brings Violet back to life. Both Violet and Finch take turns telling their story. Heyborne makes Finch sound warm, relatable, and sympathetic. When Finch turns manic, Heyborne picks up the pace, and his voice becomes frantic, harried, and ragged. For Violet, Meyers's voice is sharp and tight, almost pinched at times. She only sounds loose and comfortable when she's with Finch. When bad things happen and Violet's voice is cracking and near tears, listeners will become misty-eyed as well. Still, the story is not without humor, and the narrators nail the comedic notes, lightening the mood. This is an emotional book, and Meyers and Heyborne do an outstanding job infusing their performances with sentiment and warmth. Ages 14-up. A Knopf hardcover. (Jan.) © Copyright PWxyz, LLC. All rights reserved.