by Jacqueline Woodson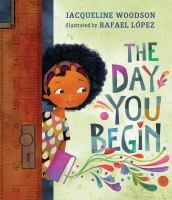 Kirkus
Copyright © Kirkus Reviews, used with permission.

School-age children encounter and overcome feelings of difference from their peers in the latest picture book from Woodson.This nonlinear story centers on Angelina, with big curly hair and brown skin, as she begins the school year with a class share-out of summer travels. Text and illustrations effectively work together to convey her feelings of otherness as she reflects on her own summer spent at home: "What good is this / when others were flying," she ponders while leaning out her city window forlornly watching birds fly past to seemingly faraway places. Lpez's incorporation of a ruler for a door, table, and tree into the illustrations creatively extends the metaphor of measuring up to others. Three other childrenRigoberto, a recent immigrant from Venezuela; a presumably Korean girl with her "too strange" lunch of kimchi, meat, and rice; and a lonely white boy in what seems to be a suburbexperience more-direct teasing for their outsider status. A bright jewel-toned palette and clever details, including a literal reflection of a better future, reveal hope and pride in spite of the taunting. This reassuring, lyrical book feels like a big hug from a wise aunt as she imparts the wisdom of the world in order to calm trepidatious young children: One of these things is not like the other, and that is actually what makes all the difference.A must-have book about the power of one's voice and the friendships that emerge when you are yourself. (Picture book. 4-8) Copyright Kirkus Reviews, used with permission.
---
Publishers Weekly
(c) Copyright PWxyz, LLC. All rights reserved

Woodson (Brown Girl Dreaming) imagines being "an only" in the classroom-what it's like to be the only one with an accent ("No one understands the way words curl from your mouth"), the only one who stayed home during summer vacation ("What good is this/ when other students were flying/ and sailing"), the only one whose lunch box is filled with food "too strange or too unfamiliar for others to love as you do." Without prescribing sympathy, Woodson's poetic lines give power to each child's experience. She describes the moment when the girl who didn't go on vacation speaks her truth, her "voice stronger than it was a minute ago." She has cared for her sister all summer, she tells her classmates, reading and telling stories: "Even though we were right on our block it was like/ we got to go EVERYWHERE." And "all at once" in the seconds after sharing one's story, something shifts, common ground is revealed, and "the world opens itself up a little wider/ to make some space for you." López (Drum Dream Girl) paints the book's array of children as students in the same classroom; patterns and colors on the children's clothing and the growing things around them fill the spreads with life. Woodson's gentle, lilting story and López's artistry create a stirring portrait of the courage it takes to be oneself: "There will be times when you walk into a room and no one there is quite like you until the day you begin/ to share your stories." Ages 5-8. Author's agent: Kathleen Nishimoto, William Morris Endeavor. Illustrator's agent: Stefanie Von Borstel, Full Circle. (Aug.) © Copyright PWxyz, LLC. All rights reserved.
---
Book list
From Booklist, Copyright © American Library Association. Used with permission.

A girl with honey-brown skin and curly hair waits outside a classroom: There will be times when you walk into a room and no one there is quite like you. The omniscient narrator continues that sometimes others won't understand your words or might turn up their noses at your lunch. But then a small thing say, you and a classmate have siblings who share the same name changes everything up. Woodson catches the uncertainty, even fear, that comes with new situations. But her lyrical language also captures the moment when confidence sparks and friendships are born. In one instance, the girl feels different because her classmates have brought souvenirs from their travels to France, India, and South Carolina, while she stayed home and read books. Of course, books can take you anywhere, a point well made, though not all readers will relate to the idea of far-flung travel. The bold, bright artwork features a diverse cast of kids, all with huge eyes. The important message plays out in a striking design that mixes the everyday with flights of fancy. HIGH-DEMAND BACKSTORY: Woodson, a recent National Ambassador for Young People's Literature, is one of kidlit's brightest stars, and this should find lots of eager hands.--Ilene Cooper Copyright 2018 Booklist
---
School Library Journal
(c) Copyright Library Journals LLC, a wholly owned subsidiary of Media Source, Inc. No redistribution permitted.

K-Gr 2-A beautiful and inclusive story that encourages children to find the beauty in their own lives and share it with the world. A young girl with brown skin and curly black hair stays home through the summer to watch over her younger sister while her classmates travel to distant lands. A young boy from Venezuela arrives in his new school and finds the children in his class do not speak his language. Another child brings a lunch that her classmates find too strange while another isn't physically able to keep up with the play of other children. Each child feels very alone until they begin to share their stories and discover that it is nearly always possible to find someone a little like you. López's vibrant illustrations bring the characters' hidden and unspoken thoughts to light with fantastic, swirling color. Shifting hues and textures across the page convey their deep loneliness and then slowly transition into bright hopeful possibilities. Full-bleed illustrations on every page are thick with collaged patterns and textures that pair perfectly with melodic prose that begs to be read aloud. Though the story focuses on four singular experiences, there's an essential acknowledgment that everyone will experience a time when no one is quite like them, when they can't find their voice, or when they feel very alone. Woodson's superlative text sees each character turns that moment of desolation into an opportunity to be brave and find hope in what they have in common. VERDICT This masterful story deserves a place in every library.-Laken Hottle, Providence Community Library © Copyright 2018. Library Journals LLC, a wholly owned subsidiary of Media Source, Inc. No redistribution permitted.
---
Horn Book
(c) Copyright The Horn Book, Inc., a wholly owned subsidiary of Media Source, Inc. No redistribution permitted.

Venezuelan immigrant Rigoberto looks crestfallen when the class laughs at his name; other classmates feel left out when friends make fun of their lunch foods. And the (unnamed) African American protagonist has trouble finding her voice when her classmates recount their summer vacations until she realizes books have afforded her boundless travel. Woodson's story about feeling like an outcast values literacy, reading, and imagination. Lspez's illustrations feature vivid, brilliant colors. (c) Copyright 2019. The Horn Book, Inc., a wholly owned subsidiary of Media Source, Inc. No redistribution permitted.