by Marie Marquardt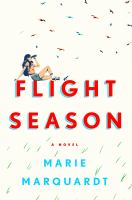 School Library Journal
(c) Copyright Library Journals LLC, a wholly owned subsidiary of Media Source, Inc. No redistribution permitted.

Gr 9 Up-Vivi is a rising sophomore at Harvard who has struggled in school (and in life) since the passing of her father. It's summer break and the only way she can keep from being kicked out of the Ivy League is by successfully completing an internship at the hospital in her hometown of St. Augustine, Florida. She is forced to work with TJ, the focused, no-nonsense, and super good-looking nursing student who just so happens to have seen Vivi embarrassingly intoxicated at his family's Brazilian restaurant during Thanksgiving break. Despite their strong desire to keep apart, Vivi and TJ share an undeniable attraction. The two spend most of their time working with Angel, a young orphaned immigrant from Guatemala who is having major heart issues. All three narrate in alternating chapters as their paths become increasingly interwoven. Each chapter begins with an entry from Vivi's bird journal and is a reflection of sorts of where the story is about to go. Marquart has packed her third YA novel quite full-grief, ornithology, financial issues, the path of a detained immigrant, heart failure in a teenager-but it mostly works. All three main characters are fully drawn and multidimensional. Still, Vivi comes close to being a "manic pixie dream girl" and the story wraps up a little too neatly. TJ and Vivi are oozing with chemistry that is appropriate and satisfying for teens. VERDICT A solid choice for those seeking a complex romance with lots of other layers.-Emily Moore, Camden County Library System, NJ © Copyright 2017. Library Journals LLC, a wholly owned subsidiary of Media Source, Inc. No redistribution permitted.
---
Book list
From Booklist, Copyright © American Library Association. Used with permission.

Rising college sophomore Vivi Flannigan is an avid birder and Yale student who lands a dream internship at a hospital near her home in Florida. TJ Carvalho, about to finish his nursing degree, works at his family's restaurant and at the same hospital, where he cares for feisty Ángel Solís, who suffers from a terrible heart infection. When the three are thrown together during the summer, each must learn what's important to the others and to themselves. This poignant story of grief, healing, and finding balance and purpose is told through alternating narration by the three main characters. Whether navigating financial hardship, family tensions, or precarious immigrant rights, the protagonists come across as well drawn and engaging. Each gradually reveals his or her backstory with grace and dignity, and Vivi's birding journal organically illustrates how no one is free to fly until they are at peace with themselves. This new offering from Marquardt (The Radius of Us, 2017) will resonate with readers looking for a mature coming-of-age story.--Fredriksen, Jeanne Copyright 2018 Booklist
---
Kirkus
Copyright © Kirkus Reviews, used with permission.

A grieving hospital intern and an ambitious young nurse's aide bond over their shared friendship with a dying teen patient. After barely passing most of her first-year pre-med classes at Yale, Vivi Flannigan must successfully complete a summer internship in a Central Florida hospital's heart ICU. TJ Carvalho works as a nurse's aide on his way to becoming an RN. When their paths cross, Brazilian-American TJ (who's dark-skinned and multiracial) recognizes white Vivi as the "pretty-faced hot mess" who got drunkenly out of control at his family's churrascaria the previous Thanksgiving break. Vivi, meanwhile, would rather forget that "terrible night," because her beloved father died soon after. TJ and Vivi attempt to avoid each other, but observant ngel Solis, the 18-year-old heart-infection patient who doesn't respond to English or Spanish (he's indigenous Guatemalan), senses their attraction and brings them together. Told in alternating points of view among the three characters, the poignant story shows how young adults can connect deeply despite differences in privilege, race, and citizenship status. Each of Vivi's chapters begins with excerpts and sketches from her bird journalwith the birds (and their calls) acting as a chorus to her story arc. Vivi and TJ's slow-burn romance is electric, and ngel's humorous and heartbreaking perspective elevates him far above the stereotype of problematic sick characters without agency. Marquardt once again writes a touching and authentic exploration of immigration, love, and loss. (Fiction. 14-17) Copyright Kirkus Reviews, used with permission.
---
Horn Book
(c) Copyright The Horn Book, Inc., a wholly owned subsidiary of Media Source, Inc. No redistribution permitted.

Brazilian American TJ is "a surly nurse's aide"; Vivi (who is white) is a grieving, bird-obsessed college student/intern at a Florida hospital. Angel is their Guatemalan male teen patient suffering from viral cardiomyopathy. In distinct, shifting perspectives that overlap and intersect, the three help one another survive a summer of transition, love, and loss. This stirring, compelling narrative will stay with readers. (c) Copyright 2018. The Horn Book, Inc., a wholly owned subsidiary of Media Source, Inc. No redistribution permitted.